Push for growth on Dr Ramdas Pai's 80th birthday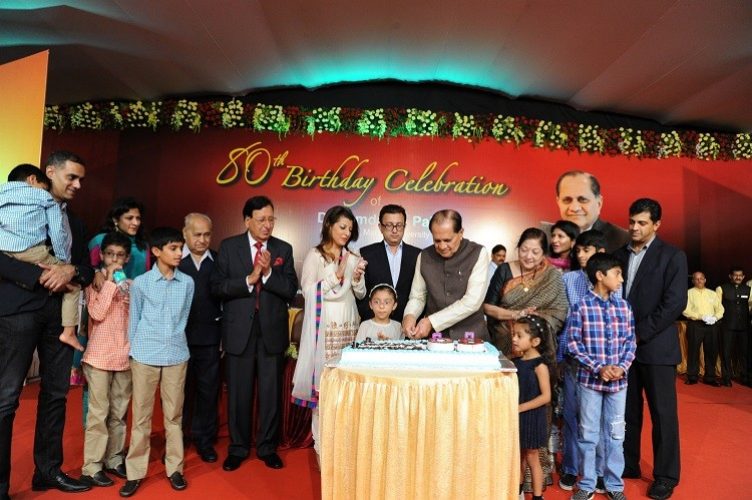 Several new projects and schemes were announced to mark the 80th birthday of Dr Ramdas M Pai, Chancellor and President Manipal Academy of Higher Education at the Fortune Inn Valley View lawns in Manipal on September 14, 2015. Manipal Group celebrated the birthday at a simple, yet impressive function with every wing of the Group being represented. Family members came from far and near, and there were a host of well-wishers making it a memorable evening for everyone to cherish. 
Vice Chancellor, Manipal Academy of Higher Education, Dr H Vinod Bhat welcomed the gathering, Pro Chancellor, Dr H. S Ballal, felicitated on behalf of Academy of General Education, of which he is the president, Dr Hari Gautam, former Chairman of UGC spoke as guest of honour, Mr Rajen Padukone, Group President MEMG felicitated on behalf of the group, Mr TV Mohandas Pai who is the chairman MAGE also felicitated him. A book titled "Manipal and Beyond" authored by Dr Glenn Christo about the life and times of Dr Pai was also released by the Chief Guest Justice Dr M Rama Jois, who lauded the great work done by Dr Ramdas Pai in his speech. Dr GK. Prabhu. Registrar Manipal Academy of Higher Education gave the vote of thanks.
Perhaps the most significant part of the function was the announcement of new schemes and projects all initiated by Dr Ranjan Pai, MD and CEO Manipal Education and Medical Group (MEMG). A Dr Ramdas and Vasanthi Pai endowment Fund has been created and MEMG group of companies will contribute Rs 80 crore towards the fund to be shared by the three universities of the group for academic development, student scholarships and employee welfare. Manipal Academy of Higher Education, Manipal will get Rs 50 crore, Manipal Academy of Higher Education Jaipur will get Rs 20 crore and Sikkim Manipal Academy of Higher Education Rs 10 crore.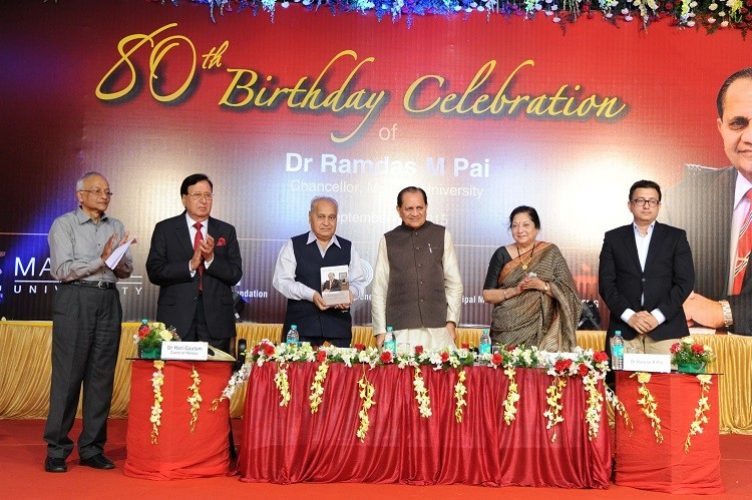 The others schemes include: Pension Scheme for the faculty and non-teaching staff with effect April 1, 2016 as per the national pension scheme government of India; Increase in the limit of Manipal Arogya Suraksha (MAS) scheme, a pioneering programme started by Dr Ramdas Pai in 2005 which today benefits more than four lakh people; Manipal Academy of Higher Education Bursary to set up corpus fund for instituting scholarships and student assistance for various academic programmes in the University. The existing spend of Rs 15 crore will be increased to Rs 25 Crore per year in the next year and raise it to Rs 200 crore by 2020 and finally, to create a separate block for super specialty services at Kasturba Hospital, Manipal.
Dr Ramdas Pai in his reply to the felicitations, attributed his successes to his father Dr TMA Pai and to the excellent support he has received from Team Manipal. "I had the great fortune o receiving intellectual knowledge from my father about the need to do something for the welfare of the society, particularly in the three social ills of illiteracy, ill health and poverty".
"He had already laid the foundation for tackling these three maladies by starting banking, educational and health care institutions right from 1925," said Dr Pai who also said that he drew deep from his father's philosophy in life to carry forward the good work started by him. He expressed joy at the selfless and dedicated service rendered by different teams to raise excellent standards which have attracted global attention.
He made special mention of the all the firsts in the University:  Vice Chancellor, Dr M.S. Valiathan; Director of Planning Dr Glenn Christo; Director of Finance, Dr John Stanley and the Registrar, Dr PLNG Rao. He said, "They had a pivotal role to play in building the administrative set up of Manipal Academy of Higher Education in its infancy". He had a special word of praise for Dr Christo, who authored the book on him.