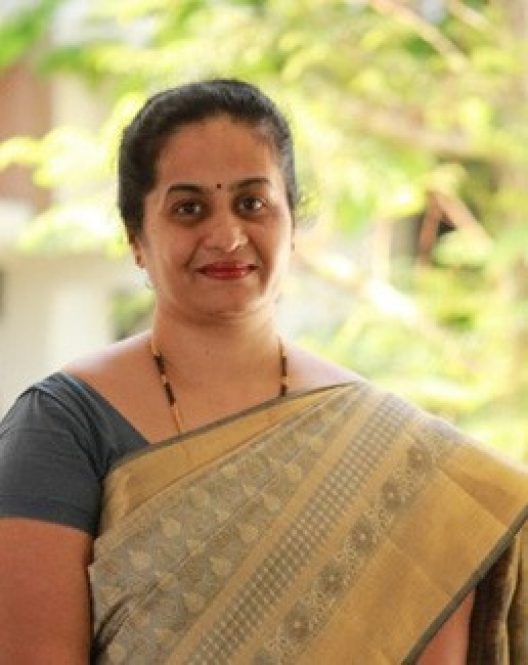 Professor | Coordinator - Department of Design
CURRENT ACADEMIC ROLE & RESPONSIBILITIES
Coordinator -  Department of Design
ACADEMIC QUALIFICATIONS
| Degree | Specialisation | Institute | Year of passing |
| --- | --- | --- | --- |
| PhD | Fashion Entrepreneurship | MAHE | 2014 |
| M.Sc. | Textiles and Clothing | Avinashilingam Deemed University | 2000 |
| Bachelor of Science(Home Science) | | Andhra University, Andhra Pradesh | 1998 |
Experience
| Institution / Organisation | Designation | Role | Tenure |
| --- | --- | --- | --- |
| Manipal School of Architecture & Planning, MAHE | Coordinator, DoD | Coordinating programs offered under DoD | Till Date |
| Sikkim MAHE Of Health, Medical and Technological Sciences | Assistant Professor | Revising the courseware. Courseware development and Coordinating for various subjects of B.Sc. Apparel and Fashion Design. Taking online (VSAT) classes for B.Sc. Fashion Design | 2007 April – 2011 June |
| Mangalore Institute of Fashion Technology | Principal | Academic coordination, teaching fashion design, conducting fashion shows | 2003-2004 |
| Mangalore Institute of Fashion Technology | Lecturer | Teaching the students of B.Sc. Fashion Design, B.Sc. Garment Design. | 2001-2003 |
Research Project Handled:
1. 'Value addition of plantain waste biomass to fabric grade banana fiber an experimental study on processing, weaving, and designing contemporary fashions in Coastal Karnataka'.
Sanctioned Agency : DST, Govt. of India. Sanctioned Amount: Rs. 23,57,740
2. Circular economy and collaborative consumption: exploring new business models to achieve sustainability within the apparel industry .
Sanctioned Agency : MAHE-UNSW Collaborative Research Seed grant Sanctioned Amount: Rs. 10,00,000
3. Balancing Function, Modesty, and Aesthetics in Designing Patients Gowns .
Sanctioned Agency : Directorate of Technical Research, MAHE Sanctioned Amount: Rs. 25,000
AREAS OF INTEREST, EXPERTISE AND RESEARCH
Area of Interest
Fashion Design, Fashion Entrepreneurship
Area of Expertise
Textiles, Apparel Production, Research
Area of Research
Fashion Entrepreneurship, Sustainable Fashion Design, Fashion Education
Professional Affiliations & Contributions
Emerald Emerging Market Case Studies. 
Editorial Advisory Board, https://www.emeraldgrouppublishing.com/archived/products/case_studies/eab.htm
Work Experience
| Organisation | Role | Tenure |
| --- | --- | --- |
| Manipal Universal Learning Private Limited, Manipal | Course ware development and Coordinating for various subjects of B.Sc. Fashion Design. Taking online (VSAT) classes for B.Sc. Fashion Design | 2004 -2007 April |
A study on entrepreneurial characteristics and success of women entrepreneurs operating fashion and apparel business
2013, Asian Journal of Management Sciences and Education, International Journal Publication, Vol 2 (2).
Entrepreneurship training in the apparel and fashion design sector through distance mode: a strategy for facing the challenge of growing unemployment in India
International Journal of Educational Research and Technology, International Journal Publication, Vol 1 (2).
Distance education for garment industry in India
2014-01-01
Asian Journal of Distance Education, International Journal Publication, Vol 8 (1).
Cotton-jute union fabric for apparel
Textile Trends, Journal Publication.
University Intervention in Inculcating Design Practices for Sustainable Fashions
Behavioral Response of Dogs to Interior Environment: An Exploratory Study on Design Parameters for Designing Dog Boarding Centers in Indian Context