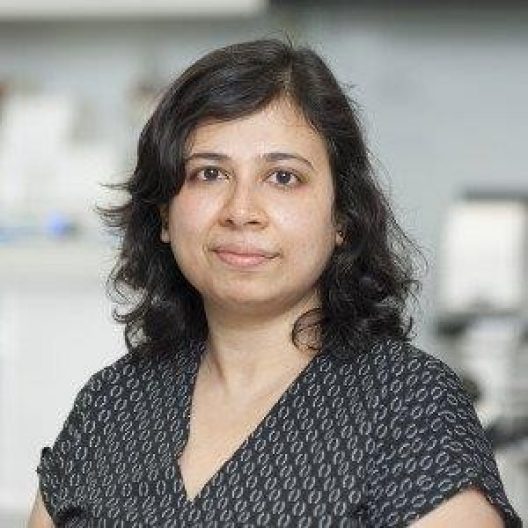 Ramalingaswami Re-entry Fellow
Dr. Urmi Bandyopadhyay is interested in understanding the fundamental molecular principles of lysosomal-amino acid (AA) storage and homeostasis in response to altered extracellular-environment, and its pathophysiological significance. She did her Ph.D. in Dr. Ana Maria Cuervo's laboratory at Albert Einstein College of Medicine (USA), on Chaperone-Mediated-Autophagy (selective-Autophagy), that has profound importance in neurodegeneration. During her first postdoctoral-research, in Dr. Arthur Horwich's laboratory at Yale University (USA), she applied her autophagy-lysosome-biology knowledge in the field of neurodegeneration – ALS-disease. She further pursued her interest in lysosome-biology in Dr. Michael Overholtzer's laboratory in Memorial Sloan Kettering Cancer Center (USA). There she discovered a novel, conserved, lysosomal AA storage-homeostasis-pathway in response to extracellular-environment, which is important for supporting intracellular-translation in nutrient-scarcity and has pathophysiological significance. She will pursue this current research in her laboratory, especially, by exploring: 1) regulatory mechanisms and 2) altered function of this novel-AA-homeostasis in diseases, including cancer, neurodegeneration, aging.
Manipal Institute of Regenerative Medicine
Qualification: Ph.D.
CURRENT ACADEMIC ROLE & RESPONSIBILITIES
Dr. Urmi Bandyopadhyay  is a Ramalingaswami Re-entry Fellow in Manipal Institute of Regenerative Medicine, MAHE, Bengaluru.

 

She:

Conducts theory and practical classes.
Is involved in conducting examinations and checking exam papers.
Is guide for student dissertations (PG/PhD).
Writes projects for research funding.
SUBJECTS CURRENTLY TEACHING
| Subject | Semester / Year |
| --- | --- |
| Biomolecules | I st semester |
ACADEMIC QUALIFICATIONS
| Degree | Specialisation | Institute | Year of passing |
| --- | --- | --- | --- |
| Ph.D. | Cell Biology | | |
AREAS OF INTEREST, EXPERTISE AND RESEARCH
Area of Research
Cell Biology, Lysosome Biology, Autophagy, Neurodegeneration, Amino Acid Homeostasis
Bandyopadhyay U*, Todorova P, Pavlova NN, Tada Y, Thompsom C*, Finley LWS, Overholtzer M*. Leucine retention in lysosomes is regulated by starvation. Proc Natl Acad Sci USA. 2022 Feb 8. 119 (6) e2114912119; https://doi.org/10.1073/pnas.2114912119

·       Ying J, Sato Y, Im E, Berg M, Bordi M, Darji S, Kumar A, Mohan P, Bandyopadhyay U, Diaz A, Cuervo AM, and Nixon R*. Lysosomal dysfunction in Down syndrome is APP-dependent and mediated by APP-βCTF (C99). Journal of Neuroscience. 2019 May, 0578-19; DOI: https://doi.org/10.1523/JNEUROSCI.0578-19.2019