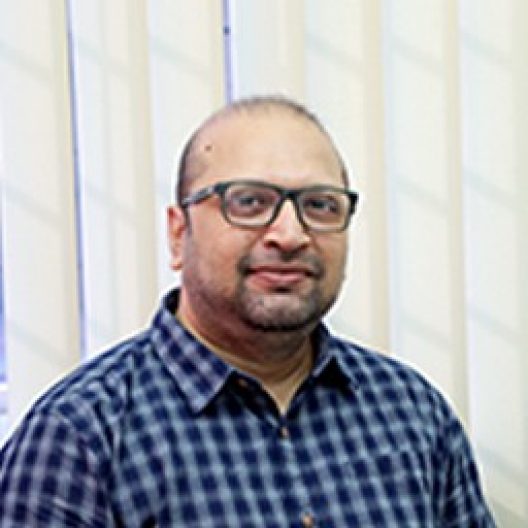 Associate Dean and Professor (Oral Medicine and Radiology)
Department of Oral Medicine & Radiology
CURRENT ACADEMIC ROLE & RESPONSIBILITIES
Junaid Ahmed teaches undergraduate students.

He is:

CBCT Course Coordinator
PG Board of studies member
PG & PhD Guide
Undergraduate Teaching
Member, Anti Ragging Committee, Manipal College of Dental Sciences, Mangalore
Staff Advisor at Manipal College of Dental Sciences, Mangalore
 MRD in-charge, Manipal college of Dental sciences, Mangalore
Chairperson, Patient care committee, Manipal college of Dental sciences, Mangalore
SUBJECTS CURRENTLY TEACHING
| Subject | Semester / Year |
| --- | --- |
| Oral Medicine and Radiology | Third year , final part one and Post graduate students. |
ACADEMIC QUALIFICATIONS
| Degree | Specialisation | Institute | Year of passing |
| --- | --- | --- | --- |
| MDS | Oral Medicine and Radiology | A.B Shetty memorial Institute of Dental sciences. | 1997 |
| BDS | | A.B Shetty memorial Institute of Dental sciences. | 1993 |
Experience
| Institution / Organisation | Designation | Role | Tenure |
| --- | --- | --- | --- |
| Department of Oral Medicine and Radiology, MCODS Mangalore | Professor | | October 2010 till date |
| Department of Oral Medicine and Radiology, Pacific Dental college,Udaipur,Rajasthan | Professor | | August 2005-September 2010 |
| Department of Oral Medicine and Radiology, Pacific Dental college,Udaipur,Rajasthan | Associate professor | | January 2003-July 2005 |
| Department of Oral Medicine and Radiology, MCODS Mangalore | Associate Professor | | September 2002-December 2002 |
| Department of Oral Medicine and Radiology, MCODS Mangalore | Assistant Professor | | August 1997-August 2002 |
Misdiagnosis of radiographs in dental practice
2010-01-05
at the Continuing Dental Education Programme conducted by Indian Dental Association, May, 2010.
AREAS OF INTEREST, EXPERTISE AND RESEARCH
Area of Interest
Areas of interest Orofacial Pain & TMJ Disorders
Area of Expertise
3D Imaging & CBCT
Area of Research
Oral Cancer & Orofacial Pain
Professional Affiliations & Contributions
Vice President,Indian  Dental Association(IDA),Dakshina Kannada Branch
Vice Chairman of Ethics review committee(ERC) of Indian Academy of Oral Biology(IAOB)
Treasurer, Trigeminal Neuralgia Association of India (TNAI)
Reviewer for Journal of Indian society of Pediatric & Preventive Dentistry
Reviewer for Egyptian Journal of Forensic Sciences
Reviewer for BMC Medical Imaging Journal
Member, Asian Association of Oral & Maxillofacial Radiology(AAOMFR)
Life Member of Indian Dental Association
Life Member of Indian Academy of Oral Medicine and Radiology
Life Member of Red Cross society, 2011
Recent advances in oral drug delivery system
2013,02(8),146, global research analysis.
Detection of human papilloma virus in potentially malignant and malignant lesions of oral cavity and a study of associated risk factors
Study aimed at finding out whether human papilloma viruses can be considered as one of the etiological factors in the initiation of malignancy and its role in the progression of potentially malignant disorders.