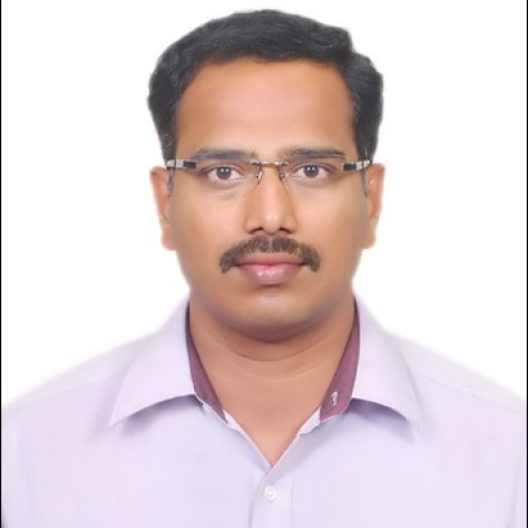 Associate Professor
Department of Radiation Biology and Toxicology
CURRENT ACADEMIC ROLE & RESPONSIBILITIES
Kamalesh D Mumbrekar is Associate Professor in the Department of Radiation Biology & Toxicology at Manipal School of Life Sciences.

He:

Teaches theory/practical to BSc, MSc, PG diploma students
Guides students (BSc/ MSc) in their project work
Participates in ongoing research at the department by writing new grants and publishing the findings
Class In-charge for III Year BSc Biotechnology
Participates in institutional activities like workshops, science day, inspire program, refresher course etc.
Radiation Safety Officer (RSO-1)
Internal Auditor- ISO

 
SUBJECTS CURRENTLY TEACHING
| Subject | Semester / Year |
| --- | --- |
| Biology-1 (Theory) | BSc, I Semester |
| Biology-1 (Practical) | BSc, I Semester |
| Cell Biology-1 (Theory) | BSc, II Semester |
| Cell Biology-1 (Practical) | BSc, II Semester |
| Basics of Biotechnology (Theory) | BSc Biotechnology, I Semester |
| Molecular Biology (Practical) | BSc, III Semester |
| Project BSc | BSc, VI Semester |
| Project MSc | MSc, IV Semester |
| Radiobiology | First Year BSc MRT |
| Radiobiology | First Year MSc MRP |
ACADEMIC QUALIFICATIONS
| Degree | Specialisation | Institute | Year of passing |
| --- | --- | --- | --- |
| PhD | Radiation Biology (Cellular and Molecular Analysis of Normal Tissue Toxicity Induced by Radiotherapy In Breast Cancer Patients) | Department of Radion Biology & Toxicology, School of Life Sciences, Manipal University, Manipal | 2015 |
| MPhil | Zoology | Annamalai University, Tamil Nadu | 2011 |
Experience
| Institution / Organisation | Designation | Role | Tenure |
| --- | --- | --- | --- |
| Division of Radiobiology & Toxicology, School of Life Sciences | Assistant Professor | | October 2015 to present |
| Division of Radiobiology & Toxicology, School of Life Sciences | Lecturer | | 2008 - 2015 |
| Division of Radiobiology & Toxicology, School of Life Sciences | Senior Research Fellow | | 2007 - 2008 |
A Structural and Behavioral Study on Neurological Changes in Adult Mice Co-Exposed to Low-Dose Radiation and Organophosphate Pesticides during Neonatal and Postnatal Stages of Development.
AREAS OF INTEREST, EXPERTISE AND RESEARCH
Area of Interest
Radiation biology and Environmental Toxicology
Area of Expertise
DNA repair, Radiogenomics.Neurotoxicity, DNA damage & repair
Area of Research
in vitro and in vivo toxicity, radiation response
Professional Affiliations & Contributions
Life member of Indian Society for Radiation Biologists, India.
Life member of Society for Radiation Research, India.
Life member of Environmental Mutagen Society of India.
Life member Indian Association for Radiation Protection.
List of Students project
POST GRADUATE THESIS
2021
Exploring the brain metabolomic changes in response to pesticide and its link with neurodegenerative diseases
2018
Effect of Probiotic Treatment on Radiation-Induced Gut Damage in Mouse Model
Titanium Dioxide Nanoparticle Induced Histological and Biochemical Changes in Mouse Model
2016
Influence of SNPs in Genes Involved in DNA Repair Pathways on the Radiotherapy Induced Acute Skin Toxicity
2014
Role of Single Nucleotide Polymorphism in Breast Cancer Predisposition
2012
Genetic polymorphisms and its role in radiotherapy induced acute skin reactions
2011
Visualization and Counting of Damage-spots in Lymphocyte Nuclei from Fluorescence-Microscope-images
Cellular and Molecular Evaluation of Normal Tissue Acute Skin Reaction Induced by Radiotherapy
2009
2D Fluorescent Image Analysis for Automation Approach to Quantifying DNA Damages using γ-H2AX
UNDERGRADUATE THESIS SUPERVISED
2021
Understanding the mechanism of genotoxicity induced by Malathion in glial cells
The Effect of Antibiotics on the Gut-Brain Axis in rat model
Investigating The Effects of Malathion on Mitochondria in Neuroglial Cells


2020
Understanding the Effect of Environmental Neurotoxicants on the Genes Involved in Neuronal Survival and Plasticity
To Understand the effect of Pesticides on Brain Metabolites in Mouse Model
2019
Mitigation of Cisplatin Induced Cognitive Impairments by Naringenin
Role of Naringinin in Mitigating the Cisplatin Induced Organ Toxicity in Mouse Model
2018
Titanium Dioxide Nanoparticle Exposure and Structural Changes in the Hippocampal Neuron -Preclinical Study