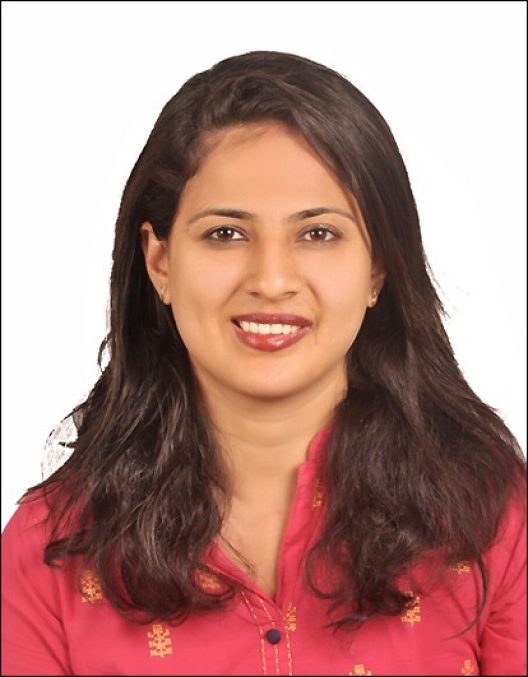 Assistant Professor - Senior Scale
Qualification: Ph.D (Insurance)
CURRENT ACADEMIC ROLE & RESPONSIBILITIES
Dr Ankitha Shetty, currently working as Assistant Professor  and Research Co-ordinator at Department of Commerce , Manipal Academy of Higher Education,

PhD Research Guide (Area of Marketing)

Editorial Review Board Member of Asia Pacific Journal of Business Administration Emerald Publishers 
| | |
| --- | --- |
| Retail and Market Research | IV Semester |
| Services Marketing | VI Semester |
| Risk Mangement | IV Semester |
ACADEMIC QUALIFICATIONS
| Degree | Specialisation | Institute | Year of passing |
| --- | --- | --- | --- |
| Ph.D | Performance of Bancassurance and Traditional Agency channel in Life insurance Industry | School of Management (MAHE), Manipal | 2018 |
| MBA | | MSNM Besant Institute of PG Studies | 2013 |
| Bachelor of Commerce | | Canara First Grade College | 2011 |
| Certificate course on Qualitative Research Methods conducted by Transdisciplinary Centre for Qualitative Methods (TCQM) | | Prasanna School of Public Health, Manipal Academy of Higher Education,Manipal | 2021 |
| Certificate Course on Evidence Synthes | | Prasanna School of Public Health, Manipal Academy of Higher Education,Manipal | 2020 |
Experience
| Institution / Organisation | Designation | Role | Tenure |
| --- | --- | --- | --- |
| Sahyadri College of Engineering and Management, Mangalore | Assistant Professor and Training Officer | | 2 year |
AREAS OF INTEREST, EXPERTISE AND RESEARCH
Area of Interest
Customer Relationship Management; Training and Development; Financial Services Marketing ; Disability Relationship Management; Mindfulness Sales Management
Professional Affiliations & Contributions
Events Hosted
o   Convener of International E-poster Conference on Inter disciplinary Research
o   Co-convener of National Seminar on Promoting Positive Mental Health among Women organised by National Commission for Women
International Conferences Attended
Poster titled "Performance of Bancassurance and Traditional Agency Channels in  Life Insurance Industry –Manipal Research Colloquium  on  April 4th 2018 
Paper titled "Mediating role of attitude in predicting unethical behavioral intentions: A comparison of traditional and bancassurance agents in life insurance sector" was presented at 4th Management Doctoral Colloquium and VGSOM Research scholars day –IIT Kharagpur on March 14th and 15th 2018.
Paper titled Sales behavioral intentions of distributional channel players: A systematic review of the evidence was presented at Manipal research colloquium, Manipal Academy of higher education on April 4th and 6th 2016.
Paper titled "Relationship orientation in banking and insurance services –A review of the evidence" was presented at IIM Indore-NASMEI Summer Marketing Conference held on July 27-29, 201
Paper titled "Assessing the cost efficiency of traditional agent's model in life insurance industry" at International Conference on Applied Sciences, Engineering and Technology (ICASET) in association with NGUYEN TAT THANH  University, Vietnam on July 10-12, 2017
Resource person for a webinar on How to write an effective manuscript to a SCOPUS indexed journal in the domain of Social Sciences on June 4th, 2021 at St. Aloysius College Autonomous, Mangalore
Key note speaker on Digital Transformation in the tourism Sector in the International Conference on Digital Transformation on 26th March 2021 by MSNM Institute College of PG Studies, Bondel
Resource person for a webinar Preparation for UGC-NET/KSET Examination on the topic Research Methodology, organized by Department of Commerce, Canara College, Mangalore on May 7th, 2021
Resource person at Aloysius College, Mangalore on Professional etiquettes. 
Resource person at Alva's Postgraduate College, Mangalore on Softs skills and Professional etiquettes.  
Assessing the Technical Efficiency of Traditional and Corporate Agents in Indian Life Insurance Industry: Slack-based Data Envelopment Analysis Approach
Global Business Review, 21(1), 1-17 0972150917749722. (Sage), Scopus indexed ABDC (C) Ranking
The Effect of Relational Selling of Life Insurance Decision Making in India.
International Journal of Bank Marketing ,( Early cite) Web of Science , ABDC A Ranking
Product Diversification versus Technical efficiency of Conglomerate life micro insurance companies evidence from India
The Geneva Papers on Risk and Insurance-Issues and Practices 44(3) 527-547 Web of Science , ABDC B Ranking
Relationship orientation in banking and insurance services–a review of the evidence
Journal of Indian Business Research. (Emerald).Scopus indexed and Web of Science ABDC (C) Ranking
Sales Behavioral Intentions of Distribution Channels in the Insurance Industry: A Systematic Review
Indian Journal of Marketing, 47(12), 19-35. Scopus indexed. ABDC (C) Ranking
The Influence of Cause-Related Marketing on Millennials' Purchase Intentions: Evidence of CSR from an Emerging Economy
https://journal.ugm.ac.id/gamaijb/article/view/55069 Corporate social responsibility (CSR) has been implemented through sponsorships, philanthropy, and cause-related marketing (CRM), amongst which CRM has aroused the interest of many academicians and stakeholders. The study aims to examine the antecedents of cause-related marketing while considering attitude as a mediator to test its relationship with the purchase intention.
Pharma Insurance: A Mechanism for Risk Mitigation
https://rjptonline.org/AbstractView.aspx?PID=2021-14-5-53 Poor supply chain in pharma leads to various fatalities due to mishandling of the product, pilferage, poor packing, damage during transit, accidents and other nature hazards leading towards expiry of drugs. Low level of supply chain integrity, absence of contingency planning, inadequacy in resources and infrastructure, lack of support in terms of regulation, adoption of sub-optimal standards in technology are included in it.
Mediating Effect of Attitude on the Determinants of Financial Misselling of Life Insurance Products in India
http://www.indianjournalofmanagement.com/index.php/pijom/article/view/166980 This study attempted to empirically validate a comprehensive model that combines individual traits, market competition, and organizational climate affecting the financial misselling by life insurance sales agents from an Indian perspective