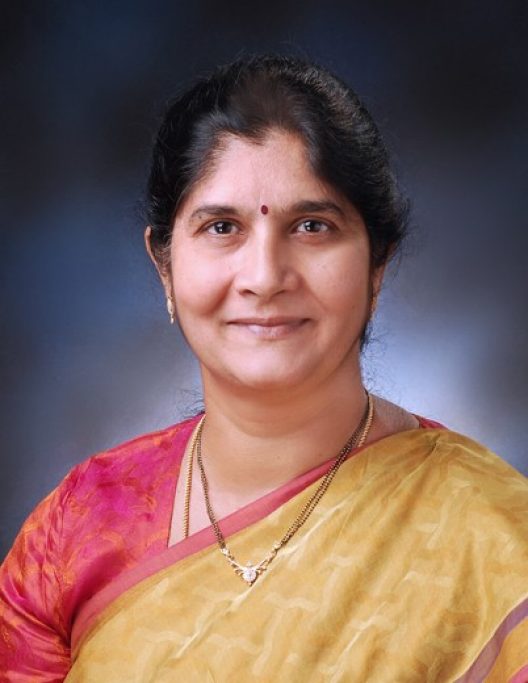 Associate Professor
Qualification: PhD (Mathematics), M.Sc (Mathematics)
CURRENT ACADEMIC ROLE & RESPONSIBILITIES
Out of Total 21 Years of experience, Eight Years of Teaching Assistant in Business School, TAPMI, Manipal and Fourteen Years of Teaching experience in the Department of Commerce, MAHE, Manipal.
Alumni Coordinator for Department of Commerce
Coordinating in students disciplinary issues being the single point of contact with Student Affairs office, MAHE

Appointed as Block Warden for the Department of Commerce
SUBJECTS CURRENTLY TEACHING
| Subject | Semester / Year |
| --- | --- |
| Business Statistics & Mathematics – I | First semester |
| Business Statistics & Mathematics – II | Second semester |
| Computer Applications – I | First semester |
| Statistics for Managers | I Sem |
| Analytics using Computer Applications | I Sem |
| Calculus - I | I Sem |
| IT Applications in BPS | I Sem |
| Business Statistics and Mathematics - II | II Sem |
| Optimization and Quality Control Technique | VI Sem |
ACADEMIC QUALIFICATIONS
| Degree | Specialisation | Institute | Year of passing |
| --- | --- | --- | --- |
| PhD | Mathematics | Karpagam University, Coimbatore, Tamilnadu | January 2020 |
| MSc (Master of Science) | Mathematics | Gulbarga University | 1993 |
Experience
| Institution / Organisation | Designation | Role | Tenure |
| --- | --- | --- | --- |
| Department of Commerce | Associate Professor | Teaching and Admin | 14 years - Ongoing |
Two day International FDP on High Impact Teaching Skills and Mind Mapping for Better Teaching"
Participated in the Online Webinar Organized by International Centre for Business Studies, Department of Commerce, Manipal Academy of Higher Education on 19th & 20th August, 2020
"Faculty Development Program on Pure & Applied Mathematics"
Participated in the Online Webinar Organized by the Department of Science and Humanities of Hindusthan College of Engineering & Technology, Coimbatore on 6th & 7th July, 2020
"Open-Source Tools for Data Analysis in Social Sciences"
Participated in the Online Webinar Organized by Department of Commerce, Manipal Academy of Higher Education on 31st July, 2020
"Scientific writing for Journals"
Participated in the Online Webinar organized by Springer Nature in collaboration with Manipal Institute of Technology, Manipal Academy of Higher Education on 31st July, 2020
"Foundations of Business analytics Using Python"
Participated in three Days Certificate Course organized by Center for Business Analytics, Manipal Academy of Higher Education on 4th to 6th March, 2020
"Business Analytics using R"
Attended two day Faculty Development Program organized by Center for Business Analytics, Manipal Academy of Higher education, Manipal during 29th and 30th November 2019
"Springer Nature Advance Author"
Participated in One Day workshop jointly organized by Sprimger Nature and Manipal Academy of Higher Education, Manipal on 11th September, 2019.
"Structuring your Manuscript to impress Journal Editors"
Attended Half-day Author/Publishing workshop organized by SEARCH-THE KMC Health Sciences Library and Dept.of Library & Information Science, MAHE, Manipal on 29th March, 2019
The Rise and Impacts of Covid-19 on Students' Education, Opportunities, and Psychology in India"
Online Presentation at International Conference on Business Transformation and Excellence in Global Scenario, Organized by VIT-AP School of Business, VIT-AP University, Amaravati, Andhra Pradesh held on 16th to 18th December 2021
 "Fuzzy AHP Analysis to Understand the State of NPAs in Banking Sector",
Presented at the International Conference on "Crafting Foundations for Sustainable and Inclusive Development (CRFSID – 2019)", Organized by Manipal Academy of Higher Education(MAHE), Dubai during 22nd – 23rd February 2019.
AREAS OF INTEREST, EXPERTISE AND RESEARCH
Area of Interest
Numerical analysis, Functional Analysis, Topology, Operations Research, Graph Theory
Area of Expertise
Mathematics, Statistics, Research Methodology and Operations Research
Area of Research
Mathematics
Cyber Threats to Indian Banking Industry – An Overview",
2012-19-04
17 -19 April 2012, National Conference on Information Technology and Its Implications on Banking Sector: Challenges and Prospects, organised by Mangalore University
Banking Innovation for an Eco-Friendly Environment: A new trend of Lean and Green Management
July 2013, Journal of International Academic Research for Multidisciplinary
A Study on Pediatric Dental Practice Among Patients in Manipal Region
Managing NPA's in Indian Public Sector Banks - An Overview
2013-27-09
Bangalore during 26-27 September 2013, International Conference on "Convergence of Science, Engineering & Management in Education and Research – A Global Perspective II Edition" organised by Centres for Post Graduate Studies, Dayanandasagar Institutions
Role of ATM's in Banking Industry and Evaluation of Customer Satisfaction of ATM Services: With Special Reference to SBI and ICICI Bank
2013-17-05
16 – 17 May 2013, 5th International Conference; "Role of Innovation in Business" on organised by IFIM Business School, Bangalore.
Need for Ethical Standards and Issues to Banking Technology – ATM's & ONLINE BANKING
2013-28-03
27 -28 March 2013, International Conference on "National Conference in Emerging Trends in Computer Applications and Management" organised by Aarupadai Veedu Institute of Technology Vinayaka Missions University, Chennai.
Revolution of ATM's – Path to Green Banking
2013-22-02
20 -22 February 2013, International Conference on "Situating new Management Philosophy in Mind, Nature and Technology" organised by Indus Business Academy, Bangalore.
"The Relevance Study of Fuzzy Analytic Hierarchy Process for the Investigation of Non-Performing Assets in Indian Financial Sectors"
Published in Journal of Advanced Research in Dynamical & Control Systems, Vol 9, No.8 , 2017,ISSN 1943-023X P.No: 125-130