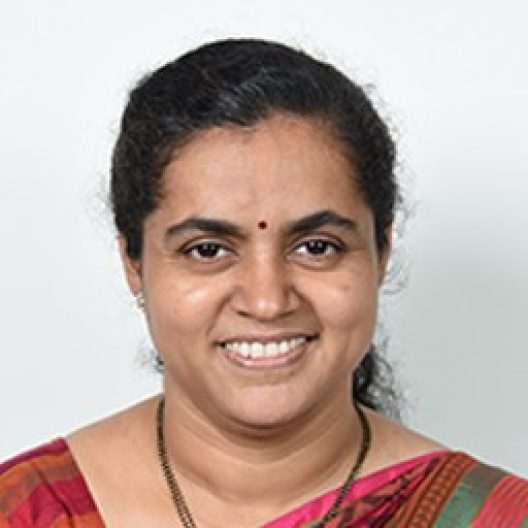 Assistant Professor
Department of Medical Surgical Nursing
CURRENT ACADEMIC ROLE & RESPONSIBILITIES
Janet Prameela D'Souza takes classes for undergraduate and postgraduate students.

She:

Coordinates Medical-Surgical Nursing I subject
Supervises undergraduate and postgraduate students in clinical areas.
Clinical Coordinator of Medical-Surgical Nursing Department
Guides undergraduate and postgraduate research project work
Mentors and  guides the students
Conducts theory and practical examinations.
Advisor role for a committee of SNA
Coordinates external students' visits to the college
SUBJECTS CURRENTLY TEACHING
| Subject | Semester / Year |
| --- | --- |
| Clinical Speciality – II (Medical Surgical Nursing - Critical Care Nursing) | II Year MSc Nursing |
| Medical Surgical Nursing – I | II year BSc Nursing |
| Advanced Health/ Physical Assessment | I Year Nurse Practitioner in Critical Care Residency Programme |
ACADEMIC QUALIFICATIONS
| Degree | Specialisation | Institute | Year of passing |
| --- | --- | --- | --- |
| MSc Nursing (Master of Science in Nursing) | Cardiovascular Thoracic Nursing | Manipal College of Nursing, Manipal, Manipal Academy of Higher Education | 2010 |
| PCBSc Nursing (Post Certificate Bachelor of Science in Nursing) | Nursing | Manipal College of Nursing, Manipal, Manipal Academy of Higher Education | 2007 |
| Diploma in CVT Nursing (Diploma in Cardiovascular Thoracic Nursing) | Cardiovascular Thoracic Nursing | BM Birla Heart Research Centre, National Library Avenue, Kolkata | 2002 |
| GNM (Diploma in General Nursing and Midwifery) | Nursing | School of Nursing, Madhavanagar, Manipal, Karnataka | 2000 |
Experience
| Institution / Organisation | Designation | Role | Tenure |
| --- | --- | --- | --- |
| Manipal College of Nursing, MAHE, Manipal | Assistant Professor | | 2012 onwards |
| Manipal College of Nursing, MAHE, Manipal | Lecturer | | 2010-2012 |
| Medical Surgical Nursing Department | Assistant Lecturer | | 2007-2008 |
AREAS OF INTEREST, EXPERTISE AND RESEARCH
Area of Interest
Cardiovascular Thoracic Nursing, Critical Care Nursing, Microbiology
Area of Expertise
Cardiovascular Thoracic Nursing, Critical Care Nursing
Area of Research
Cardiovascular Thoracic Nursing, Renal, Oncology, Gastrointestinal, Academic
Professional Affiliations & Contributions
Life Member of Asian Journal of Cardiac Nursing, 2002.
Life Member of Nursing Journal of India, 2001
Life member of NRSI, 2015
Achievement/Award:
Received ICMR grant for the project "Effectiveness of Nursing Intervention Module (NIM) on knowledge, adherence, complications and quality of life of persons receiving anticoagulation therapy attending Cardiology and Cardiothoracic Units of selected hospitals of Udupi District, Karnataka –A Randomized Controlled Trial" in 2019. 
Best poster award on the theme: Women's Health issues" on International Women's Day 2017.
Consolation prize for the model on Plaster Friendly on Innovation Day at MAHE in November 2016.
Consolation prize for the poster competition on Breastfeeding support: close to mothers organized by MCON, Manipal on 23.08.2013.
Second prize for concept paper presentation on 'care of the patient with coronary angiography- the role of a nurse' in National Conference on Clinical Governance in Nursing, the key to excellence in patient care organized by Madras Medical Mission, Chennai on November 24 and 25, 2011.
Knowledge on urolithiasis among Patients attending OPDs in selected Hospital of Udupi District Karnataka.
Indian Journal of Public Health Research & Development, 11(4).
Video-assisted teaching program on knowledge and preventive practices of catheter-related bloodstream infections among health care professionals: A hospital-based prospective study.
Medico-Legal Update, 19(2), 78-83.
Risk factors of urolithiasis: A case-control study
2019-01-05
International Journal of Caring Sciences, 12(2), 1-10.
Insulinoma: A Diagnostic Challenge!.
Journal of Clinical & Diagnostic Research, 13(1).
Experience of sore nipple and the remedies used among postnatal mothers.
Indian Journal of Public Health Research & Development, 10(9).
Knowledge of critical care nurses on cardiac medications-need for reinforcement workshop
Indian Journal of Public Health, 9(11), 215.
Awareness on newly initiated Government schemes and utilization among village people.
Online Journal of Health and Allied Sciences, 17(3), 1-3.
Staff nurse's knowledge regarding holistic nursing care.
Manipal Journal of Nursing and Health sciences. Volume 2, Issue 2.
Effectiveness of context based learning on formulation of NANDA-I nursing diagnoses among third year B.Sc. Nursing students of selected nursing college of Udupi District, Karnataka.
2015-20-10
IOSR Journal of Nursing and Health Science. Volume 4, Issue 5.
A study to determine the effect of positioning on back pain and vascular complications among coronary angioplasty patients in selected hospital of Udupi District, Karnataka
Asian Journal of Cardiovascular Nursing, Volume 20 Page No 6-10.