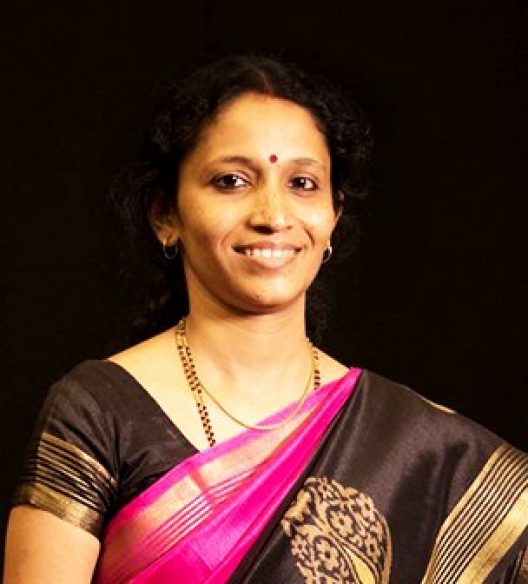 Sowparnika Pavan Kumar Attavar
Assistant Professor - Senior Scale
Sowparnika P.K. Attavar is an Assistant Professor and a Ph.D. scholar at Manipal Institute of Communication, Manipal Academy of Higher Education where she teaches undergraduate and postgraduate courses in Communication Management. She is also the faculty coordinator for Internships at the institute. Before her academic career, she worked with business and social organizations on developing impactful content and marketing communications strategies.
Manipal Institute of Communication
Qualification: MS Communications
CURRENT ACADEMIC ROLE & RESPONSIBILITIES
Ms. Attavar teaches undergraduate and post-graduate courses in Communication Management. She leads undergraduate students' media projects in Copywriting and guides post-graduate students' dissertations. Along with regular academic and administrative responsibilities, she oversees students' internships and industry engagements at the institution.
SUBJECTS CURRENTLY TEACHING
| Subject | Semester / Year |
| --- | --- |
| Media Organisation and Organisational Behaviour | BAMC - V |
| Copywriting Basics | BAMC - III |
| Public Relations: Principles and Practice | BAMC - IV |
| Corporate Communication | MAMC - IV |
| Etiquette and Soft Skills | PGDSC - I |
| Technical Writing | MAMC - II |
| Understanding Social Media | BVoc - I |
| Event Management | MAMC - IV/ PGDCC & PGDSC - II |
| Event Management Project | MAMC - IV/ PGDCC - II |
ACADEMIC QUALIFICATIONS
| Degree | Specialisation | Institute | Year of passing |
| --- | --- | --- | --- |
| MS | Broadcast Media | Manipal Institute of Communication, Manipal | 2007 |
Experience
| Institution / Organisation | Designation | Role | Tenure |
| --- | --- | --- | --- |
| Manipal Institute of Communication, Manipal | Assistant Professor - Senior Scale | Teaching, research, administration | December 2019 till date |
| Manipal Institute of Communication, Manipal | Assistant Professor | Teaching, research and administration | December 2014 - August 2020 |
| St. Aloysius College, Mangalore | Lecturer and Research Assistant | Teaching and administration | 2007-2008 |
What is Coronavirus? Science and the COVID-19 Pandemic in Self-Published Picture Books
Research paper presented at the 28th AMIC Annual Conference, Taiwan (Hybrid)

Since March 2020, a plethora of electronic picture books about the novel coronavirus has been published online by both established children's authors as well as first-time self-published authors who are eager to help children understand the pandemic. Using picture book theory and narrative theory, this paper analyzes a small corpus of self-published picture books by Indian, Australian, and American authors, focusing on how scientific concepts related to COVID-19 are communicated to young readers by non-scientists.
Assessment of parental attitudes and responses towards young children's digital media devices use in Manipal, India
June, 2019
Indian children's screen use at home, parental mediation, digital media and Indian family
Sowparnika Pavan Kumar Attavar
Dr. Padma Rani
Research paper presentation at the 27th AMIC Annual Conference - Communication, Technology, and New Humanism at Chulalongkorn University, Bangkok, Thailand.
A qualitative study was conducted in Manipal, India to study parental attitudes and responses towards young children's digital media use. The study found that parents had highly positive, highly negative, or mixed attitudes towards young children's use of digital devices. Their response strategies to children's digital media activities included open conversations with children, making the devices kid-friendly, and even deception
Parents' Perceptions of Their Children's Access and Use of Smart Devices at Home: A Qualitative Study for the Track A - ICC -Individual and Digital Exposure
Conference paper presented at the International Communication Association (ICA) Asia Regional Conference held from 14 to 16 December 2017 at SNDT University, Juhu- Mumbai-INDIA.
This qualitative research study explored 1-10-year-old children's use of smart devices in the Indian scenario.
Data Journalism, Social Action, and Development
March, 2017
Data journalism, communication for development
Paper presented at the International conference on India's Communication Policy and Strategy for Development at Manipal Institute of Communication, MAHE, India
In the past few years, big data and its offshoot, open data have played a special role in transforming journalism. In this paper, I argue how open-data-backed data journalism can be a driver of social change. I have examined data journalism in the context of a crucial tenet of communication for development i.e., the participatory approach of development communication

Themes, Trends, and Tools of Data Journalism in India: A Study of The Hindu's Data Tab
Research paper presented at MICA's 4th International Conference in Communication and Management (ICMC), Ahmedabad, India.
Primarily used in investigative journalism, data journalism is now being used to report on social, economic, and environmental topics across the globe. Data Journalists dig through a multitude of open data available for public access to identify, probe, establish the cause-effect occurrences, and wherever possible even provide solutions to regional and global problems. This study conducted a content analysis of the national daily, the Hindu's data journalism section on its website, called the 'Data tab'.
AREAS OF INTEREST, EXPERTISE AND RESEARCH
Area of Interest
Children, adolescents, and media, Child Computer Interaction, children's films, picture books, brand communication, design communications, data driven journalism, communication technologies and their impact on users, children's and, user experience research.
Area of Expertise
Marketing and technical communication strategy planning and development, Advertising, Public Relations and Corporate Communications, Qualitative Research methods, participatory research design for research with children.
Area of Research
Social construction of technology and media users' experiences with technologies; Children and their digital media use; HCI-CCI; Data Journalism, Big Data and Social Change
Professional Affiliations & Contributions
Reviewer, Bulletin of Science, Technology, and Society
Resource person for conducting workshops on communication and soft skills
Member, Technical Writers Network (TWIN), India
Work Experience
| Organisation | Role | Tenure |
| --- | --- | --- |
| Ever After Learning, Bangalore | Content Strategist - Crafting content marketing strategies | 2013-2014 |
| Tech and non-tech organizations, Bangalore | Freelance Content Consultant - conceptualizing and creating marketing communications content | 2012-2013 |
| Quark Gen IT Solutions, Pune | Technical Writer - creating and managing technical communication documents | 2009 |
Connected to devices, disconnected from children: struggles of urban, dual-career parents in India during COVID-19
March 2021
Digital parenting, parental mediation, children's screen time at home
Sowparnika Pavan Kumar Attavar
Amidst high work demands and additional responsibilities at home, dual-working Indian parents struggled to balance work and family. I examine three challenges that Indian working parents faced during the COVID-19 lockdown and the implications of these challenges on the parent-child relationship. Through this I introduce the concept of connected-disconnected, a situation wherein Despite being physically present with them, parents remained connected to digital devices but disconnected from their children, impairing the parent-child relationship in the process.
Journal of Children and Media 15:1, 138-141, DOI: 10.1080/17482798.2020.1859396
How Children Under 10-years Access and Use Digital Devices at Home and What Parents Feel About It: Insights from India
January, 2018
Indian children's screen use at home, parental mediation, digital media and Indian family
Sowparnika Pavan Kumar Attavar
Dr. Padma Rani
This study was conducted to assess how children under 10-years access and use digital devices and parental views about it from an Indian context. Using thematic analysis of in-depth semi-structured interviews with fourteen parents in Manipal, South India, this study examined three critical areas: a) the extent of ownership, access, and use of digital media by young children in their homes; the activities they indulged in and content they engaged with using digital devices b) parental views and c) the strategies that parents used to manage and monitor young children's digital devices usage.