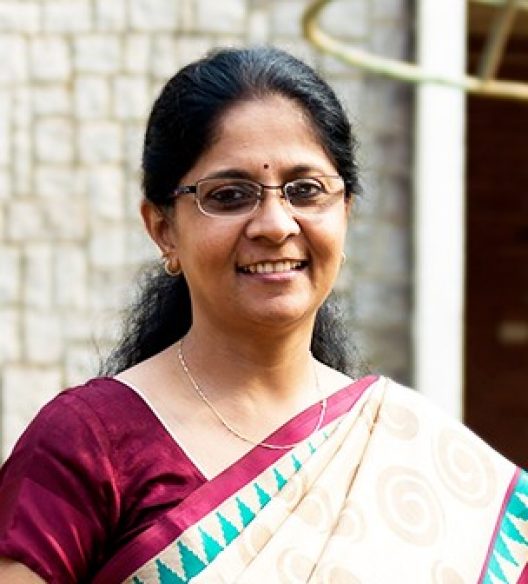 Associate Professor; HOD: Media Studies Coordinator : Multimedia Resource Centre
Manipal Institute of Communication
CURRENT ACADEMIC ROLE & RESPONSIBILITIES
Associate Professor : Teaching courses to Graduate and Post graduate students

Coordinator: International Programs, MIC

Academic committee, MIC

Examinations committee, MIC

Technical committee, MIC

Social media communication team, MAHE

Chief Editor: Manipal Matters, MAHE

Warden : Girls hostels, MAHE
SUBJECTS CURRENTLY TEACHING
| Subject | Subject code | Semester |
| --- | --- | --- |
| Broadcast Media Histrionics | MMB 616 | IV |
| Design for Print | BMC 1204 | II |
| Human Communication and Presentation Skills | BMC 1103 | I |
| Sound design and aesthetics | MAF 609 | I |
ACADEMIC QUALIFICATIONS
| Degree | Specialisation | Institute | Year of passing |
| --- | --- | --- | --- |
| MS | Communication | Manipal Institute of Communication | 2000 |
Experience
| Institution / Organisation | Designation | Role | Tenure |
| --- | --- | --- | --- |
| Manipal Institute of Communication, Manipal | Currently Associate Professor | Teaching | July 2010 to current |
| Technische Hochschule Nurnberg Georg Simon Ohm, Nuremberg, Germany | Visiting Faculty on fellowship | Teaching | Dec 2017 May 2018 May 2019 |
| University of Applied Sciences. Bremen, Germany | Sabbatical | Research | July 2015-Aug 2016 |
| University of Applied Sciences Bremen, Germany | Visiting Faculty on DAAD Scholarship | Teaching | May to July 2011 |
| Manipal University Dubai | Senior Lecturer | Teaching | August 2006-July 2010 |
| Manipal Institute of Communication, Manipal | Lecturer | Teaching | August 2002- July 2006 |
| Asian Network for Women in Communication, Manipal | Project Associate | Project work | 2000-02 |
| Muscat Institute of Computer Education, Muscat | Trainer | Computer trainer | 1995 |
| ICDS Ltd. Manipal and Bangalore | Officer | Administration | 1994-95 |
| Dolphin International Pvt Ltd. New Delhi | Executive | Handling Exports | 1992-94 |
AREAS OF INTEREST, EXPERTISE AND RESEARCH
Area of Interest
Media Studies, Gender and Media, Health communication, Diaspora studies, Audience studies, New Media, Young users of the media, Broadcast production
Area of Expertise
Internet & New Media, Sound, Radio and aural medium, Non verbal communication, Television studies, Broadcast production
Area of Research
New Media, Internet and ICT, Health communication, Media and Gender, Youth and media, Politics and new media
Professional Affiliations & Contributions
Member of International Association of Media & Communication Research(IAMCR)
Reviewer, Journalism Practice, Web of Science Journal
Chaired academic sessions in national and international conferences
Member Board of Studies and Board of Examination in colleges
Resource person for conducting workshops on presentation skills, soft skills 
Work Experience
| Organisation | Role | Tenure |
| --- | --- | --- |
| Dolphin International Pvt Ltd | Executive, sourcing and processing export of various products from India | |
| ICDS Ltd, Manipal and Bangalore | Officer, maintained hire purchase and lease accounts | |
| Muscat Institute of Computer Education | Trainer | |
| Asian Network of Women in Communication | Project Associate, wrote, edited, designed and published a quarterly journal called impact for international circulation, conducted workshops on representation of women in the media | |
Media and Development
July 2000, Voices. From media assessment to human development: a case of gender equity.
Why women journalists should network?
2000-01-11
November 2000, Women in Journalism, Voices.
Experiences of making of a training manual for community radio
April 2004, Rediscovering Radio in India, Ford Foundation.
Global media monitoring project : Asian strategies by ANWIC
2004-01-07
July 2004, Asia Pacific NGO Forum, Bangkok.
Integrating gender sensitivity into mass communication and journalism curriculum
2004-01-09
September 2004, classroom intervention for gender sensitivity, Sarojini Naidu School of Communication an Fine Arts, Hyderabad,
Cultural identification through television soap operas : an exploratory study of women spectators in Indian Diaspora in UAE
2008-01-02
Udupi and Subramanya
2006-01-01
2006, Outlook Traveller, 101 pilgrimages in India.
Numerous travelogues from Europe
2011-01-07
July 2011, www.tsr.net.co.
Internet's role in quality of life of bachelor degree students in Udupi and Manipal: An exploratory study
2012-01-12
A study on the relationship between internet connectedness index and youth culture
June 2013, Communicating cultural diplomacy through media, Taylors School of Communication, Malaysia.