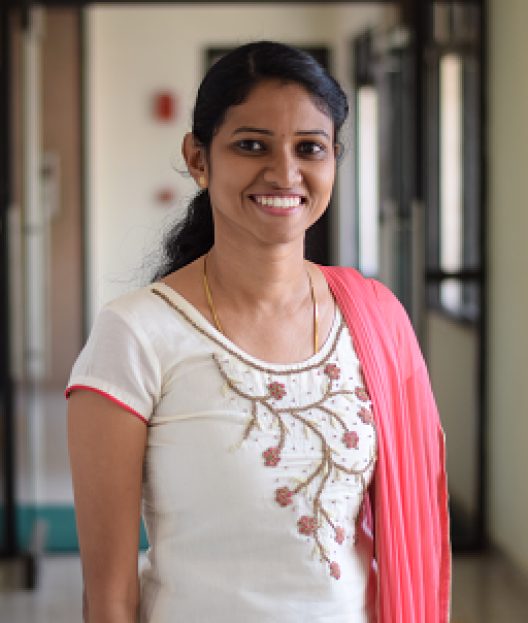 Assistant Professor
Manipal Institute of Virology
CURRENT ACADEMIC ROLE & RESPONSIBILITIES
Teaching MSc students of MIV. 
Involved in designing and revision of MSc. Clinical virology syllabus
Resource person in departmental and inter-departmental academic lecturers, workshops and CME
Guiding PhD and MSc. students in MIV.
Actively involved in organising workshops and trainings at MIV Manipal
SUBJECTS CURRENTLY TEACHING
| Subject | Semester / Year |
| --- | --- |
| Systematic Virology: I | 1st Semester |
| Molecular Virology and Bioinformatics | 2nd Semester |
ACADEMIC QUALIFICATIONS
| Degree | Specialisation | Institute | Year of passing |
| --- | --- | --- | --- |
| PhD | Virology | Manipal Institute of Virology | 2017 |
Experience
| Institution / Organisation | Designation | Role | Tenure |
| --- | --- | --- | --- |
| Manipal Institute of Virology | Assistant Professor | | 2018-Present |
| Manipal Institute of Virology | Lecturer | | 2015-2018 |
| Manipal Institute of Virology | Research Scientist I | | 2013-2015 |
| Manipal Institute of Virology | Senior Research Fellow | | 2011-2013 |
| KMC, Mangalore | Technical Officer | | 2010-2011 |
AREAS OF INTEREST, EXPERTISE AND RESEARCH
Area of Interest
Molecular and diagnostic virology
Area of Expertise
Expertise in standardization of conventional, real time and allelelic discrimination PCR assays; sequencing using Sanger or Next generation sequencing (NGS) methods; generation of recombinant DNA and protein expression, development of virus-like particles.
Area of Research
Influenza Virus-like particle based RDT and vaccine development; Immunological response to influenza natural infection; Standardisation of Humoral immunological assay package for evaluation of influenza vaccination response; Cytokine profiling of viral infections
Professional Affiliations & Contributions
•Fogarty Global Health Post doctoral fellowship received from Northern Pacific Global Research Fellows Training Consortium
•Travel fellowship award for attending Options X for Control of Influenza Conference, organised by ISIRV at Suntec, Singapore.
• Lars Haaheim Travel fellowship award for attending School of Influenza , organized by ISIRV at Siena, Italy.
• Best poster presentation award in biological science field at the Indo-French Seminar on "Women in Science" held at Indian Institute of Science, Bangalore, India.
• Travel fellowship by the Indian council of Medical Research (ICMR) to attend the International union of microbiological societies, held at Montreal, Canada.
1.Detection of cell culture-induced substitutions in Neuraminidase (NA) gene of Influenza A (H3N2) virus and molecular dynamic simulation of an Influenza A (H1N1) pdm09 NA-N295 mutant virus, VAHID RAJABALI ZADEH, 2015
2. Molecular Characterization of Influenza A(H3N2) Viruses circulating in India during 2014 to 2016, SARITHA SIVADAS, 2016
3.Genotyping of Hepatitis B Virus from Ooramana village in Ernakulam district, Kerala in 2012, RITIKA THAKUR, 2017
4. Molecular Epidemiology of Influenza A(H1N1)pdm09 virus in Denkanikottai Taluk, Tamil Nadu during January 2017 to June 2017, SESHASAI KAMESWARA KIRAN CHUNDURU, 2017
5.Humoral immune response to Influenza A (H1N1) pdm09 virus natural infection,ALLADI SAI HARI CHANDANA, 2018
6. Prevalence of Influenza C virus among SARI cases, GURSIMRAN KAUR REHAL, 2019.
7. Designing a computationally optimized broadly reactive antigen for HA and NA genes of influenza A(H1N1) virus, ANUSHKA BHATTACHARJEE, 2020.
8. Phylogenetic analysis of hemagglutinin gene of influenza A(H1N1) virus circulating in India during 2019 season, ATHIRA A P, 2020.
9. Hemagglutination Inhibition and Neuraminidase Inhibition Antibody Responses following Influenza A Virus Natural Infection, Cardoso Desmond Francis, 2021.