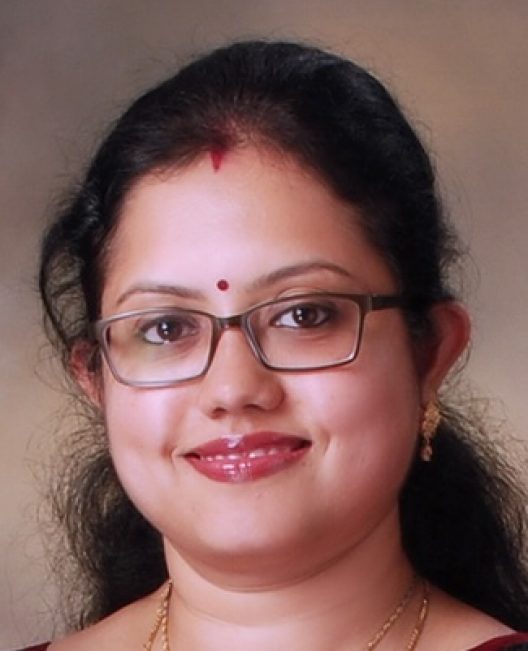 Associate Professor
Manipal Institute of Virology
CURRENT ACADEMIC ROLE & RESPONSIBILITIES
1. Principal Investigator 

(i) Translational Research Consortium for Establishing Platform Technologies to Support Prophylactic and Therapeutic Strategies for Dengue – Discovery to Proof-of-Concept (referred as Dengue TRC), funded by DBT-BIRAC, Govt. of India; Project Ref No: BT/NBM/0099/02/18 

(ii) Targeting protease activity of Chikungunya virus capsid protein using FRET-based assay- a prototype antiviral high-throughput screening (HTS) platform, funded by Intra Mural Funding, MAHE 

2. Co-Principal Investigator 

(i) Translational Research Consortia on Chikungunya (referred as Chikungunya TRC), funded by DBT-BIRAC, Govt. of India; Project Ref No: BT/NBM/0101/02/18 

(ii) Evaluation of ratioNally Designed Influenza vaccines (ENDFLU), funded by DBT, Govt. of India; File No: BT/IN/EU-INF/15/RV/19-20

(iii) Implant and nano-formulation of acyclovir and prodrug of acyclovir using biodegradable polymers to treat herpes simplex virus infections, funded by Manipal MAC ID Seed Grant; Ref No: MAC ID/SGA/2020/59 

(iv) Development of Novel and Potential Neuraminidase (NA) Inhibitors against H1N1 Influenza Virus through In Silico and In Vitro Studies, funded by Manipal MAC ID Seed Grant; Ref No:  MAC ID/SGA/2021/87 
SUBJECTS CURRENTLY TEACHING
| Subject | Semester / Year |
| --- | --- |
| Immunology of viral diseases | 1st semester |
| Viral vaccines and antiviral pharmacotherapy | 3rd semester |
| Bioethics | 4th semester |
ACADEMIC QUALIFICATIONS
| Degree | Specialisation | Institute | Year of passing |
| --- | --- | --- | --- |
| PhD | Pharmaceutical Sciences (Pharmacology) | Manipal College of Pharmaceutical Sciences | 2012 |
Experience
| Institution / Organisation | Designation | Role | Tenure |
| --- | --- | --- | --- |
| Manipal Institute of Virology | Associate professor | | 2020-Present |
| Manipal Institute of Virology | Assistant Professor | | 2015-2020 |
| Manipal Institute of Virology | Research Scientist | | 2012-2015 |
| Krupanidhi College of Pharmacy, Bangalore | Lecturer | | 2007-2008 |
AREAS OF INTEREST, EXPERTISE AND RESEARCH
Area of Interest
Preclinical research in areas such as antiviral drug discovery and development from herbal and synthetic sources, immunomodulatory mechanisms of virus like particles, radioprotection, cancer, and metabolic disorder
Area of Expertise
Conventional Polymerase chain Reaction (PCR), gel extraction, PCR product purification, plasmid isolation, Western blotting, cell culture-based antiviral screening assays; bacterial transfection and transformation | Expertise in preclinical in vivo experiments, cannulation of Portal vein, Thoracic vein and Bile duct | Instruments handled: High Performance Liquid chromatography (HPLC), Flow Cytometer, Conventional PCR, Gel electrophoresis, Nanodrop, Biosafety Cabinet Class II | In silico drug screening using Schrödinger Molecular Docking Software
Professional Affiliations & Contributions
Indian patent on "Innovative, inexpensive and viable method for the isolation of novel antioxidant flavonoids from the weed, Coronopus didymus Linn."
Presented research work in various conferences of national and international repute, organized by professional societies such as World Congress on Drug Discovery, Society for Free Radical Research, Indian Pharmaceutical Congress, Indian Pharmacological Society, Manipal McGill Center for Infectious Diseases, etc.
Life Member, Indian Virological Society (L.M. 137/IVS/2017)
Recipient of Global Virus Network Rising Star Mentorship Program 2021-2022 
Professional Certification in Biorisk Management, International Federation of Biosafety Associations (IFBA).

Certification in Biosecurity, Manipal Institute of Virology and Prasanna School of Public Health, MAHE.

Certified Internal Auditor by Suprabha Quality Solutions Internal Auditors Training on QMS (ISO 9001:2015) and EMS(ISO14001:2015).

Certified in 'Quality Management Systems and Internal Audit in Medical Laboratories as per ISO 15189:2012'.

Certification in "COVID-19 vaccination training for health workers", online training module by World Health Organization in collaboration with UNICEF.

1. Exploration of in vitro antiviral and in vivo immunomodulatory effects of a few selected phenolic phytoconstituents; Rithu Paul Stansilaus, 2015
2. In vitro Anti-Adenoviral Screening of Kaempferol; Aparna Damodaran, 2016
3. Phenotypic and genotypic characterization of Herpes Simplex Virus clinical isolates for acyclovir resistance - a retrospective study; Raksha Vikas, 2017
4. Exploring the antivirals for Chikungunya Virus (insilico and invitro approaches); Shreemadhu Bhatt, 2018
5. Identifing inhibitors of Influenza endonuclease for anti-influenza activity-in silico and invitro approach; K Sai Disha, 2019
6. Repurposing target-specific antivirals against Dengue virus; Rashmi, 2019
7. Identifying inhibitors of Japanese Encephalitis Virus using online molecular docking tools; Shaun Joe, 2020