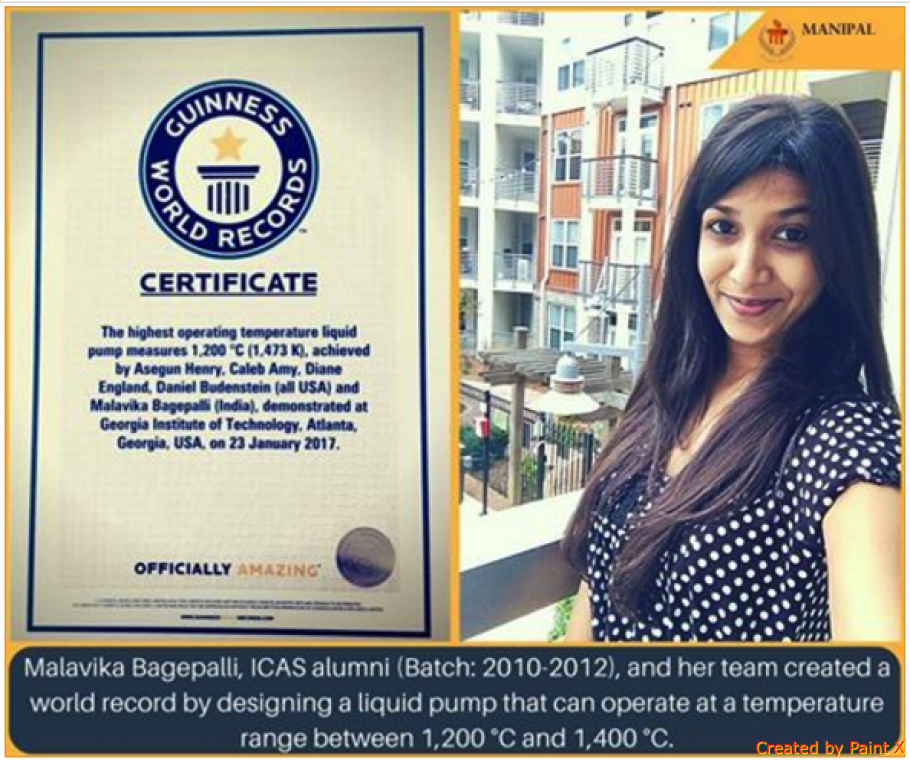 Ms. Malavika Vasishta Bagepalli is an alumnus of International Centre of Applied Sciences (Batch 2010-12) entered Guinness World Records
Ms. Malavika Vasishta Bagepalli, an illustrious alumna of International Centre of Applied Sciences (ICAS), Manipal Academy of Higher Education (B.S. Mechanical Engineering Batch 2010-12) has done a lifetime achievement by entering Guinness World Records through her research outcome!
Malavika and her research group at Georgia Institute of Technology, Atlanta, USA, the world's 71st ranked (QS World University Rankings 2017) university, have set a new world record recently, by designing a ceramic-based mechanical pump capable of containing & circulating liquid tin at a temperature range between 1,200 °C and 1,400 °C tested for over 72 hours.
She was a top performing student at ICAS (with a CGPA of 3.29 out of 4) and got transferred to prestigious Ohio State University, USA under the Twinning Engineering Program and later joined Georgia Institute of Technology, USA as Research Assistant. She is the daughter of Mr. B N Mohan, a businessman and Mrs. Malathi Mohan from Hyderabad.
The whole ICAS family heartily congratulate Ms. Malavika for her glorious accomplishment and for bringing laurels to ICAS and Manipal Academy of Higher Education!
Mr. Tirthak Saha, an illustrious alumnus of International Centre of Applied Sciences (ICAS), Manipal Academy of Higher Education (B.S. in Electrical & Electronics Engineering, Batch 2011-13) has been awarded a spot on the prestigious 2018 Forbes #30Under30 global list in the Energy category!
The research team led by Tirthak (Consumer Resiliency Team) has recently won second prize in American Electric Power's (AEP) Spark Tank Innovation Challenge held across AEP's 11 state territory in USA.
About the Prize winning Project, "Aggregated Network of Energy Storage":
The aim of this project is to create a Virtual Power Plant like linked network of behind-the-meter energy storage units in order to realize benefits of energy aggregation such as Frequency Regulation, Capacity Management, Peak Shaving, Capital Deferral, and vastly increased 'blue-sky' reliability for customers and overall reliability metrics for the company such as SAIDI, SAIFI, etc. The work revolves around modernizing the Electric Grid in the American Mid-West and finding innovative paths towards reliable electric power delivery to millions of customers, high levels of energy efficiency in our systems, and a fossil fuel independent future for our world. It also focusses on researching and implementing Smart-Grid initiatives like self-healing Distribution Automation, intelligent Line Sensor applications, Energy Storage and Volt-Var Optimization across the states of Indiana and Michigan. The project was declared 2nd place winner out of 600 submissions in American Electric Power's first ever Spark Tank Innovation Challenge. It will now be deployed across AEP's 11 state territory in the coming years.
Emeka Okafor, Manager, Region Support Engineering – AEP quotes:
"Tirthak Saha is a tremendous asset to American Electric Power. He is leading our modernization efforts to deploy new technology to improve the customer experience for AEP customers in Indiana and Michigan states."
In the words of jubilant Tirthak Saha:
"Incredibly Honoured and immensely happy to announce that I have been awarded a spot on the 2018 Forbes #30Under30 list in the Energy category! This is nothing short of my wildest dreams, aspirations, and goals coming to fruition. A big, heartfelt thank you to all who supported me along my journey towards this day! I am a technologist, futurist, and a change leader. One of my main passions is helping non-technical people get past the jargon-y barriers to enter and get access to the incredible world of Science and Technology. The innovations of today will affect everyone tomorrow……"
Some of his accomplishments at ICAS, Manipal Academy of Higher Education:
§  Silver Medal, BS Electrical Engineering (2011, 2012)
§  Editor-in-Chief of university yearbook and magazine.
§  Class representative, Student Government Council.
§  Cricket team (Vice Captain)
§  Swimming team (Captain)
§  Excellence in art award (2011, 2012)
§  National Award for Earth Day Painting on July 27, 2012 from Union Ministry of  Earth Sciences
Some of his accomplishments at Drexel University, USA (transferred university):
§  Published author in Drexel's "The 33rd- An Anthology" textbook.
§  Independent research project on Dye-Synthesized Solar Cells in the Thin Films and Devices Lab.
§  Member of two different research teams for the Drexel Space Systems Lab.
§  Speaker at 2015 AIAA National Conference (Johns Hopkins University).
§  Speaker at 2015 NASA RASC-AL Conference (Florida).
§  Co-op at PJM Interconnection
§  Competed at the 2015 Revolutionary Aerospace Systems Concepts Academic Linkage (RASC-AL forum) on June 14-17, 2015
He is the proud son of Mr. Pradip Saha, a schoolteacher and Mrs. Enakshi Saha from New Delhi. 
"Rank Certificate Distribution to 2016 Admission Batch"
The top academic performers of 2016 admission batch were formally congratulated and rank certificates were distributed by the Director of ICAS on 22 July 2017. They were encouraged to perform still better in the second year and complimented on their good work. Director, Associate Director & Faculty of ICAS wished them every success in their academic career.
Ms. Pushkarni Suresh of IV Sem Industrial Bio-technology programme has been invited to perform classical and Folk Dance in the 13th World Kannada Cultural Convention at Melbourne, Australia on 13-14 May 2017.
Mr. Sriram Srinivas Rangan, I Sem, will be the part of "Google's Top Contributor Meet-Up" on 29-30 September 2016 in Mountain View, California, USA.
Ms. Pushkarni Suresh, III Sem, Industrial Biotechnology has been invited to perform classical dance at the Ninth AKKA World Kannada Conference on 02-04 September 2016 in Atlantic City, NJ, USA.
ICAS hosted Academic Awards Ceremony to honour II Sem. 2015 Batch students on 3rd August 2016.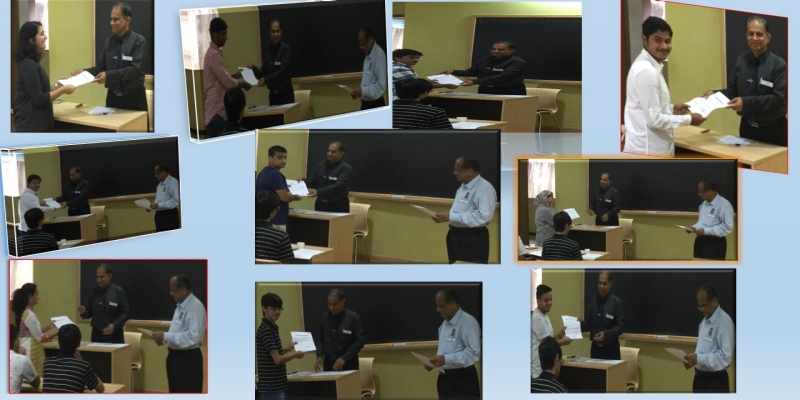 International Centre For Applied Sciences

II Semester Rank List - 2015 Batch

Regno

Name

Cgpa

Rank

Aviation Engineering

151610083 

Alka Panda

3.93

First

151610152

Raghav Agarwal

3.83

Second

Chemical Engineering

151610133

Alita Shaalan Lobo

3.19

First

 Industrial Biotechnology

151610123

Pushkarni S

3.31

First

Computer Engineering

151610027

Akshay Raj

3.44

First

151610261

Ankur Khetan

3.40

Second

Computer Science & Engineering

151610112

Ankit N Gohel

4.0

First

151610193

Utkarsh Agarwal

3.92

Second

151610185

Shubhendu Joshi

3.90

Third

E & C Engineering

151610295

Kaushik Ghosh

3.96

First

151610220

Rahul Balamurugan

3.44

Second

E & E Engineering

151610085

Nimish Magre

3.63

First

Mechanical Engineering

151610042

Chirag Daswani

3.90

First

151610212

Sahil Anand

3.81

Second

151610271

Babra Bashir

 
Mr. Sachin Ashtekar, IV semester/Mechanical Engg, Section B, has participated and won prizes in various events and fests held in Manipal during the academic year 2015-16, as follows:
| | | | |
| --- | --- | --- | --- |
| Sl.No | Achievement | Event | Date/Month |
| 1. | Organiser, Proshow | Revels'16, MIT, Manipal | 9-12 March 2016 |
| 2. | II Prize, Make-o-Manipal | Tech Tatva ʽ15, MIT, Manipal | 7-10 October 2015 |
| 3. | Organiser, Outstation Publicity | Tech Tatva ʽ15, MIT, Manipal | 7-10 October 2015 |
| 4. | Management Committee member | SAE-IM, Manipal Chapter | 7-8 November 2015 |
Mr Jaisimar Singh, II Sem, Mechanical Engineering won III Place - Bronze Medal in Men's Shortput Event held as part of Manipal Academy of Higher Education Inter-collegiate Athletic Meet conducted on 25.2.2016.