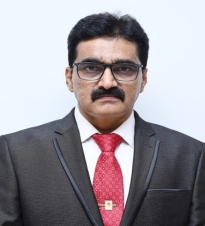 Message from the Director
The world in the 21st century is a knowledge-based society with multiple opportunities to grow. World class engineers are those who consider Engineering and Technology as their life time mission; who set a great technological goal that will lead them to think high, aim high, work and persevere to realize the goal; who commit themselves to apply their creative mind to innovate, invent or discover a process or a product, wherever they are; who adopt creativity, innovation and continuous learning as the success tools to reach their goals and who keep pace with the knowledge explosion taking place around them and constantly update their skillsets and competencies. A sincere attempt to produce world class engineers from globally recognized Manipal Academy of Higher Education is the International Transfer Program (ITP) offered by International Centre for Applied Sciences (ICAS).
Welcome to ICAS family. At ICAS, all possible efforts are made to develop industry-ready human resources to meet the challenges of global competitiveness. Students will be apprised on the significance and worthiness of international higher education. I assure the parents that all necessary facilities will be extended to the students here and that 'we truly care for your children'.
Prof. Dr. Radhakrishna Aithal
Director