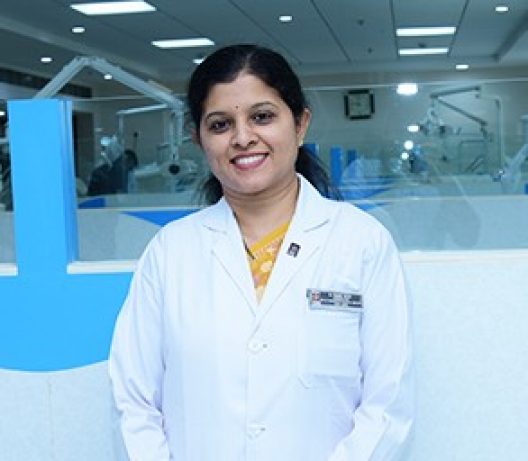 Professor
Department of Paedodontics & Preventive Dentistry
CURRENT ACADEMIC ROLE & RESPONSIBILITIES
Teaches undergraduate and postgraduate students.

Coordinator for Laser Dentistry Certificate Program at MCODS, Manipal and also internal examiner for undergraduate and post graduate examinations.
Member of board of studies for undergraduate & post graduate students.
ACADEMIC QUALIFICATIONS
| Degree | Specialisation | Institute | Year of passing |
| --- | --- | --- | --- |
| Postgraduate advanced certificate course in LASER dentistry | Laser Applications in Dentistry | MCODS, Manipal | 2008 |
| MDS | Paediatric and Preventive Dentistry | Manipal College of Dental Sciences, Manipal, Manipal Academy of Higher Education | 2000 |
Experience
| Institution / Organisation | Designation | Role | Tenure |
| --- | --- | --- | --- |
| Department of Pedodontics and Preventive Dentistry, MCODS Manipal | Professor, Pedodontics | | 2009 till date |
| Department of Pedodontics and Preventive Dentistry, MCODS Manipal | Associate Professor | | 2004-2009 |
| Department of Pedodontics and Preventive Dentistry, MCODS Manipal | Assistant Professor, Pedodontics | | 2000-2004 |
Utility of mobile dental van in providing dental services to the rural population.
To evaluate the clinical efficacy of a desensitizing toothpaste containing 8% arginine, calcium carbonate and 1450 ppm fluoride as sodium monofluorophosphate on dentin hypersensitivity relief immediately after a single professional application and after 2-weeks of product use.: A hypersensitivity study.
AREAS OF INTEREST, EXPERTISE AND RESEARCH
Area of Interest
Child psychology, Behavioral Pedodontics, Traumatology, Preventive Dentistry, Pain and Anxiety Management in children.
Area of Expertise
Paediatric Endodontics, Preventive Dentistry, Laser Applications In Dentistry.
Area of Research
Local Anaesthetics, Clinical Applications of Fibre Reinforced Composites, Primary Failure Of Eruption.
Professional Affiliations & Contributions
Member of Indian Society of Pedodontics and Preventive Dentistry, 2010.
Member of Indian Dental Association, 2012.
Member of Indian Academy of Laser Dentistry, 2008.
AWARDS
Dr. Rashmi Nayak  awarded as "Outstanding Academic Paper "presented "Laser applications in Pediatric dentistry" at 4th International IALD Conference at Mumbai 3rd and 4th April 2010.
Talk on dental treatment of children- Why and How?

Educative article regarding child oral and dental health.

Udayavani a local Kannada daily.

Live talk show on " Laser Dentistry ".