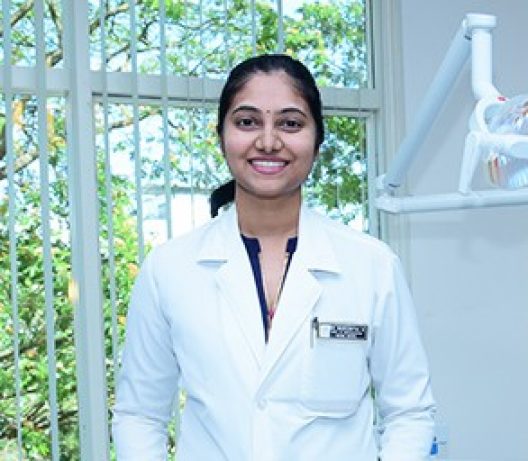 Professor & Head
Department of Orthodontics & Dentofacial Orthopaedics
CURRENT ACADEMIC ROLE & RESPONSIBILITIES
Professor holding a teaching position and clinical practice, to facilitate under-graduate and post- graduate courses in dentistry
SUBJECTS CURRENTLY TEACHING
| Subject | Semester / Year |
| --- | --- |
| Orthodontics | II. III and IV BDS |
ACADEMIC QUALIFICATIONS
| Degree | Specialisation | Institute | Year of passing |
| --- | --- | --- | --- |
| MDS | Orthodontics and Dentofacial Orthopaedics | Sri Ramachandra Medical college & research institute, Chennai | 2010 |
| BDS | | Sri Ramachandra Medical college & research institute, Chennai | 2005 |
Experience
| Institution / Organisation | Designation | Role | Tenure |
| --- | --- | --- | --- |
| MCODS, Manipal | Associate Professor | Teaching | 8 yrs and 10 months |
AREAS OF INTEREST, EXPERTISE AND RESEARCH
Area of Interest
Microimplants
Area of Expertise
Orthognathic surgery
Area of Research
Temporary anchorage devices (TAD) for molar intrusion
Professional Affiliations & Contributions
Life Member of Indian Orthodontic Society
Judge at Manipal research colloquim 2018 at MAHE,Manipal between April 3-5th 2018
Chairperson during 8th annual conference of Karnataka chapter of AOMSI- Gnathopedia II held between Aug 2-4th 2018 at MCODS,Manipal.
Reviewer of Journal of cleft lip palate and craniofacial anomalies since Dec 2016
Reviewer of Cleft palate and craniofacial journal since Sept 2018
Chapter contribution titled - "Alveolar bone" in Textbook of Oral anatomy, histology and physiology
Scopus ID: 54179558100
1.       Natarajan et al.Nickel and Chromium release from fixed orthodontic appliances and its genotoxic effect on oral mucosal epithelial cells – an in-vivo study. Amj J Orthod dentofacial Orthop 2010;140:383-8

2.      Natarajan, Chakradar, Lodha.Modified butterfly de-programmer for masticatory myalgia. Dental update 2012;Pg 158.
3.      Jain et al. Osteogenesis imperfecta and pneumatization of bone-a hidden reality. The art and science of dentofacial enhancement 2014;14(1):e150-155.
4.      Natarajan M, B Rao K. Topographical and elemental changes of retrieved stainless steel and titanium mini-implants after orthodontic treatment. The journal of the world federation of orthodontists 2017; 6 ()e 171-76
5.      Natarajan M, B Rao K, Urala A. A case of five mandibular incisors.Dental Update 2017;44:787-92.
6.      Natarajan M, B Rao K. Improving gingival zenith in a unilateral cleft patient using Platelet-Rich Fibrin (PRF).J Journal of Oral Biology and Craniofacial Research 2018;8:182–87.
7.      Amalan A et al. Knowledge and Awareness of Handling Methyl Methacrylate Monomer among Undergraduate Dental Students. Indian Journal of Public Health Research & Development 2018;9(12):