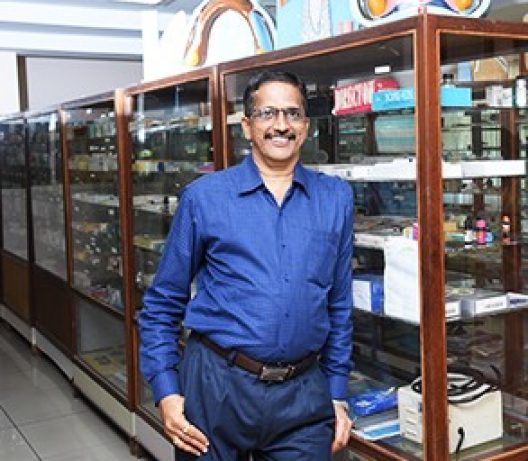 Associate Professor and Head of the Department
Department of Dental Materials
CURRENT ACADEMIC ROLE & RESPONSIBILITIES
He:


Conducts classes for undergraduate and post graduate students
Guides post graduate students with research activities
Manages departmental activities along with the other members of the department
 
SUBJECTS CURRENTLY TEACHING
| Subject | Semester / Year |
| --- | --- |
| Dental Materials | First and Second BDS |
| Dental Materials | First and Second PG Diploma in Dental Materials |
| Chemistry of Materials Practical Exercises | First PG Diploma in Dental Materials |
| Applied Physics, Chemistry and Mechanics | First Dental Mechanics |
| Dental Materials | First and Second Dental Mechanics |
ACADEMIC QUALIFICATIONS
| Degree | Specialisation | Institute | Year of passing |
| --- | --- | --- | --- |
| PhD | Glass ionomer cement | Manipal University, Manipal | 2011 |
| MSc | Chemistry | Mangala Gangotri, Konaje | 1990 |
| BSc | Mathematics, Physics and Chemistry | MGM College | 1988 |
Experience
| Institution / Organisation | Designation | Role | Tenure |
| --- | --- | --- | --- |
| Department of Dental Materials, MCODS Manipal | Associate Professor | | 24-09-2015 - till date |
| Department of Dental Materials, MCODS Manipal | Selection Grade Lecturer | | 01-04-2003 - 23-09-2015 |
| Department of Dental Materials, MCODS Manipal | Senior Lecturer | | 10-05-1999 to 31-03-2003 |
| Department of Dental Materials, MCODS Manipal | Lecturer | | 10-05-1991 to 09-05-1999 |
Evaluation of Calcium Fluoroaluminosilicate Based Glass Ionomer Luting Cements Processed Both by Conventional and Microwave Assisted Methods
Calcium fluoroaluminosilicate glasses (CAS) are used in the formulation of glass ionomer cements for dental applications. However, the cements obtained from CAS glasses were found to be radiolucent. In this study, the influence of substituting Zn, Sr and Mg for Ca of CAS glasses was investigated with respect to the structure and setting characteristics, mechanical properties, and radiopacity of cements designed for luting applications. Three glass compositions based on substitution of Zn, Sr and Mg for Ca at 1:1 molar ratio was synthesized. They were coded as the G 021 (Ca: Zn), G 022 (Ca: Sr), G 023 (Ca: Mg). G 021 and G 022 glasses were processed by conventional melt quench route, whereas G 023 was processed by microwave melt–quench route. Each glass was then mixed with Fuji Type I GIC liquid in order to evaluate the properties of novel cements at different powder/liquid ratios. X-ray diffraction and Fourier Transform-Infrared spectroscopy analysis confirmed the structure of the processed glasses. The average particle size of the processed glass powders was within specification limits for luting applications (<15 μm). The substitution of Zn, Sr and Mg for Ca at 1:1 molar ratio increased the reactivity of the respective glasses. This has been reflected in their respective setting characteristics and mechanical properties. The optimal combination of setting time, strength and radiopacity for the cements examined here was shown by G 022 cements. The microwave melting can be utilized for processing ionomer glasses as it did not alter the structure and properties of G 023 cement.
AREAS OF INTEREST, EXPERTISE AND RESEARCH
Area of Interest
Dental Materials, Chemistry of Materials, Polymers
Area of Expertise
Dental Cements Mainly on Glass Ionomer Cements, Designing And Executing Mechanical Characterization of Dental Materials
Area of Research
Dental Cements, Synthetic Polymers and Ceramics for Biomedical Applications
Professional Affiliations & Contributions
Life Member of Society for Biomaterials and Artificial Organs, 2013.
AWARDS
Won best teacher award in the year 2009 – 2010 [Pre – Clinical]
Improved luting cements
Reference No. 456/MUM/2011, Filing date 18.02.2011