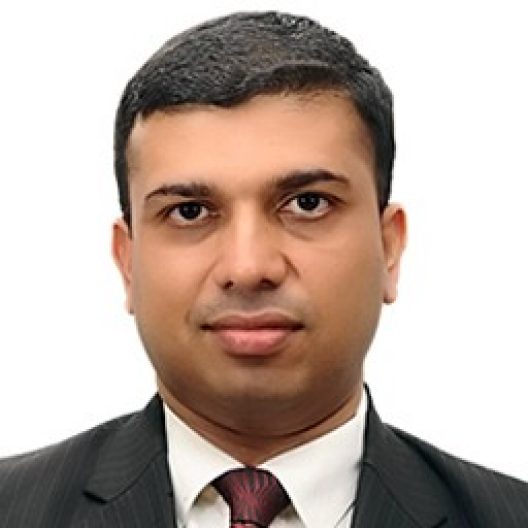 Associate Professor
Welcomgroup Graduate School of Hotel Administration | WGSHA Manipal - Manipal Academy of Higher Education
CURRENT ACADEMIC ROLE & RESPONSIBILITIES
P Valsaraj teaches Food and Beverage Management, Food Production Management, Gastronomy Tourism and Service Quality Management.
He is Class Coordinator for third year BHM and Student Counsellor for 18 students from fourth year BHM. 
SUBJECTS CURRENTLY TEACHING
| Subject | Semester / Year |
| --- | --- |
| Food and Beverage Production Management | Fourth year |
| Food and Beverage Management | Third year |
| Gastronomic Tourism | MSc Third semester |
| Service Quality Management | MSc Second semester |
ACADEMIC QUALIFICATIONS
| Degree | Specialisation | Institute | Year of passing |
| --- | --- | --- | --- |
| Certificate in Technology of Food Flavourings | Flavours and sensory evaluation | CFTRI, Mysore | 2013 |
| ADCANCED first ( Advanced food safety training) | Food Safety and Training | Train Can, Canada | 2009 |
| MHRM | Human Resource Management Bachelor in Hotel Management | Annamalai University | 2007 |
| BHM | Hotel Management Bachelor in Science | Mangalore University | 2005 |
| BSc | Botany | Calicut University | 2002 |
Experience
| Institution / Organisation | Designation | Role | Tenure |
| --- | --- | --- | --- |
| Welcomgroup Graduate School of Hotel Administration, Manipal Academy of Higher Education | Lecturer | | 2006 |
| Bahrain Sheraton Hotel | Catering Executive | Catering executive, dealing with food production, Food safety and outdoor catering to Bahrain Telecommunication Corporation. | 3 years |
AREAS OF INTEREST, EXPERTISE AND RESEARCH
Area of Interest
Culinary and hospitality, Service Quality Management
Area of Expertise
Food and Beverage Production, Human Resource management
Area of Research
Culinary Research, Human Resource Management Gastronomic Tourism, Service Quality in Hospitality Food Safety
Professional Affiliations & Contributions
Life Member of Society for Applied Biotechnology, 2011.
Bio control of spoilage yeast in selected fermented food and beverages
Society for Applied Biotechnology, 2012.
Development of Dietary Guidelines for Persons undergoing Haemodialysis
IOSR Journal of Nursing and Health Science (IOSR-JNHS) e-ISSN: 2320–1959.p- ISSN: 2320–1940 Volume 3, Issue 1 Ver. II (Jan. 2014), PP 31-35 Study results conclude that it is possible for the CKD patients to support their kidneys by following the renal diet. There is a high need for dietary education for the persons undergoing haemodialysis as well as their family members. The process of adaptation and maintenance to a healthy new dietary habit requires constant support, follow up and reinforcement. January 2014
Relational effect of occupational stress , on Job Satisfaction and General Well Being among Chefs
Global Conference on Service Management, Auro University, ISBN 13:978-81-928189-2-4 It appears from the study results that the kitchen environment has become more supportive towards the challenges faced by the chefs and the stress threshold of chefs within the extent of coping up January 2014
Bio control of spoilage yeast in selected fermented food and beverages
Acta Biologica Indica(Journal) Society for Applied Biotechnology, 2012.
Career interests and aspirations - a study of undergraduate hospitality students
Trends in Hospitality, Christ University, Bangalore, ISBN No, 978-81-922281-0-5. Results of the study reveals that in spite of some of the important barriers, students want to make their career choices based on some of the intrinsic rewards as more valuable outcomes or motivators for pursuing career in the industry. Nov 2011
Tradition at a premium- Insight into schematic implementation of resources in order to develop sustainable tourism attractions
conference journal ISBN No: 978-81-909704-4-0 International Conference Sustainable Destination Excellence - SCHM, University of Jammu. Role of tradition and sustainable practices in attracting tourists to the natural tourist places at Bhimtal, Nainital.
Tradition at a premium- Insight into schematic implementation of resources in order to develop sustainable tourism attractions

conference journal ISBN No: 978-81-909704-4-0 International Conference Sustainable Destination Excellence - SCHM, University of Jammu. Role of tradition and sustainable practices in attracting tourists to the natural tourist places at Bhimtal, Nainital.

Bio control of spoilage yeast in selected fermented food and beverages

Acta Biologica Indica, Internationl Journal of Biotechnology. Restriction of the activity of wild yeast by fungal micocins and the maintenance of product quality in fermented food and beverages.

Career interests and aspirations: a study of undergraduate hospitality students, National Conference

Trending Hospitality at Christ University, Bangalore Published as Book Chapter ISBN No: 978-81-922281-0-5. Hospitality careers and preferences among hospitality undergraduate students.

Bio control of spoilage yeast in selected fermented food and beverages

Best Paper award –Applied Biotechnology and Food Safety conference. (Society for Applied Biotechnology)