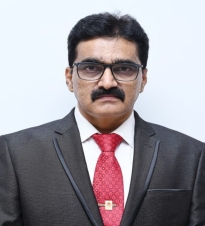 Message from the Director
 Greetings!!
I am truly honored and delighted that, the Manipal Academy of Higher Education (MAHE) has bestowed this responsibility. Our vision is to impart quality education with commitment, and excellence and co-create both locally and internationally.
We meticulously work and plan to enrich the academic reputation of the institute through monitoring the process and upgrading the curriculum which is accepted globally.
The students of this generation have lots of passion, innovative minds, and creative thinking in the global context. They need to be trained with a passion to realize the multidimensional diverse areas of engineering and technology to make them adaptable to future requirements. They have to be supported and nurtured with the right information at the right time.
We have an extremely motivated and committed support structure to add knowledge quotient to make the system stronger and sustainable. Prepared to put our honest effort to create world-class engineers from the portal of the globally recognized Manipal Academy of Higher Education (MAHE) is the International Credit Transfer Program (ICTP) offered by International Centre for Applied Sciences (ICAS).
At ICAS, all possible efforts are made to develop industry-ready human resources to meet the challenges of global competitiveness. Students will be apprised of the significance and worthiness of international higher education. I assure the parents that all necessary facilities will be extended to the students here and that 'we truly care for your children'.
A warm welcome to the ICAS family.
Dr. Hareesha K S
Director.