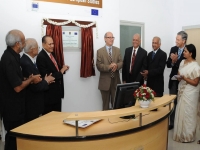 Jean Monnet Module Cultural Analysis and European Identity
With the support of Erasmus+ programme of the European Union, the Department of European Studies at Manipal Academy of Higher Education has been funded for the Jean Monnet Module Cultural Analysis and European Identity. The Jean Monnet Modules are teaching courses in the field of European Studies aimed to create interest in the European Union and constitute the basis for poles of European knowledge. Within the Jean Monnet action, Manipal Academy of Higher Education is the only university in entire south India to be selected by the European Commission as a partner university, a step ahead to pave the road for the ambitious mission to become the European Union academic lighthouse in India.
The Jean Monnet Module Cultural Analysis and European Identity is a compulsory curriculum for the MA European Studies, the multidisciplinary masters' programme offered at the Department of European Studies, during the second semester. The multiplicity of identities is a matter of study and interest to both Europeans and Indians due to the multicultural composition and fabric that define the two regions. Both are aspiring to build a collective identity while maintaining and respecting the diversity within.
Additionally, the module also enhances the excellence in teaching and research in European studies through three pillars: interdisciplinary approach, internationalization and innovative teaching methodologies.
Development of an interdisciplinary teaching modules and panel discussions on Cultural Analysis and European Identity aims to foster the understanding of the European social integration with the inclusion of scholars, experts and students of different fields of studies from different parts of India and Europe. The study of Europe in a cultural context opens up avenues to cooperate with academics and experts from the field of foreign languages, economics, law, cultural studies, anthropology, and other studies areas. Activities will be open to all the students enrolled at Manipal Academy of Higher Education and to worldwide academics, civil society organizations, and institutional stakeholders.
Internationalization of the activities will involve guest professors from the partner universities and Jean Monnet centres of Excellence – University of Latvia (Latvia), University of Bremen (Germany), Universite Aix-Marseille (France), University of Maastricht (The Netherlands). Inclusion of international experts aims to increase the level of multiculturality within the modules' discussions providing to the students a unique educational experience and future career opportunities related to joint research and internationalization of higher educational institutions.

The creation of a freeware web-cloud to share scientific content is the latest stage behind the creation of innovative teaching methodologies. The department will organize videoconferences inviting international academicians, researchers and experts from European universities and institutions and also from the civil society. In addition, conferences, workshops, and symposia will be organized within the module and will be webcasted. Later, the videos will be made available on podcast for the use of global audiences. The main objective is to achieve the highest quality standard – breaking the geographical and budgetary limitation – extending our actions which offer genuine education tools sans frontier for the interested readers.
Special Lectures: