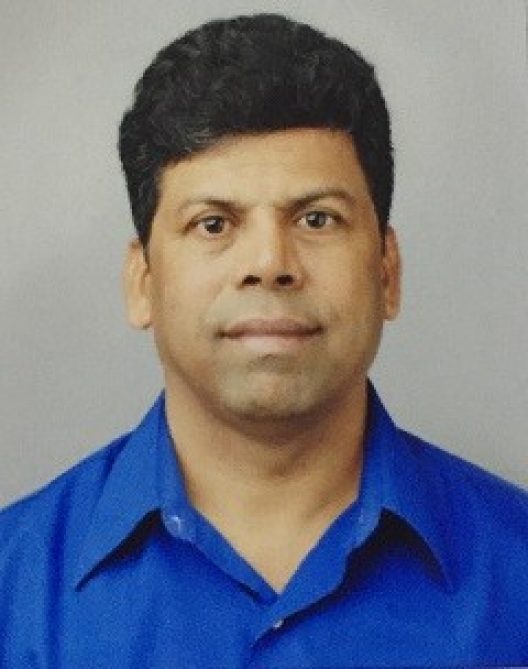 Professor
Date of Joining: 03.04.2017
Department of Pharmacy Practice
CURRENT ACADEMIC ROLE & RESPONSIBILITIES
CURRENT ACADEMIC ROLE & RESPONSIBILITIES

Mahadev Rao, Professor and Head at Department of Pharmacy Practice, Manipal College of Pharmaceutical Sciences, joined Manipal Academy of Higher Education on April 04, 2017. Dr. Rao completed his PhD in pharmaceutical sciences at Manipal College of Pharmaceutical Sciences, studying free radical-induced nephrotoxicity of cisplatin and its protection by selenium compounds. His PhD research work won him the Simon Wolf Charitable Foundation award (Cambridge, UK) in 1998. Determined to pursue a career in research, Mahadev moved to National Cancer Institute, NIH, Bethesda, MD as a Fogarty International Postdoctoral Fellow where he worked for two years in basic cancer genetics. In 2003, Dr Rao moved to Lombardi Cancer Center, Georgetown University to purse signal transduction mechanisms of cyclins in breast and prostate cancer. In 2006, Dr. Rao joined Surgery/thoracic gastro-intestinal branch at NCI where he rose from a position of Postdoctoral Scientist to that of a Staff Scientist at National Cancer Institute. Dr. Rao has worked extensively on basic, translational and clinical research at NCI. His major expertise include repurposing  old antitumor agents, personalized medicine in thoracic cancers (lung, malignant pleural mesothelioma, esophageal and gastric), genetic mechanisms for tobacco mediated cancers, induction of cancer testis antigens in thoracic cancer by epigenetic drugs for adoptive immunotherapy and the metabolome. Dr. Rao has numerous papers in peer reviewed journals such as Nature, Nature immunology, Cancer Research, Clinical Cancer Research, Journal of immunology, Journal of immunotherapy, Molecular Cell, MCB, JBC, PNAS, Cell metabolism, Cell cycle, Molecular Cancer, etc. 

He teaches undergraduate and postgraduate students; and guide doctoral students.

He:

Approved PhD guide (Field:Cancer/ TB) in Manipal Academy of Higher Education.
Supervises the department's daily activities.
Mentors student's disserations and projects.
Plans and conducts clinical pharmacy workshops and training programs.
Establishes research collaborations at national and international levels.
Member of Pharmacy and Therapeutic Committee of Kasturba Hospital, Manipal.
Member of Institutional Ethics Committee (IEC) of KMC&KH
Heads research committee of the department.
Coordinator of  Global TB Portal Consortium of the National Institute of Health (NIH), USA in India
Founding faculty of Global Cancer Consortium
Coordinator of Centre for Translational Research
Coordinator of Certificate Course in Translational Research

 
SUBJECTS CURRENTLY TEACHING
| Subject | Semester / Year |
| --- | --- |
| Pharmacotherapeutics-III | Fourth Year Pharm.D |
| Pharmacotherapeutics- I & II | First Year Pharm.D (PB) |
| Clinical Research | Fifth Year Pharm.D |
| Pharmacotherapeutics-I | First Semester M.Pharm |
| Clinical Research | First Semester M.Pharm |
| Pharmacotherapeutics-II | Second Semester M.Pharm |
ACADEMIC QUALIFICATIONS
| Degree | Specialisation | Institute | Year of passing |
| --- | --- | --- | --- |
| PhD (Doctor of Philosophy) | Pharmaceutical Sciences | Manipal College of Pharmaceutical Sciences / Mangalore University | 2000 |
| MPharm (Master of Pharmacy) | Pharmacology | Government College of Pharmacy, Bangalore University, Bangalore | 1995 |
| BPharm (Bachelor of Pharmacy) | Pharmacy | NGSM Institute of Pharmaceutical Sciences, Mangalore University, Mangalore | 1992 |
| DPharm (Diploma of Pharmacy) | Pharmacy | SSS College of Pharmacy, Kadandale | 1986 |
Experience
| Institution / Organisation | Designation | Role | Tenure |
| --- | --- | --- | --- |
| Department of Pharmacy Practice, MCOPS, Manipal | Professor & Head | Teaching & Research | 2017-onwards |
| Surgery/Thoracic and GI Oncology Branch, NCI/NIH, Bethesda, MD | Staff Scientist | Research | 2012-2016 |
| Surgery Branch, NCI/NIH, Bethesda, MD | Research fellow | Research | 2007-2012 |
| Department of Oncology, Georgetown University, Washington DC | Postdoc Fellow | Research | 2003-2007 |
| Division of Basic Sciences, NIH, Bethesda, MD | Forgaty International Postdoc Fellow | Research | 2000-2002 |
| NGSM Institute of Pharmaceutical Sciences, Mangalore, India | Assistant Professor & Head, Dept. of Pharmacology | Teaching UG and PG students and Research | 1999-2000 |
AREAS OF INTEREST, EXPERTISE AND RESEARCH
Area of Interest
Developing tumor tissue collection bank from various histologies as well as will generate in-house tumor cell lines and eventually those tumor samples will be subjected to exome or transcriptome profiling. Generation of this genomic databank at Manipal University will be used for intramural as well as extramural prospective studies, basic, translational and clinical research. Also Dr Rao would like to establish the repurposing old anticancer drugs as well as to establish the personalized treatment of cancers based on genetic makeup in Manipal University.
Area of Expertise
Repurposing old antitumor agents, personalized medicine in thoracic cancers (lung, malignant pleural mesothelioma, esophageal and gastric), genetic mechanisms for tobacco mediated cancers, induction of cancer testis antigens in thoracic cancer by epigenetic drugs for adoptive immunotherapy and the metabolome. Dr. Rao had involved in several preclinical and FDA approved clinical trials in repurposing the old drugs and in personalized lung cancer and mesothelioma patients.
Area of Research
Discovery and development of anti-cancer drugs that exploit our knowledge of the cancer genome and cancer biology. His passion is personalized medicine and repurposing of old drugs.
Professional Affiliations & Contributions
Member of American Association for Cancer Research
Member of Registered Pharmacist, Karnataka State Pharmacy Council
Life Member of Indian Pharmaceutical Association
HONORS/AWARDS:
Department of Human & Health Services best employee performance award from 2008-2015
Fogarty International postdoctoral fellowship award at NIH (2000-2002)
Simon Wolf Charitable foundation award (Cambridge, UK) for contribution in Free Radical Biology
Senior Research Fellowship for Ph.D. from Department of Atomic Energy, India
Junior Research Fellowship for M.Pharm. from University Grants Commission, India
COLLABORATIONS:
Dr. Narayanan Rajendran, University of Kentucky, USA
Dr. Ganesha Rai Bantukallu, NCATS, NIH, Shadygrove, USA
Dr. Vivek Shukla, TGBI, NCI, NIH, Bethesda, USA
OTHER ASSOCIATIONS:
Member of Pharmacy and Therapeutic Committee of Kasturba Hospital, Manipal