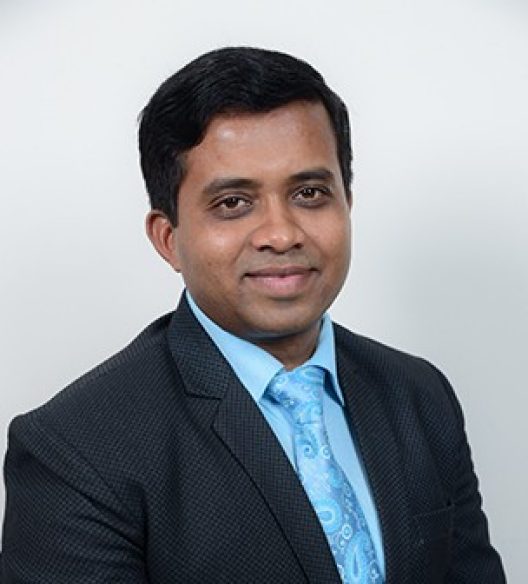 Associate Professor
Date of Joining : 01.10.2007
Department of Pharmaceutics
CURRENT ACADEMIC ROLE & RESPONSIBILITIES
Anup Naha is Associate Professor in the Department of Pharmaceutics at MCOPS.

He is

Responsible for theory and practical classes in Industrial Pharmacy for BPharm 4th year, Advanced 

Pharmaceutics for MPharm Part I and Pharmaceutical Formulations for III Pharm D

Recognized PhD guide of Manipal Academy of Higher Education
Guiding for MPharm Part II students for research work at Novo Nordisk, Bangalore and Jubilant 

Organosys Limited, Noida

Mentor for research project for undergraduate students
Faculty Advisor for Student Exchange Committee at MAPS, MCOPS
Project Mentor for IAESTE India MIT student exchange program
Member of the Student Affairs Council of MCOPS
Chief Coordinator for Volunteer Services Organisation, Manipal Academy of Higher Education
Responsible for ISO documentation work at the department level
SUBJECTS CURRENTLY TEACHING
| Subject | Semester / Year |
| --- | --- |
| Pharmaceutical Engineering (Theory) | BPharm Sem-III |
| Pharmaceutical Engineering (Practical) | BPharm Sem-III |
| Cosmetic Science (Theory) | BPharm Sem-VIII |
| Modern Pharmaceutics | MPharm Pharmaceutics Semester - I |
| Pharmaceutics Practical I | MPharm Pharmaceutics Semester - I |
| Cosmetic and Cosmeceuticals | MPharm Pharmaceutics Semester - II |
| Computer Aided Drug Delivery Systems | MPharm Pharmaceutics Semester - II |
| Pharmaceutics Practical II | MPharm Pharmaceutics Semester - II |
ACADEMIC QUALIFICATIONS
| Degree | Specialisation | Institute | Year of passing |
| --- | --- | --- | --- |
| PhD | Pharmaceutics | Manipal Academy of Higher Education | 2012 |
| MBA | | Sikkim Manipal Academy of Higher Education | 2011 |
| MPharm | Pharmaceutics | Manipal Academy of Higher Education | 2006 |
Experience
| Institution / Organisation | Designation | Role | Tenure |
| --- | --- | --- | --- |
| Department of Pharmaceutics, MCOPS | Assistant Professor –Selection Grade | | 2015 onwards |
| Department of Pharmaceutics, MCOPS | Assistant Professor -Senior | | 2012-2015 |
| Department of Pharmaceutics, MCOPS | Lecturer | | 2007-2012 |
| Manipal Academy of Higher Education | Chief Coordinator, Volunteer Services Organisation(VSO) | | 2014 onwards |
AREAS OF INTEREST, EXPERTISE AND RESEARCH
Area of Interest
Novel Drug Delivery System, Problem Based Learning
Area of Expertise
Enhancement of bioavailability (self-emulsion, nanoparticles)
Area of Research
Nanotechnology
Professional Affiliations & Contributions
Life Member of Indian Pharmaceutical Association.
Life Member of Association of Pharmaceutical Teachers of India (APTI).
Life Member of Association of Community Pharmacists of India.
Life Member of Kautilya Society of Pharmacoeconomics and Outcome Research.
Life Member of Drug Delivery Association.
Member of Junior Chamber International, India.
Work Experience
| Organisation | Role | Tenure |
| --- | --- | --- |
| Abbott India Limited, Verna, Goa | Development Officer Involved with formulation development of various drugs, technology transfer, third party manufacturing approvals & vendor development | Jan 2007 – Sep 2007 |
Preparation and physicochemical and preclinical evaluations of recrystallised celecoxib
PDA J. Pharm. Sci. Tech., 2007, 61 (5).
Design and development of Multiparticulate drug delivery of Metronidazole for targeted delivery to colon
Int. J. Pharm. Tech. 2011, 3(4), 3580-3589.
Preparation and evaluation of polymeric nanoparticles of glibenclamide
J. Drug Delv. Ther., 2014, 4(5), 190-192.
Effect of adjunctive use of green tea dentrifice in periotitis patients - a randomized pilot study
Int. J. Dental hygiene, 2015. 10.1111-5.