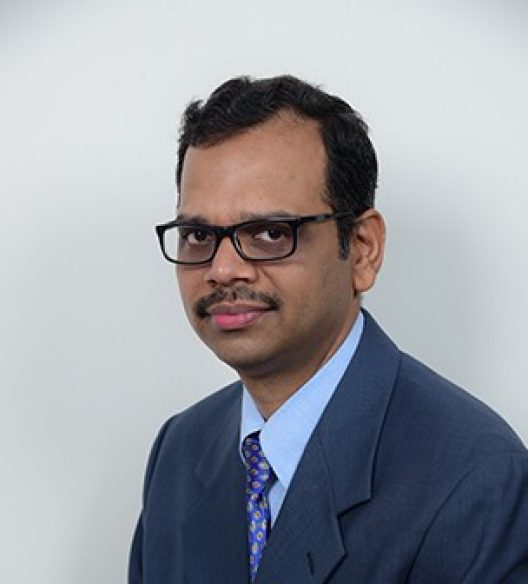 Professor & Head
12.09.2005
Department of Pharmacy Practice
CURRENT ACADEMIC ROLE & RESPONSIBILITIES
Dr. M Surulivelrajan completed post-doctoral fellowship at University of North Texas System College of Pharmacy, USA. He is working in the area of Pharmacometrics to develop models for drug pharmacokinetics and pharmacodynamics to develop medication compliance model. He has following roles and responsibilities:

Staff Coordinator for fifth Year Pharm.D program
Approved PhD guide
Guide for M.Pharm dissertation work and Pharm.D project
Coordinator of Department Research Committee (DRC)
Coordinator of Centre for Pharmacometrics

 
ACADEMIC QUALIFICATIONS
| Degree | Specialisation | Institute | Year of passing |
| --- | --- | --- | --- |
| Post-doctoral Fellowship | Pharmacometrics | University of North Texas System College of Pharmacy | 2018 |
| PhD (Doctor of Philosophy) | Population Pharmacokinetics | Manipal College of Pharmaceutical Sciences, Manipal Academy of Higher Education | 2011 |
| Post Graduate Diploma in Clinical Research | Clinical Research | Institute of Clinical Research, New Delhi | 2004 |
Experience
| Institution / Organisation | Designation | Role | Tenure |
| --- | --- | --- | --- |
| Department of Pharmacy Practice, MCOPS Manipal | Professor | | 2022-onwards |
| Department of Pharmacy Practice, MCOPS Manipal | Associate Professor | | |
| Department of Pharmacy Practice, MCOPS Manipal | Assistant Professor – Selection Grade | | 2012 |
| Department of Pharmacy Practice, MCOPS Manipal | Assistant Professor | | 2011 |
| Department of Pharmacy Practice, MCOPS Manipal | Senior Lecturer | | 2007 |
| Department of Pharmacy Practice, MCOPS Manipal | Lecturer | | 2005 |
| PSG College of Pharmacy, Coimbatore | Lecturer | Taught undergraduate students and providing clinical pharmacy services to the affiliated hospital. | 2004-2005 |
| Sri Ramachandra College of Pharmacy, Chennai | Lecturer | Taught undergraduate students and providing clinical pharmacy services to the affiliated hospital. | 2001-2003 |
AREAS OF INTEREST, EXPERTISE AND RESEARCH
Area of Interest
Clinical Pharmacy
Area of Expertise
Population Pharmacokinetic Models
Area of Research
Pharmacometrics, Clinical Services of Pharmacists
Professional Affiliations & Contributions
Founder Member of KSPOR, 2010.
Founder Member of ACPI, 2007.
Life Member of IHPA, 2008.
 
Work Experience
| Organisation | Role | Tenure |
| --- | --- | --- |
| USV Limited, Mumbai | Business Development Executive Worked in the assessment of product portfolio and involved in both the scientific and market assessment of the products to be launched | |
Population pharmacokinetics of lamotrigine in Indian epileptic patients
European Journal of Clinical pharmacology, 2013, 69(1):43-52.
Cost of adverse reactions in a South Indian tertiary care teaching hospital
Journal of Clinical Pharmacology, 2012, 52:559-565.
Development and validation of an instrument to assess the perception of pharmacy students on medication review process
Indian Journal of Pharmacy practice, 2012, 5(3):69-74.
Pattern of angiotensin - converting enzyme inhibitors induced adverse drug reactions in South Indian teaching hospital
North American Journal of Medical Sciences. 2012, 4(4):185-9.
High performance liquid chromatographic fluorescence detection method for the quantification of rivastigmine in rat plasma and brain - Application to preclinical pharmacokinetic studies in rats
Journal of Young Pharmacists. 2011, 3(4):315-321.
Potential drug interactions in patients admitted to cardiology wards of a South Indian teaching hospital
Australasian Medical Journal AMJ 2011, 4, 1, 9-14.
Drug-drug interactions in hospitalized hospitalised cardiac patients
J Young Pharm, 2011, 3(4): 329-333.
A sensitive and selective HPLC method for estimation of lamotrigine in human plasma and saliva - application to plasma-saliva correlation in epileptic patients
Arzeimittel Forschung, 2010, 60(10); 599-606.
Study of tissue and the plasma concentrations of cefotaxime to assess its suitability for prophylaxis in cholecystectomy
Journal of Clinical and Diagnostic researchResearch, 2010, 4:2410-2415.
Development of indicators for identifying adverse drug events in an Indian tertiary care teaching hospital
Drug, Health care Care and patient Patient safetySafety, 2010, 2:95-100 .
Video assisted patient education improves compliance with follow up and depression scores in Inflammatory Bowel Diseases.
Postgraduate Medicine, 2018;130(3):355-360.
Direct costs for nonsurgical management of Chronic Pancreatitis in a tertiary care teaching hospital.
Expert Review of Pharmacoeconomics and Outcomes Research, 2018;18(3):315-320.
Cost of Illness in Inflammatory Bowel Disease.
Digestive Diseases and Science, 2017;62(9):2318-2326.
Assessment of cost of illness for diabetic patients in South Indian tertiary care hospital.
Journal of Pharmacy and Bioallied Sciences, 2016;8(4):314-320.
Therapeutic drug monitoring of Lamotrigine in Plasma and Saliva
2007, PG This project involved the study of drug level monitoring of lamotrigine in plasma and saliva.
Development of dosage regimen for valproate using Population pharmacokinetic simulations
2012.This project involved the use of complex NONMEM software for the development of pharmacokinetic simulations.