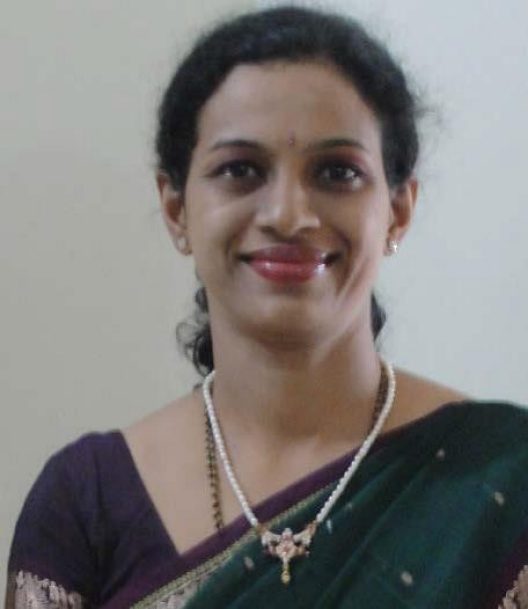 Associate Professor
Date of Joining: 20.01.2005
Department of Pharmacology
CURRENT ACADEMIC ROLE & RESPONSIBILITIES
 

 

A PhD and MPharm guide currently guiding two candidates each at the doctoral and postgraduate levels

MCOPS Website coordinator [2014 to October 2021]

Editorial Board member, Manipal Journal of Pharmaceutical Sciences [2015 to 2019]
Editorial team member, Manipal Academy of Higher Education Research Bulletin [2015 to June 2020]

Editor, Ad Meliora [MCOPS e-newsletter] [2014 to Dec 2020]

Faculty Advisor, Editorial Board, MCOPS till date
Member of Publicity and Promotion Committee of the Administrative Council, MCOPS during 2019 to June 2021

SUBJECTS CURRENTLY TEACHING
| Subject | Semester / Year |
| --- | --- |
| Human Anatomy and Physiology (Theory and Lab) | First semester BPharm |
| Human Anatomy and Physiology (Theory and Lab) | Second semester BPharm |
| Clinical Research and Pharmacovigilance | 2nd semester MPharm |
| Pharmacology practicals II | 2nd semester MPharm |
| Research Methodology and Biostatistics | 3rd semester MPharm |
| Cellular and Molecular Pharmacology | First semester MPharm |
| Research work | III and IV semester MPharm |
ACADEMIC QUALIFICATIONS
| Degree | Specialisation | Institute | Year of passing |
| --- | --- | --- | --- |
| PhD | Pharmacology | Manipal Academy of Higher Education | 2010 |
| MPharm | Pharmacology | K.L.E.S' College of Pharmacy, Belgaum | 2003 |
| BPharm | --- | College of Pharmaceutical Sciences Manipal | 2000 |
Experience
| Institution / Organisation | Designation | Role | Tenure |
| --- | --- | --- | --- |
| Department of Pharmacology, MCOPS | Associate Professor | Teaching and Research | 2014 |
| Department of Pharmacology, MCOPS | Assistant Professor Senior Scale | Teaching and Research | 2013 |
| Department of Pharmacology, MCOPS | Assistant Professor | Teaching and Research | 2010 |
| Department of Pharmacology, MCOPS | Senior Lecturer | Teaching and Research | 2008 |
| Department of Pharmacology, MCOPS | Lecturer | Teaching and Research | 2005 |
| Sree Siddaganga College of Pharmacy, Tumkur | Lecturer | Teaching | 2003 |
Elucidation of actions of naturally occurring anti-oxidants for re-structuring the skin integrity by keratinocyte migration
2015-17-03
Funded by DBT under Bio-CARe scheme [SAN No. 102/IFD/SAN/1674/2014-2015], New Delhi
Role of dehydrozingerone in wound healing: A mechanistic approach
2014-20-01
Funded by AICTE under CAYT scheme [11-24/RIFD/CAYT/POL-II/2013-14 ], New Delhi
Study of wound healing potentials of Mangiferin, Morin, Dehydrozingerone and Sesamol upon topical as well as systemic administration in albino rats
Funded by AICTE under Research promotion scheme as a Co-Investigator [completed in 2010]
AREAS OF INTEREST, EXPERTISE AND RESEARCH
Area of Interest
Wound care
Area of Expertise
Normal and diabetic wounds- preclinical
Area of Research
Oxidative Stress
Professional Affiliations & Contributions
Distinguished Alumni Award-2016, on 13 February at 'Awards day' of Manipal College of Pharmaceutical Sciences, Manipal University, Manipal.
Received the SWCR (The Society for Wound Care and Research) best paper award in the oral session, for paper titled, "Effects of Morin, Dehydrozingerone and Sesamol in normal and dexamethasone depressed dead space wounds in albino rats" in the First International Meet and Fourth Annual National Conference of SWCR (WOUND CARE CON 2010), organised by Department of Plastic Surgery, KMC, Manipal University, Manipal on 3-5 September, 2010 at Fortune Inn Valley View, Manipal.
Life member of Indian Pharmacological Society.
Life member of Association of Pharmaceutical Teachers of India (APTI).
Life member of Karnataka State Pharmacy Council.
Member of Society for Ethnopharmacology
Apoptosis induction by epidermal growth factor receptor inhibitor gefitinib in cervical cancer cell line
2012- 2013. To test the hypothesis that gefitinib induces apoptosis in cervical cancer cell line and to decode the extrinsic and intrinsic pathways of apoptosis using cell based assays and apoptotic assays.
In vitro and In vivo Evaluation of Antitumor Potential of Novel Iminoflavones
2012-2013. Detailed in vitro anticancer screening: To evaluate the apoptotic potential of Iminoflavones by varying assays such as AO/EB staining, Hoechst 33342 staining and DNA fragmentation assay, Acute toxicity studies - To assess the safety of iminoflavones in mice. In vivo anticancer study - To evaluate the antitumor potential of iminoflavones in suitable animal model. As they were showed highly potent cytotoxicity in human colon cancer cell line, 1, 2- di methyl hydrazine (DMH) induced colon cancer rat model was chosen.
Assessment of Jatyadi oil in wound healing and inflammation: A preclinical study
Evaluation of selected polyphenols for wound healing in diabetes
Evaluation of synthetic myricetin analogues through epigenetic modulation of macrophage polarization in normal and diabetic wound healing
Evaluation of antidepressant activity of soluble epoxide hydrolase inhibitor 1728 in animal models
Assessment of soluble epoxide hydrolase inhibitors on wound models- Preclinical studies
Role of dehydrozingerone in wound healing: A mechanistic approach
A comparative study of dietary oils for the prevention of AlCl3 induced dementia- A preclinical study
MPharm dissertation [2016-17]
Evaluation of virgin coconut oil and sunflower oil enriched diet against colchicine induced dementia in rats
MPharm Dissertation [2018-19]
Evaluation of peanut oil in colchicine induced model of dementia and its comparison with sesame oil
MPharm Dissertation [2018-19]