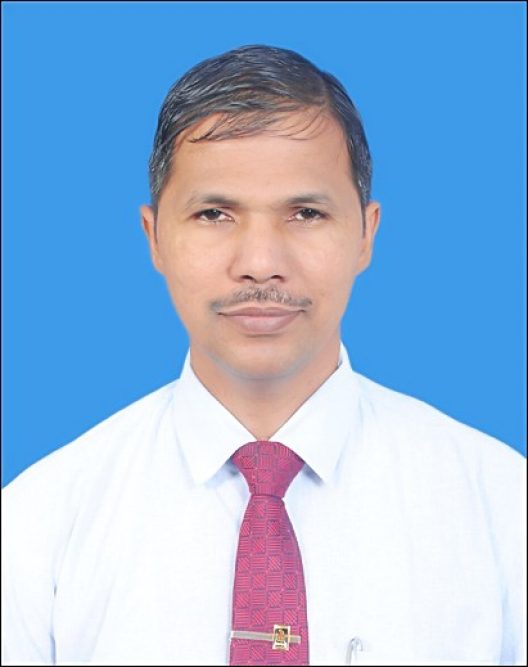 Associate Professor
Date of Joining: 12.09.2005
Department of Pharmacology
CURRENT ACADEMIC ROLE & RESPONSIBILITIES
Dr Yogendra Nayak is currently Associate Professor in the Department of Pharmacology at MCOPS

Guide for MPharm Part-II and PhD students

Academic Council Member, Manipal College of Pharmaceutical Sciences, Manipal

Coordinator for 'Certificate Course on Research Orientation'

Coordinator for 'Center for Research on Research' under Directorate of Research, MAHE Manipal

Copy and paste the link to view the research profile  https://manipal.pure.elsevier.com/en/persons/yogendra-nayak
SUBJECTS CURRENTLY TEACHING
| Subject | Semester / Year |
| --- | --- |
| Pharmacology Practical I & II | MPharm Semester 1 & 2 |
| Seminars in Pharmacology | MPharm Semester 1 & 2 |
| Principles of Drug Discovery | MPharm Semester 2 |
| Free Radical Biology & Medicine | MPharm Semester 3 |
| Student Project Work | MPharm Semester 3 & 4 |
| Pharmacology I [T and P] | IV Sem BPharm |
| Pharmacology I | 2nd year PharmD |
| Pharmacology II | 3rd year PharmD |
ACADEMIC QUALIFICATIONS
| Degree | Specialisation | Institute | Year of passing |
| --- | --- | --- | --- |
| PhD | Pharmacology | Manipal College of Pharmaeutical Sciences, Manipal Academy of Higher Education | 2011 |
| MPharm | Pharmacology | Government College of Pharmacy | 2002 |
| BPharm | | Manipal College of Pharmaceutical Sciences | 1998 |
Experience
| Institution / Organisation | Designation | Role | Tenure |
| --- | --- | --- | --- |
| Department of Pharmacology, MCOPS | Associate Professor | | June 2014 till date |
| Department of Pharmacology, MCOPS | Assistant Professor – Senior Scale | | 2011 |
| Department of Pharmacology, MCOPS | Lecturer – Senior grade | | 2008 |
| Department of Pharmacology, MCOPS | Lecturer | | 2005 |
| Nitte Gulabi Shetti Memmorial Institute of Pharmaceutical Sciences, Mangalore | Lecturer | Teaching Diploma to Pharmacy (DPharm), Undergraduate (BPharm) and Postgraduate (MPharm) students. | 2003-2005 |
Synthesis and evaluation of selected benzopyrone analogues in diabetes mellitus and related metabolic disorders
AICTE under Research Promotion Scheme No. 8023/BOR/RID/RPS-171/2008-09 as a co-investigator [completed]
Development and evaluation of lipid based delivery systems for lymphatic targeting of anti-HIV drugs: Quality by design approach
DBT-BioCARe Scheme No. BT/BioCARe/03/9943/2013-14 as a co-investigator [completed]
AREAS OF INTEREST, EXPERTISE AND RESEARCH
Area of Interest
Bibliometrics and Scientometrics
Area of Expertise
Preclinical Pharmacology, Oxidative stress, Inflammation and metabolic disorders
Area of Research
Pharmaceutical Sciences
Professional Affiliations & Contributions
Best Poster Award: "Turmeric-Exemplary Pleiotropism of a Nutraceutical" Chandra Sekhar Misra, Chethan GH, Yogendra Nayak, Unnikrishnan MK, at the one day Symposium on "Food as Medicine" jointly organized with Indo-Queensland Research Initiative Project Fund and Department of Pharmacy Practice held at Manipal College of Pharmaceutical Sciences, Manipal University, Manipal on October 26, 2013
Best research paper award: BM Mithal Memorial Award for Best Paper published in Indian Journal of Pharmaceutical Education, 2011. Title: "Research in Pharmacy Schools of India: A Study Based on Scopus Database", Yogendra Nayak, Vijay Mor and Unnikrishnan MK, Indian J Pharm Edu Res 2011, Vol 45, Issue 1, Jan-Mar 2011, pp 1- 7.
Registered Pharmacist Karnataka State Pharmacy Council, Bangalore.
Life member of Indian Pharmacological Society.
Life member of Association of Pharmacy Teachers of India (APTI).
Life member of Indian Pharmaceutical Association (IPA).
Life member of Association of Physiologists and Pharmacologists of India (APPI).
Life member of Association of Community Pharmacist of India.
Life member of Association of Hospital Pharmacist of India.
Work Experience
| Organisation | Role | Tenure |
| --- | --- | --- |
| Biocon India Limited, Bangalore | Junior production executive | 1999-2000 |
Preparation, Characterization and Pharmacokinetic Study of Nelfinavir Nanocrystals for Oral Bioavailability Enhancement
Current Nanoscience, Bentham Science Publisher 2015
Antidiabetic Activity of Benzopyrone Analogues in Nicotinamide-Streptozotocin Induced Type 2 Diabetes in Rats
Hindawi 2014 Article ID 854267, DOI: 10.1155/2014/854267
Lymphatic delivery of anti-HIV drug nanoparticles
2016, Recent Patents on Nanotechnology,
Antidiabetic activity of 3-hydroxyflavone analogues in high fructose fed insulin resistant rats
EXCLI J, University of Mainz, Germany 2014 13
Antidiabetic, antihyperlipidemic and antioxidant effects of the flavonoids
Book chapter Polyphenols in Health and Disease, Elsevier 2014 2(2)
Synthesis of newer piperidinyl chalcones and their anticancer activity in human cancer cell lines
2016, Research on Chemical Intermediates
Biological activity of a small molecule indole analog, 1-[(1H-indol-3-yl) methylene]-2-phenylhydrazine (HMPH), in chronic inflammation
2016, Chemico-Biological Interactions
Development and in vivo evaluation of functionalized ritonavir proliposomes for lymphatic targeting
Life Sciences, 2017 Aug 15;183:11-20. doi: 10.1016/j.lfs.2017.06.022
5-HT6 receptor agonist and antagonist against β–amyloid-peptide-induced neurotoxicity in PC-12 cells
Neurochemistry Research, 2017; 42(5):1571-1579. DOI 10.1007/s11064-017-2217-9
Modulation of Doxorubicin-Induced Cardiotoxicity by Averrhoa bilimbi extract
Journal of Young Pharmacists, 2017; 9(1):69-77, doi:10.5530/jyp.2017.9.14
Development of risperidone liposomes for brain targeting through intranasal route
Life Sciences, 2016;163:38-45. doi: 10.1016/j.lfs.2016.08.033.
Evolving Pharmacy Profession – Education, Research and Beyond,

Journals in Pharmaceutical Sciences and their Quality, Chapter 7, Editor: Udupa N, Publisher: APTI, Bangalore

Perspectives in efficacy, safety and clinical evaluation of bioactive natural products.

Comprehensive Bioactive Natural Products, Vol 2, (2010). M/S. Studium Press LLC, USA), Chapter – 1; pp. 1-29

Antidiabetic, antihyperlipidemic and antioxidant effects of the flavonoids. In 'Polyphenols in Health and Disease

Editors: Professor Ronald Ross Watson, Victor R. Preedy, Sherma Zibadi; Publisher: Academic Press - Elsevier; Volumes 1; Section 2 Chapter-13; pp 143-161