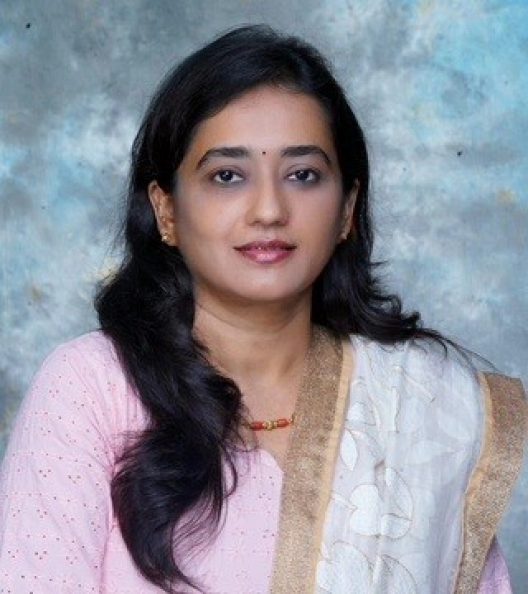 Assistant Professor – Senior scale
Department of Commerce
Qualification: PhD in Consumer Behavior ; MBA; B.Com
CURRENT ACADEMIC ROLE & RESPONSIBILITIES
Class coordinator BBA First year batch of 2021- 2024
SPOC for Marketing Campaign 2022
SUBJECTS CURRENTLY TEACHING
| Subject | Semester / Year |
| --- | --- |
| Strategic Management | V |
| Managing Performance | III |
ACADEMIC QUALIFICATIONS
| Degree | Specialisation | Institute | Year of passing |
| --- | --- | --- | --- |
| B.Com | Management | Madras Univeristy | 1998 |
| MBA | Marketing and Finance | Bharathiar University , Coimbatore | 2000 |
| PhD | Consumer Behavior | Periyar University | 2013 |
Experience
| Institution / Organisation | Designation | Role | Tenure |
| --- | --- | --- | --- |
| National Institute of Technology - Tiruchirappalli | Faculty | Teaching and research Improvising the quality of coaching and Research activities . Planning policies for the overall development of the students. Coordinating the admission and public relations | July 2017 - December 2019 |
| Jawahar Institute of Science -Salem | Associate Professor and HOD | Teaching, research and planning the strategic areas of the Institute. Improving the quality of curriculum, coaching and research. Planning policies for the admissions and placements | 15-09-2016 till 15-06-2017 |
| Vasan Institute of Ophthalmology and Research | Principal | Directing and planning the strategic areas of the Institute | 06-05-2013 till 04-09-2016 |
| Icfai National College , ICFAI University ,Hyderabad | Faculty member | Project and Management Thesis guidance | November 2005 –July 2009 |
| Sona School of Management | Lecturer | Faculty Supervisor and project guidance | June 2001 – May 2003 |
Consumer Perception Towards Ready-To Eat Food Products: Evidence From A Tier Ii City- Salem
Turkish Online Journal of Qualitative Inquiry (TOJQI) , Volume 12, Issue 4, : -571-581
Factors triggering purchase intention and customer satisfaction between rural and urban markets of India- A solution for Manufacturers in the Indian Two wheeler sector
International Journal of Multidisciplinary Educational Research ISSN 2277-7881Vol 8, Issue 12(4)
Factors influencing the effective use of Smart phones – A case of rural areas in Andhra Pradesh
International Journal of Management Research and Review.
A segmentation study on the women consumers of Salem based on their consumption pattern of Ready-To-Eat Food
Indian Streams Research- International Recognized Multidisciplinary Research Journal ISSN No- 2230 7850, Vol 4, Issue 5
Managing diffusion of innovation in Ready-To-Eat Food Products in India"
December 28-30, 2011
E-business, Management, and Economics, Conference Proceedings of International Conference on E-business , Management and Economics (ICEME 2011)
Conspicuous Consumption of Gen Y –A empirical study on the impulse buying behavior of GenY consumers
November 2011.
Indian Journal Of Applied Research Volume 1, Issue III,
Diffusion of Innovation in Ready-To-Eat Food Products in India with special reference to Salem City in Tamil Nadu
September 2011
MTC Global Journal for Management and entrepreneurship, ISSN 2231-3710 –Vol1(20 July 2011- Sep 2011), pp 142-152.
Developing employability Skills in Management Education in Global perspective- An empirical study
February 2011
Proceedings of International conference on Global Business environment and its impact on management education ( ICGBEIM
AREAS OF INTEREST, EXPERTISE AND RESEARCH
Area of Interest
Marketing , Consumer Behaviour
Area of Expertise
Marketing, Service Marketing , Srategic Management , Business Ethics
Area of Research
Marketing and Consumer Behaviour
Professional Affiliations & Contributions
We learn more about a subject when we start teaching it to others. The urge to pursue research and passion for teaching enables me to adopt a student centric teaching methodology. Developing live cases and caselets is a pedagogy which I adopt in the classes. This enables the students to have a 360 degree learning about the application of the concepts in the real time corporate scenario. As a part of the teaching agenda , I also help to develop a entrepreneur mind set in the students and give them exposures to the start ups through the research agenda.
There are healthy and heated discussions and debates over the various recent happening of the corporate sector .Simulated exercises help the students to grasp the concepts in an interesting way , making learning a fun.
The focus of my teaching agenda is to create an inquisitive mind in the students to help them take up innovative business ideas and develop their own start-ups so that they can be job providers and can contribute towards the building up on the community and Nation as such.
Guest Lectures
Christ college Bangalore –Reseorce persons
Chairperson
International Conference – Jain CMS College Banglaore
Board of studies – member
Periyar University _Salem and Gnanamani College of Arts and Science
Member – Board of Examiners
Kamadenu Arts and Science College – Sathyamanagalam – Tamilandu
A study of risk and return analysis of the selected equities of the Automobile sector.
The study focuses on those Automobile stocks that are prominent players in the National Stock Exchange, India
Factors triggering purchase intention and customer satisfaction between rural and urban markets of India- A solution for Manufacturers in the Indian Two wheeler sector
The project was published as a research paper.
Factors influencing the effective use of Smart phones – A case of rural areas in Andhra Pradesh
The study focused on the aspects of smart phone usage and a research paper was published out of the study.