Department of Pediatric & Preventive Dentistry
  The Department of Pediatric and Preventive Dentistry was established in 1987 and received DCI recognition in 1991. It is recognised as a centre for training in Paediatric Dentistry by international dental associations.
KEY FEATURES
State-of-the-art infrastructure with Inhalational Conscious Sedation Unit, facilities for treatment under General Anaesthesia and RVG.
Produced numerous nationally and internationally awarded research work and presentations.
Alumni of the Department are placed well nationally as well as in countries across the world including Australia, UK, UAE, Malaysia and Nepal.
CORE COMPETENCIES
Diagnosis & treatment planning for oral health problems in children including adolescents.
Behaviour guidance of child patients using both pharmacological and non-pharmacological methods.
Preventive treatment based on caries risk assessment: oral hygiene measures/ instructions, fluoride treatment, pit & fissure sealant application.
Restorative treatment using contemporary techniques and materials.
Paediatric Endodontics including rotary instrumentation and regenerative endodontic techniques.
Prosthodontic Rehabilitation for children.
Oral surgical procedures: Including extraction of teeth & minor oral surgical procedures.
Preventive & Interceptive orthodontic treatment: Space management, space regaining, prevention & interception of oral habits, orthodontic correction of developing malocclusions.
Comprehensive management of medically compromised patients & children with special health care needs.
Complete oral rehabilitation under General Anaesthesia.
COLLABORATIONS
The Department has collaborations for research with,
Manipal Centre for Advanced Research, Manipal.
Manipal Institute of technology, Manipal.
Manipal College of Pharmaceutical Sciences, Manipal.
Department of Microbiology and Department of Biochemistry, KMC Mangalore.
Dept. of Metallurgical and Material Engineering, National Institute of Technology, Surathkal.
College of Dentistry, University of Iowa, USA.
University of Portsmouth, UK.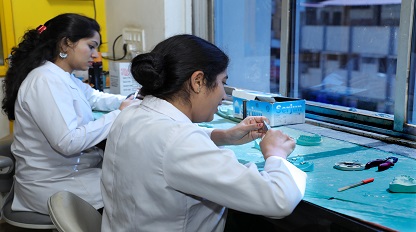 Pre-clinical Lab:
To carry out laboratory procedures after clinical work for undergraduate and postgraduate students.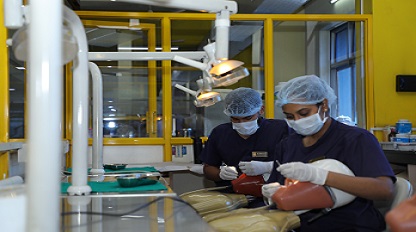 Phantom Lab:
Phantom Head facility for undergraduate and postgraduate pre-clinical training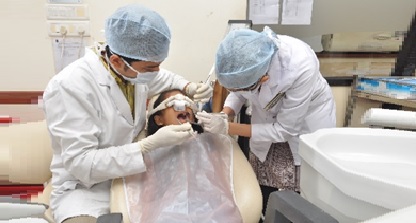 Conscious sedation:
The department has facilities to carry out nitrous oxide-oxygen conscious sedation.  In addition, treatment procedures are also carried out under sedation through oral and intravenous routes.
Research & Publications
The crucial research areas are remineralising agents, Preventive Dentistry, Paediatric Endodontics, Local Anaesthesia Techniques in Children, Early Childhood Caries and Inhalational Sedation.
Testimonials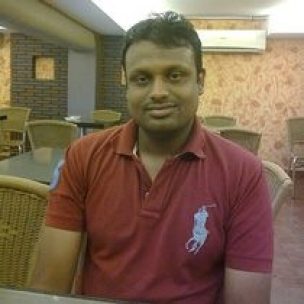 It is a great place to be in right from taking admission, the personal care begins and one finds the atmosphere very comfortable.
Dr. Arun K Simon
MCODS Mangalore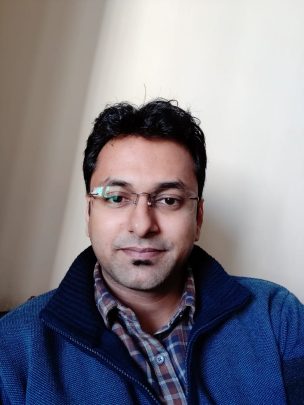 Department is fully committed to offer the highest level of orthodontic training to the students. The faculty leaves no stone unturned to educate the students, provide them with the best of infrastructure and orthodontic programs, and expose them to variety of complicated cases, to produce good clinicians. It was a great experience learning in such a supportive environment.
Dr. Aseem
MCODS Mangalore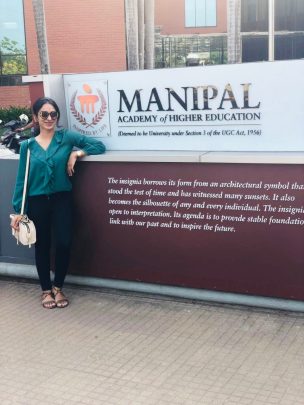 The department of orthodontics and Dentofacial orthopaedics has one of the highest standards of teaching and mentoring in Manipal College of Dental Sciences, Mangalore. An efficient team of faculty who are always approachable creates a student friendly environment in the department. The equipment and materials provided to us students are upgraded with the latest advancements in the field. The quality of work expected from students is high which helps students to thrive for perfection. It has definitely been a great experience to be a part of the learning process MCODS Mangalore has offered and I am a proud alumnus of this institution.
Dr. Fidha
MCODS Mangalore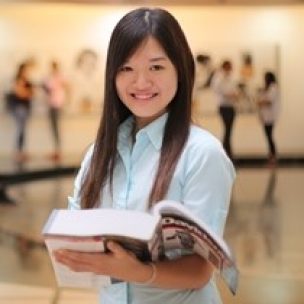 MCODS is a wonderful institution. There are people from different cultures here, and that interests me. I like the campus life a lot!
Cheah Hui Ling
MCODS Manipal