The Department of Oral Medicine and Radiology, Manipal College of Dental Sciences, Mangalore was formed in the year 1986 with a vision to provide the best of patient care, student mentoring and research. Over the last three decades the department has grown by leaps and bounds including its infrastructure, research facilities and faculty development. Oral Medicine and Radiology is taught both in third and final year of BDS and the curriculum aims to provide both theoretical and clinical knowledge to the students through lectures classes and clinical postings. We also practice innovative teaching methods such as problem based learning, small group discussions, etc. They are exposed to the latest diagnostic and patient management tools. The post-graduation program commenced in the year 2011. We were the first among dental colleges in India to obtain the state of the art Cone Beam Computed Tomography (CBCT) machine with fully configured software (Romexis, Ortho studio, Low dose mode, and Endo mode). The Department was awarded the Guident Award for Best Oral Medicine and Radiology Department in the year 2016. The faculty of the department are actively involved in collaborative research work, innovative teaching learning practices and have authored chapters and textbooks.
Key features
Medical Management of Orofacial Pain and Temporomandibular disorders.
Certificate Course in Cone Beam Computed Tomography held biannually.
Maxillofacial imaging in Forensic Odontology.
Core competencies:
Medical Management of patients with orofacial diseases.
Management of Oral Manifestations of systemic diseases. 
Medical management of oral cancer, pre-cancerous lesions and tobacco related disorders.
Tobacco Cessation counselling.
Two dimensional and three dimensional imaging of the head and neck region.
Interprofessional Education, Practice and Care.
Research Collaborations
School of Dentistry and Oral Heath, Griffith University, Australia.
Henry M. Goldman School of Dental Medicine, Boston University.
MAHE-FAIMER International Institute for Leadership in Interprofessional Education, Manipal Academy of Higher Education.
Centre for Forensic Odontology, MCODS, Mangalore, Manipal Academy of Higher Education.
KMC, Mangalore, Manipal Academy of Higher Education.
Manipal Centre for Life Sciences, Manipal Academy of Higher Education.
Department of Atomic and Molecular Physics, Manipal Academy of Higher Education.
Manipal Institute of Technology, Manipal Academy of Higher Education.
Yenpoya Dental College, Yenepoya University.
K.V.G. Dental College, Sullia.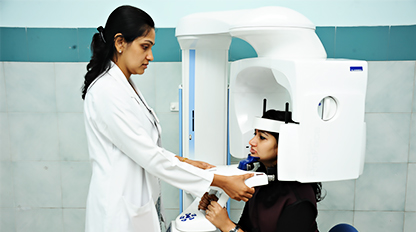 Cone Beam Computed Tomography State of the art three dimensional head and neck imaging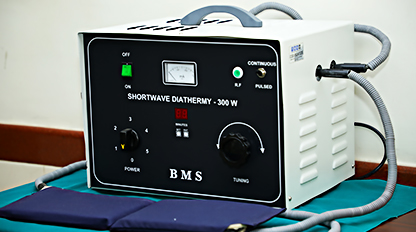 Short wave diathermy for management of  chronic orofacial pain and TMD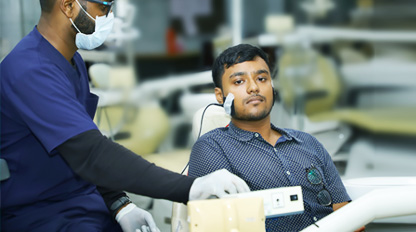 TENS therapy for treatment of chronic orofacial pain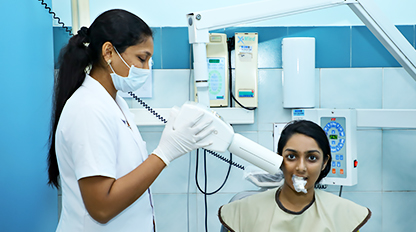 Intraoral Imaging ( Analog and Digital)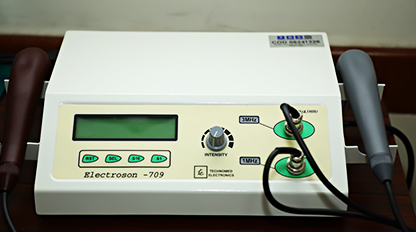 Therapeutic Ultrasound for management of chronic orofacial pain and TMD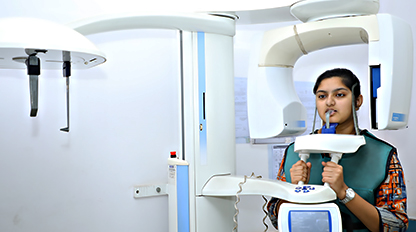 Research & Publications
The crucial research areas are Oral cancer and precancancerous lesions, Facial pain, TMJ disorders, Chronic oromucosal lesions and Maxillofacial imaging.
Testimonials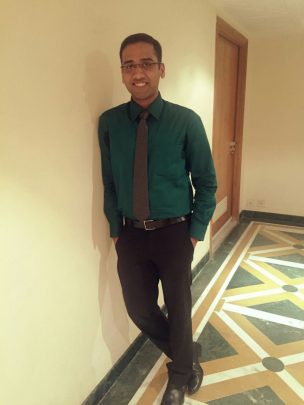 MCODS Mangalore is a second home for every student. Beautiful place and university with top class academics and faculties who guide the students at every point and give them a new horizon. Manipal University is not just a university but it's an experience and ornament which always embrace the students in their future endeavors. 
Dr. Utkarsh Yadav
Batch of 2013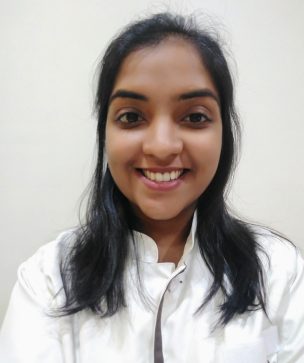 In my 3 years of post-graduation, I experienced a very supportive work environment which soon made the department our second home; with wonderful faculty who provided opportunities to excel, along with extensive professional guidance and personal encouragement to help make our entire post-graduate training experience productive and stimulating. The addition of the Cone Beam Computed Tomography in my 1st year of post-graduation gave me a great opportunity to learn, progress and become efficiently trained in this latest state-of-the-art technology.
Dr Prakriti Dayal
Batch of 2011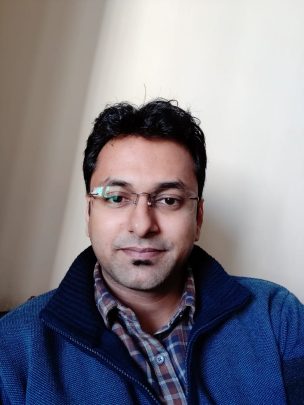 Department is fully committed to offer the highest level of orthodontic training to the students. The faculty leaves no stone unturned to educate the students, provide them with the best of infrastructure and orthodontic programs, and expose them to variety of complicated cases, to produce good clinicians. It was a great experience learning in such a supportive environment.
Dr. Aseem
MCODS Mangalore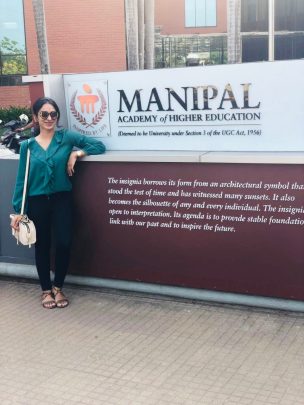 The department of orthodontics and Dentofacial orthopaedics has one of the highest standards of teaching and mentoring in Manipal College of Dental Sciences, Mangalore. An efficient team of faculty who are always approachable creates a student friendly environment in the department. The equipment and materials provided to us students are upgraded with the latest advancements in the field. The quality of work expected from students is high which helps students to thrive for perfection. It has definitely been a great experience to be a part of the learning process MCODS Mangalore has offered and I am a proud alumnus of this institution.
Dr. Fidha
MCODS Mangalore