The security wing headed by the Chief Operating Officer – Campus Safety (COOCS) takes care of all aspects of campus security. MAHE has a Campus Patrol going round the campus with a Security Supervisor on duty 24X7 to safeguard the campus.
For complaints/suggestions, contact
Chief Operating Officer - Campus Safety
Room no. 107, I floor, MAHE edu Building,
Manipal.
Phone: 0820 2922848
For emergency assistance, call +91- 9945670913/ 9945670912
Located on campus is the New International Hostel (NIH) residence hall that provides single air-conditioned rooms for international students. NIH has three wings A, B and C and a common dining/ cafeteria for students (NIH Food Court).
MAHE is a secure campus and security is ensured by the block caretakers, warden, and chief warden inside the residence halls. We have separate hostels for boys and girls with their own set of rules and regulations. Students staying in hostels, are requested to strictly adhere to the said regulations. Violating the rules is prohibited and university can take stringent measures for negligence.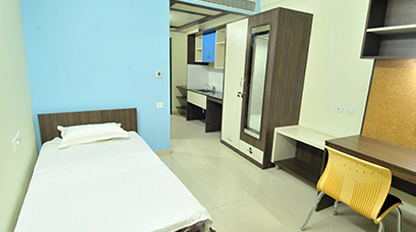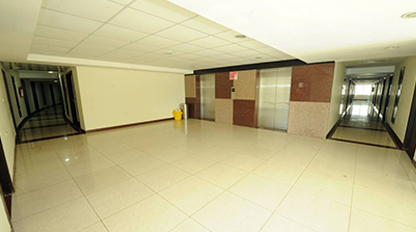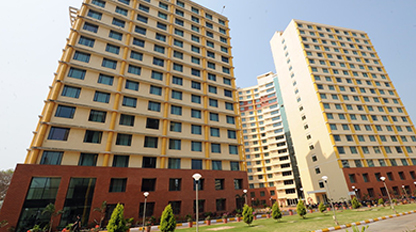 NIH provides facilities like uninterrupted electricity, a common telephone and television. All single occupancy rooms are furnished with a single cot, mattress and a pair of bed linens. Students will have to bring their own soft furnishings and essentials like additional bed sheet & pillow cover, bath towel, water bottle, toiletries and tissues.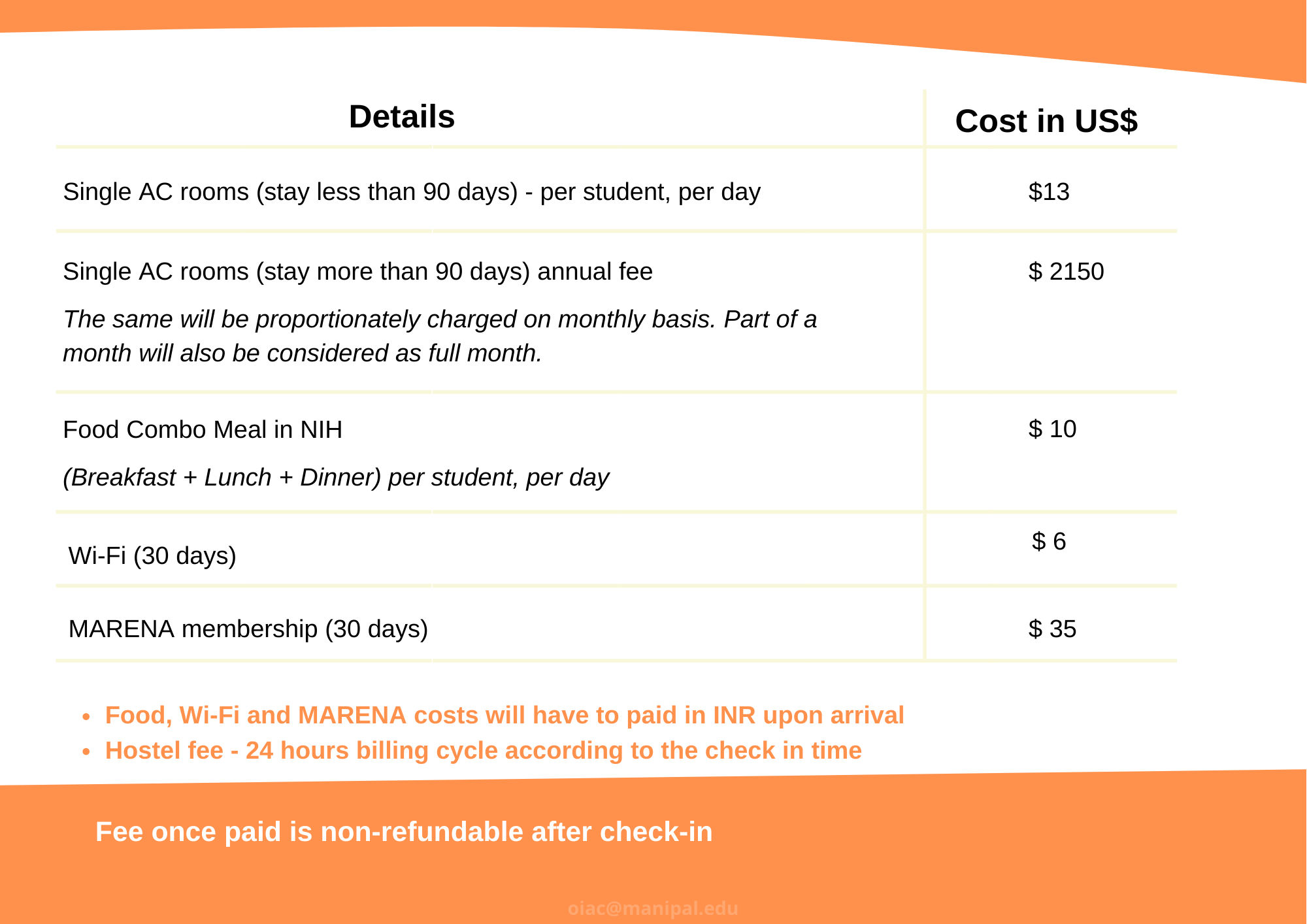 If you need accommodation on campus, write to the Chief Warden, MAHE, Manipal upon receiving official acceptance letter. Kindly attach the invitation letter (issued by MAHE) and mention the name of the home institution in your request. 
Email ID: chiefwarden.mahe@manipal.edu; Phone: (+91) 820 2922413.


Once they inform the room availability, kindly calculate the cost and transfer the hostel fee to beneficiary details received in the email sent along with invitation letter. Should you need again, write to intl.incoming@manipal.edu.
On completion of transaction, remittance details should be sent to the following emails mentioning your name, home university and the purpose of your visit.
Accommodation will be confirmed only after MAHE receives the payment confirmation. Hence, kindly ensure to complete the payment and block your accommodation well in advance of your arrival. Bank charges, if any, has to be borne by the remitter.
In case of cancellation of accommodation, the O/o Chief Warden should be informed at least five days before the check-in date. Refund is not possible for last-minute cancellations.
The nearest airport to Manipal is Mangalore International Airport (IXE) which is about 90 min travel by road. As a welcome gesture, any foreign guest or student will be offered a complimentary one-time airport pick and drop facility. This is entirely based on availability of university vehicles and ongoing events on campus.
To avail this facility, the incoming student must ensure to send the confirmed travel tickets to intl.incoming@manipal.edu at least 20 days before the travel.
MAHE has six major central libraries - Health Sciences Library Manipal, Health Sciences Library Mangalore, Manipal Institute of Technology Library, School of Communication Library, Welcomgroup Graduate School of Hotel Administration Library and School of Management and Communication Library. These libraries are always updated with the latest and best collection of books, journals, online sources, dissertations etc. to the students for course work and research.
The Student Support Centre (SSC)  an independent unit under the aegis of the Directorate of Student Affairs, MAHE is an exclusive confidential service devoted to supporting the emotional well-being of students. The department's activities cover wide areas such as guidance, wellness, health and counselling. It constantly is evolving ways to support and foster students' interest in the university. SSC offers therapy sessions with qualified clinical psychologists, covered by student medical insurance (Medicare). 
Counselling:
With the extended support from SSC, MAHE encourages differently abled students to overcome their problems and continue studies without any impediment. SSC is quite active in conducting awareness campaigns and outreach sessions across institutes. The Student Advisory Board comprising of student leaders from all institutes constantly work to ensure a student-friendly approach and refer students in need of help to the Centre.
Should you need assistance, reach out to
Student Support Centre:

No. 125, Opposite New International Guest House, Manipal 576104
Phone:0820 292 2430
Email: student.support@manipal.edu
Student Health Clinics are made available to students for Non-Accident and Non-Emergency cases. With prior appointment (0820 292 2057) students can avail medical aid at this clinic located at the first floor of New Out-Patient block, Kasturba Hospital. All regular students are covered with Medicare which entitles them general hospitalisation, including drugs (excluding diet) and outpatient benefits (excluding drugs, materials, etc). International students can opt for this facility on payment. For further details, write to intl.incoming@manipal.edu
Discretion: All students are required to carry the ID card all the time while visiting the hospital.  The ID card number is the Medicare number of the students.
Address:
Student Clinics
First Floor, New Outpatient block
Kasturba Hospital, Manipal
Phone: 0820 292 2057
MAHE has multiple food courts on campus and students can choose the food court based on their constituent institution. The food courts are fully air-conditioned and hygienic. Students have a wide range of veg and non-veg platters and also a variety of Chinese, Thai, Continental, Malaysian cuisines available on campus. 

KMC Food Court  | MIT Food Court
Marena is a centrally cooled sports complex, one of the largest and best-equipped sports centres in the country. The facilities provided include a jogging track; a gymnasium with cardiovascular equipment, weights, strength training and flexibility machines; squash courts with a viewing gallery; a basketball court; badminton courts; futsal playing area; a cricket bowling machine; a kinesis circuit system and five enclosures for simulation games; a sauna and steam bath. And they are all under one roof. For more information, please visit.  

Visiting hours: Morning 5:30 – 12:00 | Evening 4:00 to 9:30
Membership cost: INR 2400 per month for all facilities.This can be directly availed at the MARENA complex by showing valid MAHE ID card. 
Campus Ambassadors Manipal (CAM) is a student-led peer-to-peer engagement of the international office where the home campus students offer voluntary services to the international students getting them familiar with the university studies and facilitate seamless integration. 
For queries and suggestions write to campus.ambassadors@manipal.edu
Manipal Academic Exchange and Student Traineeship for Research Outreach (MAESTRO) is an online portal which facilitate projects to students from foreign universities. Through the online portal, students may submit their applications for any project of their choosing and explore learning opportunities wide 28 institutions of the university. These internships provide a learning opportunity as well as a chance to nurture interpersonal and networking skills among international population. The projects are from various disciplines such as Engineering, Humanities, Technology, Medical, Liberal Arts, Social sciences and Management.
Online projects are also offered for students who wish to take up international learning from the comfort of their homes.
For more information visit https://maestro.manipal.edu | Email: maestro@manipal.edu
MAHE Campus is well equipped with IT infrastructure with Wi-Fi at most of the locations including hostels.

I-ON is a paid Wi-Fi network service on campus. If included in the program fee, your program coordinator will share the login credentials. If not, you can also buy the connection on arrival. Details will be shared during the registration process at OIAC. For any immediate internet access (to apprise your parents and friends about your safe arrival), students may request the hostel caretaker to access the desktop at the check-in counter. 

Internet booths with independent desktop access is also available at the health science library during its working hours. It is an hourly paid service. To access enquire at the library front desk with a valid MAHE ID card.
 
Discretion: some of the hostel block do not have built in WiFi router. For those, an add on router can be arranged which has to be returned to the WiFi facility without any damage while the student return from Manipal. If needed, request the for the same at the time of availing connection.
Need a local sim for conversing? Based on students' requirement, OIAC will connect you to the service providers to offer the best possible tariffs.

Any international student visiting to the campus should have a valid identification proof. If you are an international student enrolled for on a short-term mobility program through OIAC, you will receive your identity card at OIAC during the post arrival registration formalities.