The Chief Guest details are as follows :

Nov 15th (Friday) :

Mr Kris Gopalakrishnan, Chairman, Axilor Ventures Pvt. Ltd, Bengaluru; Co-founder of Infosys.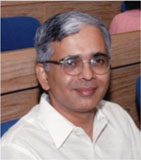 Nov 16th (Saturday) :
Dr Shekhar C Mande, Secretary, Department of Scientific and Industrial Research (DSIR) and Director General, Council of Scientific & Industrial Research, New Delhi.