Rankings of previous years
RANKING 2018    
Manipal Academy of Higher Education along with its institutions have done pretty well in the ranking of 2018. Almost all the institutions have seen their rankings go up and Faculty of Architecture has made its presence felt in the National Institutional Ranking Framework (NIRF) ranking for the first time.
MAHE continues to be the best private university in the country being ranked #1 by three prominent ranking agencies, The Week, India Today and Education World. The Week has ranked MAHE number one for the fourth time in a row and Education World, third consecutive year. There was a considerable improvement in the NIRF ranking as well -- moving seven places up to the 11th position from the 2017 ranking. Kasturba Medical College, Manipal and Mangalore too have done well in the rankings, particularly the NIRF. Manipal College of Pharmaceutical Sciences has maintained its seventh position in NIRF.    
                    RANKING 2017    
MCODS and WGSHA continue to be top institutions in 2017 Rankings, KMC and MCOPS figure in QS World Rankings
Manipal Academy of Higher Education and its constituent institutions have done a lot better in the parameters employed by different agencies to rank universities and colleges in the country this year. While there are reasons to feel happy about the rankings as far as the institutions are concerned, the recognition that the University received by breaking into the QS World University Rankings 2018 at the 701-750 band came as a pleasant surprise and is a shot in the arm. The Welcomgroup Graduate School of Hotel Administration (WGSHA) and Manipal College of Dental Sciences (MCODS), Manipal, have been ranked as the number one colleges in the country for quite some time. They are at the top because all parameters that count towards the rankings are being taken good care of year after year. 
The QS World University Rankings are compiled using six simple metrics that effectively captures university performance. "So, for a start in the world rankings, the 701-750 band is very good," said Vice Chancellor, Dr H. Vinod Bhat. "We'll improve and do a sub-600 the next time round," he added.Two other institutions, Manipal College of Pharmaceutical Sciences (MCOPS) and Kasturba Medical College (KMC), Manipal have also made the QS World Rankings by subjects this year. That's another milestone for the University. MCOPS found a place in the world rankings in the 250-300 range and KMC in the 451-500 range.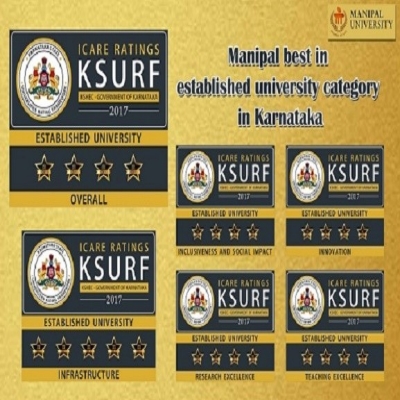 Rankings 2016, 2015
QS University Ranking ASIA 2016
Ranked 200 amongst
Asian universities &  ranked No. 17 in India 
Manipal Academy of Higher Education
Read More
QS University Ranking BRICS 2016
Ranked 101-110  amongst
BRICS nations 
Manipal Academy of Higher Education
Read More
Times Higher Education Ranking 2016
Ranked 801 +
Manipal Academy of Higher Education
Read More
The Week
No. 1 among private and deemed universities in India, Ranked no. 20 among all the Multidisciplinary Universities in India & Ranked no. 10 among all the Multidisciplinary Universities in South Zone
Manipal Academy of Higher Education
May 2016
Careers360 University Ranking
Ranked No. 1 among Top Private Universities in India & Ranked 2nd among top 30 Best Universities under private ownership
Manipal Academy of Higher Education
May 2016
Education World Ranking Survey
1st among the top private universities in India
Manipal Academy of Higher Education
May 2016
9th ASSOCHAM Higher Education Summit & National Excellence Awards
Best University promoting Research
Manipal Academy of Higher Education
February 2016
National Institutional Ranking Framework (NIRF), MHRD, Government of India
National Rank – 32
(MAHE) Manipal Academy of Higher Education
April 2016
National Institutional Ranking Framework (NIRF), MHRD, Government of India
Amongst Private Universities - 6
(MAHE) Manipal Academy of Higher Education
April 2016
Manipal Academy of Higher Education
Manipal Academy of Higher Education
QS University Ranking -

BRICS 2015

Ranked 97 amongst
BRICS nations

Manipal Academy of Higher Education

www.topuniversities.com/university-rankings/brics-rankings/2015

QS University Ranking -

Asia 2015

Ranked 201 amongst
Asian universities

Manipal Academy of Higher Education

www.topuniversities.com/university-rankings/asian-university-rankings/2015

ASSOCHAM Award
Best Institute for Placement
Manipal Academy of Higher Education
August 2015   (Read more)

The WEEK

No. 1 among private and deemed universities in India

Manipal Academy of Higher Education

May 2015

Careers 360

2nd among top private medical schools in India

Manipal Academy of Higher Education

May 2015

EducationWorld

3rd among the top private universities in India

Manipal Academy of Higher Education

Higher Education Review

Ranked 1st in the top private/deemed universities in India

Manipal Academy of Higher Education

April 2015

ASSOCHAM national education excellence award

Best University providing Global Expo

Manipal Academy of Higher Education

April 2015   (Read more)

National Institutional Ranking Framework, Ministry of Human Resource Development

Government of India

Ranked 1st among pharmacy Institutions in the country.
Manipal College of Pharmaceutical Sciences, Manipal

April 2016

Outlook

9th among top 20 medical colleges in India

Kasturba Medical College, Manipal

July 2015

Outlook

5th among top 10 mass communication schools in India

School of Communication, Manipal

July 2015

Outlook

2nd among top dental colleges in India

Manipal College of Dental Sciences, Manipal

June 2015

Careers 360

1st among top private pharmacy colleges in India

Manipal College of Pharmaceutical Sciences, Manipal

May 2015

The WEEK

Ranked No. 2 among private medical colleges in India

Kasturba Medical College, Manipal

June 2015

The WEEK

Ranked No. 9 among private medical colleges in India

Kasturba Medical College,  Mangalore

June 2015

The WEEK

Ranked No. 1 among private dental colleges in India

Manipal College of Dental Sciences, Manipal

June 2015

The WEEK

Ranked No. 1 among private

Hotel management colleges in India

Welcomgroup Graduate School of Hotel Administration, Manipal

June 2015

The WEEK

Ranked No. 8 among private engineering colleges in India

Manipal Institute of Technology, Manipal

June 2015