24th Convocation of Manipal Academy of Higher Education held in Mangaluru
"This University has an enviable international reputation," said Dr Joanna Flynn AM , Chair, Medical Board of Australia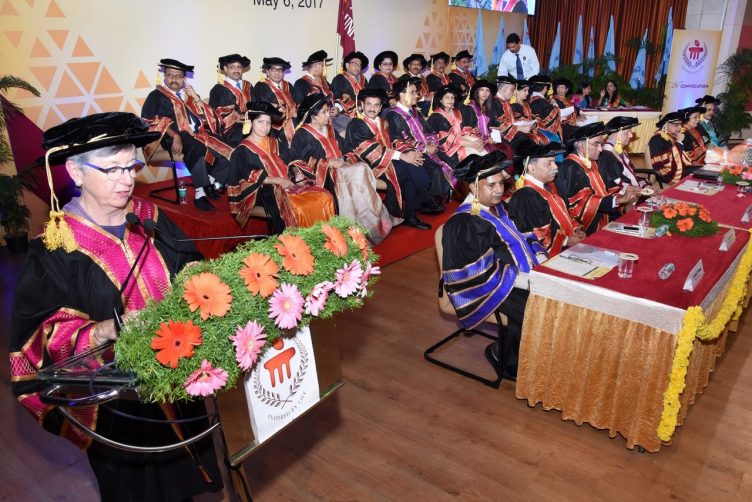 The 24th Convocation of Manipal Academy of Higher Education was held at the Dr TMA Pai International Convention Centre in Mangaluru on May 6, 2016. A total of 479 undergraduates, post graduates and PhD scholars received their degrees and certificates from the Chief Guest, Dr Joanna Flynn AM Chair, Medical Board of Australia and senior officials of the University. Another 746 received theirs through post.
While it was a great day for the graduating students, as a convocation always is, Dr Swasthik Upadhya P, of KMC Mangaluru, had reasons to be the happiest outgoing student having bagged the Dr TMA Pai gold medal for being the most outstanding student. The gold medal, considered to be the blue ribbon, is given to the student who is the topper in both Manipal and Mangaluru campuses.
Dr Swasthik has done himself proud and so have all other graduates. There's something special about graduating from this University. That was aptly put by the chief guest, Dr Joanna who in her speech said, "This University has an enviable international reputation. It attracts students from all over the world and its alumnae are represented in prestigious institutions across the globe".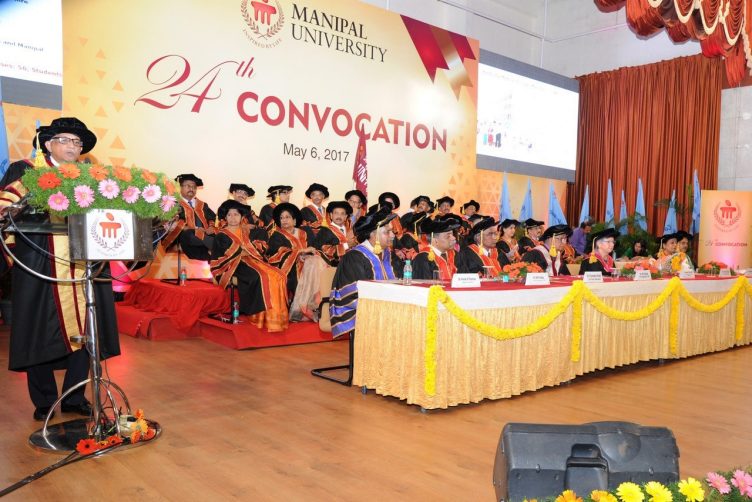 She drew deep from her long experience as a medical professional while speaking to the graduands. And suggested five qualities, five values that will hold them in good stead. "I have chosen these five based on my own experience as a family doctor, which has shown me what matters to patients. Though I come from a long way away, I believe there are some universal truths about what makes a good doctor, a good health practitioner, so I offer you these perspectives," Dr Joanna said.
"These then are the five qualities – trustworthiness, excellence, accountability, respect and humility. And if you play around with the order by reversing the first and last you have HEART. Heart. And that's what I most commend to you. Practice your profession with heart. As well as bringing your mind to you work, bring your heart and soul. You will enjoy your work more, and you will be better at it".
Pro Chancellor, Dr H.S. Ballal declared the 24th Convocation open, Pro Vice Chancellor, Dr Surendra V. Shetty, welcomed the gathering, Vice Chancellor, Dr H. Vinod Bhat gave an overview of Manipal Academy of Higher Education, Dr MV Prabhu, Dean KMC, Mangaluru introduced the chief guest and Dr Dilip G. Naik, Dean MCODS, Mangaluru proposed the vote of thanks.
Click here for Dr Joanna's Speech