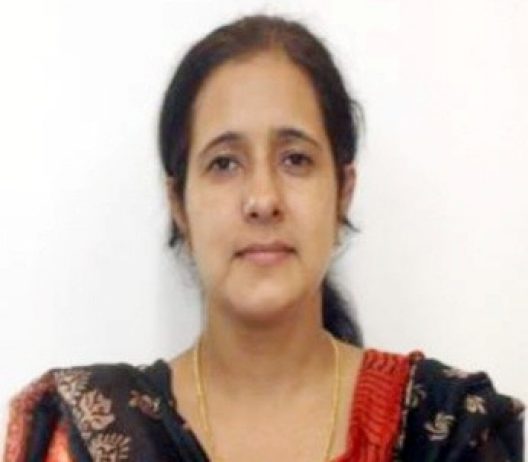 Professor & Head of Department at KMC, Mangaluru
Department of Physiotherapy (at Mangalore)
Qualification: Dr. Charu Eapen is the Professor & Head of the Department of Physiotherapy at KMC, Mangaluru
CURRENT ACADEMIC ROLE & RESPONSIBILITIES
Charu Eapen is  Professor and Head  in the Department of Physiotherapy at KMC Mangalore, Manipal Academy of Higher Education.

She is invloved in:

Teaching undergraduate and post graduate students
Coordinator for BPT and MPT  course
Out patient and In patient clinical care in Orthopaedics
Guide for post graduate dissertations
Guide for PhD
Academic and Clinical Administration

 

 
SUBJECTS CURRENTLY TEACHING
| Subject | Semester / Year |
| --- | --- |
| Exercise Therapy | I & II Year BPT |
| Biomechanics | II Year BPT |
| Electrotherapy | II Year BPT |
| Physiotherapy in Orthopaedics | III Year BPT |
| Ethics | III year BPT |
| Physiotherapy in CBR | IV Year BPT |
ACADEMIC QUALIFICATIONS
| Degree | Specialisation | Institute | Year of passing |
| --- | --- | --- | --- |
| Doctor of Philosophy ( PhD) | Radial Ray Cumulative Trauma Disorders In Cell Phone Users | Manipal Academy of Higher Education | 2010 |
| Master of Physiotherapy (MPT) | Musculoskeletal Conditions – Elective: Hand | College of Allied Health Sciences, Manipal Academy of Higher Education (MAHE) | 2000 |
| Bachelor of Physiotherapy (BPT) | Physiotherapy | Kasturba Medical College, Manipal Academy of Higher Education (MAHE), | 1996-2nd rank |
Experience
| Institution / Organisation | Designation | Role | Tenure |
| --- | --- | --- | --- |
| Department of Physiotherapy, Kasturba Medical College, Mangaluru | Professor & Head | Head of the Department of Physiotherapy | July 2017 till date |
| Department of Physiotherapy, Kasturba Medical College, Mangaluru | Associate Professor – Senior Scale | Teaching , Clinical management, Research | July 2014 to June 2017 |
| Deapartment of Physiotherapy, Kasturba Medical College, Mangaluru | Associate Professor – Senior Scale & Incharge, Department of Physiotherapy, KMC Hospital Attavara, Mangaluru | Teaching , Clinical management & Research | January 2012 to July 2014 |
| Department of Physiotherapy, Kasturba Medical College, Mangalore | Associate Professor and In-charge Orthopaedic unit | | 2006 - 2012 |
| Department of Physiotherapy, Kasturba Medical College, Mangalore | Assistant Professor and In-charge Orthopaedic unit | | 2000-2006 |
| Department of Physiotherapy, Kasturba Medical College, Mangalore | Assistant Lecturer | | 1996 - 1997 |
AREAS OF INTEREST, EXPERTISE AND RESEARCH
Area of Interest
Hand Therapy, Musculoskeletal Physiotherapy, Exercise Therapy, Ethics, Women Health- Post Natal Care, Geriatrics, Quality and Environment Management
Area of Expertise
Hand and Upper Limb Rehabilitation, Musculoskeletal Physiotherapy, Isokinetic Exercise Therapy, Antenatal and Postnatal Physiotherapy, Geriatric Rehabilitation
Area of Research
Hand and Upper Limb Musculoskeletal Conditions, Sports Physiotherapy, Manual Therapy
Professional Affiliations & Contributions
Award of certificate for "Commendable Contribution to Medical Literature" in years 2012 and 2011 by KMC, Mangalore.
"Distinguished Alumni Award", March, 2010.
Life Member of Indian Association of Physiotherapists.
Permanent Member of Indian Society for the Surgeons of Hand.
Effect of knee support brace and lateral wedge in sole on isokinetic peak torque in osteoarthritis of the knee–a randomised clinical trial
2010, Indian Journal of Physiotherapy and Occupational Therapy, Thomson Press (India) Limited, Vol 4, No 2 Both the knee support brace and lateral wedge insole improved the isokinetic concentric peak torque of both quadriceps and hamstrings muscles, their functional status and reduced pain.