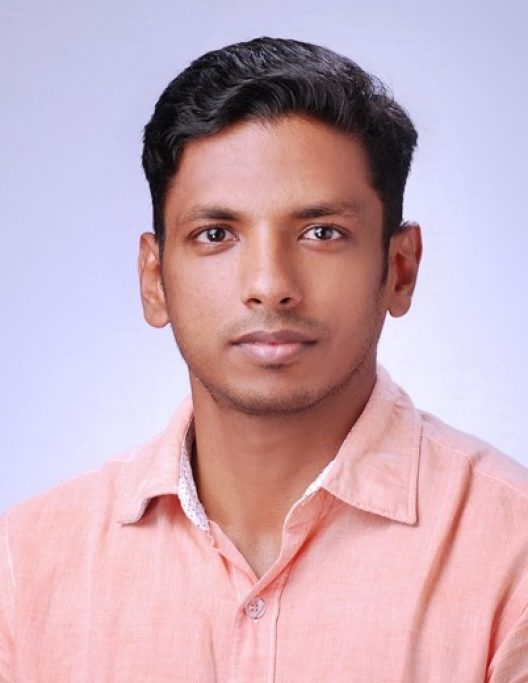 Assistant Professor - Selection Grade
Department of Exercise and Sports Sciences
CURRENT ACADEMIC ROLE & RESPONSIBILITIES
Prabu Raja G is Assistant Professor- Selection grade; Incharge - Head  Department  of exercise and sports science
SUBJECTS CURRENTLY TEACHING
| Subject | Semester / Year |
| --- | --- |
| Strength and conditioning | 4th BSc / 7th semester |
| Strength and Conditioning | 2nd MSc / 3rd semester |
ACADEMIC QUALIFICATIONS
| Degree | Specialisation | Institute | Year of passing |
| --- | --- | --- | --- |
| Master Of Physiotherapy | Musculoskeletal and Sports | Father Muller Medical College Rajiv Gandhi University | 2008 |
| Bachelor Of Physiotherapy | NA | Sri Ramachandra Medical College & Research Institute. Chennai | 2006 |
Experience
| Institution / Organisation | Designation | Role | Tenure |
| --- | --- | --- | --- |
| Department of Exercise and Sports Science, MCHP, Manipal Academy of Higher Education | Assistant Professor-Selection Grade | Teaching UG and PG students | Aug 2014 till date |
| Lakshmi Memorial College of Physiotherapy, Mangalore | Assistant Professor | Teaching UG and PG students /Clinical Therapist | September 2013 to Aug 2014 |
| Department of Physiotherapy, Father Muller Medical College, Mangaluru | Lecturer | Teaching UG and PG students /Clinical Therapist | April 2009 – Sep 2013 |
| Chowgule Orthopaedics & Sports Centre/Vasco Football Club, Goa | Head of Department | Physiotherapist/ Performance analyst | Sept 2008 to Mar 2009 |
Effectiveness of Deep Cervical Fascial manipulation and Yoga postures on pain, function, and oculomotor control in patients with mechanical neck pain: Study protocol of a pragmatic, parallel-group, randomized, controlled trial
AREAS OF INTEREST, EXPERTISE AND RESEARCH
Area of Interest
Strength and Conditioning, Myofascial Manipulation, Athletic Training and injury prevention
Area of Expertise
Myofascial Manipulation / Strength and conditioning
Area of Research
Myofascial Manipulation / Strength and conditioning
Professional Affiliations & Contributions
Professional affiliations:
FRS - Member of Fascia Research Society, USA.
AMF - Member of Fascial Manipulation Association, Italy.
MISB - Member of Indian Society of Biomechanics, India.
MIAP - Member of Indian Association of Physiotherapist
'Abductory Twist' – An Element of Observational Gait Analysis in patients with Low Back Pain-A case report
Polish Journal of Physiotherapy 2011;1(4);11:67-73
Electrodiagnosis in Peripheral Neuropathy – Implication to the therapists
The Physiotherapy Post 2010;2(3):63-67
PIN palsy following both bone fracture of forearm – A case report
The Physiotherapy Post 2010;2(4):75-76
Use of cryotherapy in sports injury rehabilitation- Report of a survey
Physiotherapy and Occupational Therapy Journal 2010;(3 ):63-71.
Comparison of respiratory paramaters in individuals with and without chronic low back pain
Journal of Bodywork and Movement Therapy 23, 2019; 894-900.
A preliminary study on the influence of high heel footwear on lumbar spine proprioception
Biomedical Human Kinetics, 12, 2020; 221–225.
Effect of Fascial Manipulation on Glenohumeral Internal Rotation Deficit in Overhead Athletes- A Randomized Controlled Trial.
Muscles, Ligaments and Tendons Journal. 2020; 10 (1):17-23.
The plausible role of Deep cervical fascia and its continuum in chronic craniofacial and cervicobrachial pain: A case report
The influence of lower limb plyometrics and resistance training on the stiffness of achilles and patellar tendons in recreational athletes.
Biomedical Human Kinetics 13(1):56-62, DOI: 10.2478/bhk-2021-0008.
The influence of Fascial Manipulation on Function, Ankle Dorsiflexion Range of Motion and Postural sway in individuals with Chronic Ankle Instability.
Journal of Bodywork and Movement Therapy. Jul;27:216-221. doi: 10.1016/j.jbmt.2021.03.024. Epub 2021 Apr 2. PMID: 34391236
Effectiveness of Deep Cervical Fascial manipulation and Yoga postures on pain, function, and oculomotor control in patients with mechanical neck pain: Study protocol of a pragmatic, parallel-group, randomized, controlled trial.
Trials, 22, 574 (2021). https://doi.org/10.1186/s13063-021-05533-w.