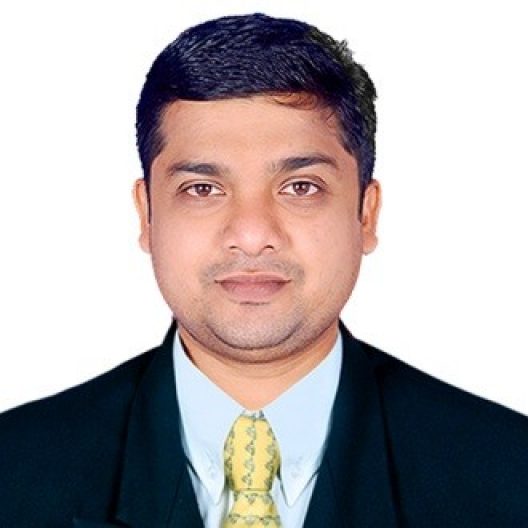 Assistant Professor - Senior Scale
Department of Medical Laboratory Technology
CURRENT ACADEMIC ROLE & RESPONSIBILITIES
 

Vivek Raghavan M is Assistant Professor- Senior scale in the Department of Medical Laboratory Technology, MCHP, Manipal

He:

Coordinator for BSc MLT Intern   
Member of the committee for curriculum development and modification for BSc MLT & MSc MLT  
Counsell students
Chairperson for promotional activities of MCHP
Internal auditor ISO 9001 
Internal auditor ISO 14001
Internal auditor Integrated management system  
SUBJECTS CURRENTLY TEACHING
| Subject | Subject code | Semester |
| --- | --- | --- |
| Biomedical Techniques | | II semester Msc MLT |
| Histopathology and Cytology | | II Semester MSc MLT |
| Histopathology and Cytology II | | VI Semester BSc MLT |
| Histopathology and Cytology I | | V Semester BSc MLT |
| Transfusion medicine | | IV semester BSc MLT |
| Quality management and automation | | III semester BSc MLT |
| Immunohaematology | | II semester BSc MLT |
ACADEMIC QUALIFICATIONS
| Degree | Specialisation | Institute | Year of passing |
| --- | --- | --- | --- |
| MSc Medical Laboratory Technology | Cytology and Cytogenetic | School of Health Science, Calicut University, Kerala | 2004 |
| B.Sc Medical laboratory Technology | | Rajiv Gandhi University of Health Sciences, Karnataka | 2000 |
Experience
| Institution / Organisation | Designation | Role | Tenure |
| --- | --- | --- | --- |
| Department of Medical Laboratory Technology, MCHP | Assistant Professor-Senior Scale | | From September 2010 till date |
| SOAHS, Manipal | In-Charge | | From 2012 to 2014 |
| MCOAHS, Manipal | Assistant Professor | | from June 2007 to Sep 2010 (3 years 3 months) |
| Padmashree D Y Patil College of Occupational Therapy and Hospital & Research Centre, Nerul, Navi Mumbai | Lecturer | | From April 2004-February 2007 (2 years and 10 months) |
AREAS OF INTEREST, EXPERTISE AND RESEARCH
Area of Interest
TQM in Laboratory Medicine, Immunohaematology,Cytogenetics
Area of Expertise
TQM in Laboratory medicine ,Cytogenetics
Area of Research
Areas of research -TQM in Laboratory medicine
Awareness, Attitude and Practice of School students toward House Hold waste management
The topic of environmental protection has attained highest importance in this era globally but the practices of basic concepts waste disposal are often neglected. People around the globe are aware of the impact of improper waste disposal practices, but the negative attitude of implementation gives rise to chaotic situations. This study was conducted to obtain baseline information about waste management practices among school children in Kerala. This cross sectional study was conducted using a well-designed and validated questionnaire. Out of one thousand students of a high school and higher secondary school from Thrissur City in Kerala, 300 were randomly selected. The data analyzed using student t-test showed, high school students are more aware about household waste management than the higher secondary school students. It is evident from this study that there is significant difference between awareness and practice. Our study reveals the necessity of giving mass awareness to the impact of waste disposal practices from the beginning of school education. Committed environmental education will inculcate a proper and appropriate environmental culture in the students. As the study revealed awareness of e-waste disposal is lacking there is an urgent need to rectify this gap in knowledge and practice.
Quality Evaluation of Clinical Biochemistry Laboratory against ISO 15189-2007 standard.
International Journal of BioSciennces,Healthcare Technology and Management (2013) Volume 5 ,Issue 2,Page (s); 11-15 The NABL standard provides an opportunity to continually improve the quality clinical lab test results. The study was conducted to evaluate the compliance of biochemistry lab test as per ISO 15189:2007 standard. A prospective study was conducted in a tertiary-care cardiac center of southern India. A validated check list consists of pre-analytical, analytical, post-analytical phases of lab test based on ISO standard was used to evaluate 30 samples for 21 blood parameters. In Pre analytical phase, 21 parameters were evaluated using the checklists, which showed an average of approximately 82% of compliance whereas the analytical phase evident an approximate 97% and the Post analytical showed 74% respectively. The result of the study gives an insight to look into the areas of clinical biochemistry lab where the improvement is required in achieving quality test results in compliance with ISO standards
Knowledge, attitude and practice on blood donation among health science students in a university campus, South India
http://www.ojhas.org/issue38/2011-2-6.htm. The major part of demand for blood in India has been meeting through voluntary blood donations. The healthy, active and receptive huge student population is potential blood donors to meet safe blood requirements. However, there is a paucity of studies on awareness and attitude among health science students on voluntary blood donation. Objective: The objective of this study was to determine the knowledge and attitude about blood donation among health science students. Methods: A cross-sectional study was conducted among 410 health sciences students from different streams in a University campus of South India through a structured survey questionnaire in the year 2009. Results: The overall knowledge on blood donation was good, but majority (62%) of students never donated blood. Knowledge level was found highest among allied health science (53.1%) and lowest among pharmacy students (20.7%). 'Feeling of medically unfits and 'never thought of blood donation' were the major reasons for not donating blood. A significant association was observed between different streams of students and levels of knowledge and attitude about blood donation. Conclusion: This study elicits the importance of adopting effective measures in our campuses to motivate about voluntary blood donation among students.
A retrospective study on increase in erythrocyte sedimentation rate related to malarial infection in a tertiary care hospital, South Karnataka
This retrospective study was conducted at Kasturba Hospital Manipal. A total of 385 malaria positive results and results of ESR corresponding to those malaria positive patients are randomly collected from the Department of Hematology and Clinical pathology, Kasturba Medical College and Hospital, Manipal, ages ranged from 15-60 years old, both males and females. Pregnant and menstruating women were excluded. Patients with severe or complicated illness were excluded. The details of the patients including name, age, sex, sample ID, ward in Hospitalized patients and OPD unit in outdoor patients were noted. This study was approved by the ethics committee of the Kasturba Medical College and Hospital, Manipal. This study found that the erythrocyte sedimentation rate appears to be inadequate to make a rapid diagnosis of the acute phase inflammatory reaction. It is, of course, the blood film which remains the fundamental investigation to confirm this diagnosis, allowing both the causative species and parasitemia to be established. These are essential factors in the therapeutic management of the disease.