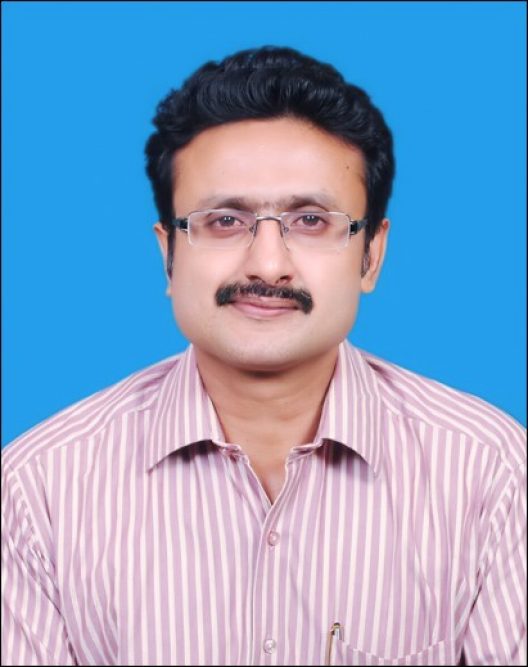 Dr. Sebastian Padickaparambil
Associate Professor & Head
Department of Clinical Psychology
CURRENT ACADEMIC ROLE & RESPONSIBILITIES
Dr. Sebastian Padickaparambil is Associate Professor and Head in Department of Clinical Psychology – – Manipal College of Health Professions, Manipal Academy of Higher Education, Manipal. In addition to the teaching responsibilities of M.Phil. & M.Sc. Clinical Psychology,

He is:

In-charge of the Administration of Department
Clinical Supervisor (M.Phil. Clinical Psychology & M.Sc. Clinical Psychology)
Research Guide (M.Phil. Clinical Psychology & M.Sc. Clinical Psychology)
Coordinating various training programs and workshops conducted by the department
Chairperson of the Syllabus preparing committee for the BSc Psychology syllabus scheduled to be launched in august 2020
 Instrumental in revising the MSc Clinical psychology syllabus 2018 Scheme.
Instrumental in streamlining the functioning of the department, starting new postings (Memory clinic , Epilepsy clinic) School posting ( new schools introduced) Nammabhoomi Posting.
 Part of institutional antiragging committee. 

He is a Member of:

The Board of Studies for Psychology of  MAHE
The Quality assurance cell of SOAHS
SUBJECTS CURRENTLY TEACHING
| Subject | Subject code | Semester |
| --- | --- | --- |
| Psychiatry | MCP603 | M.Sc Clinical psychology Sem I |
| Clinical Training I | MCP 607 | M.Sc Clinical psychology Sem I |
| Cognitive neurosciences | MCP 605 | M.Sc Clinical psychology Sem II |
| Psycho-diagnostics | MCP 606 | M.Sc Clinical psychology Sem II |
| Sports Psychology | | M.Sc Sports and Exercise psychology |
| Psychosocial foundations of behaviour | | Mphil Clinical psychology Ist Year |
| Biological Basis of Behaviour | | Mphil Clinical psychology Ist Year |
| Behavioural Medicine | | Mphil Clinical psychology IInd Year |
| Psychotherapy | | Mphil Clinical psychology IInd Year |
ACADEMIC QUALIFICATIONS
| Degree | Specialisation | Institute | Year of passing |
| --- | --- | --- | --- |
| Ph.D | Psychology | University of Kerala | 2010 |
| M.Phil | Clinical psychology | Manipal Academy of Higher Education | 2005 |
| MA Applied Psychology | Clinical Psychology | Kerala University | 2002 |
| Bachelor of Arts | Psychology | Kerala University | 2000 |
Experience
| Institution / Organisation | Designation | Role | Tenure |
| --- | --- | --- | --- |
| School of Allied Health Sciences | Associate Professor | Teaching , Clinical Work, Research | October 2014 till date |
| School of Allied Health Sciences | Assistant Professor | Teaching , Clinical Work, Research | October 2013- October 2014 |
| KMC International Centre | Assistant Professor (Course director) | Teaching /Mentoring | October 2009- October 2013 |
AREAS OF INTEREST, EXPERTISE AND RESEARCH
Area of Interest
Clinical psychology, Sports Psychology, Positive Psychology
Area of Expertise
Clinical psychology, Sports Psychology, Positive Psychology
Area of Research
Clinical psychology, Sports Psychology, Positive Psychology, Sexuality research
Professional Affiliations & Contributions
Professional Affiliations:

Professional Life member of Indian Association of Clinical Psychologists (IACP).
Registered Clinical Psychologist under Rehabilitation Council of India (RCI).
 
An exploratory study on the relationship between personal growth, marital adjustment, stress and coping in couples with infertility
This study examined whether couples who struggle with infertility report personal growth, and if their parenthood motivation, self-efficacy, marital adjustment, perceived stress and coping strategies are associated with it. The findings indicate that personal growth was positively correlated with socio-economic status, education, the duration of marriage, infertility, treatment; marital adjustment; self-efficacy; meaning based coping and negatively correlated with perceived stress; active avoidance, active confronting and passive avoidance coping.
NEUROPSYCHOLOGICAL PROFILE , QUALITY OF LIFE AND PERSONALITY IN PATIENTS WITH JUVENILE MYOCLONIC EPILEPSY
Neuropsychological status in subjects with Juvenile Myoclonic Epilepsy
Goal Setting

2013-01-01

Industrial Harmony, Journal of National Institute of Personnel Management (Trivandrum Chapter) It gives a description of the importance of goal setting in our lives , the various types of goal setting and once our goals are set how we can motivate ourselves to reach our goals

Anger Management

2010-01-01

Industrial Harmony, Journal of National Institute of Personnel Management (Trivandrum Chapter) The physiological basis of anger and different anger management strategies are discussed here