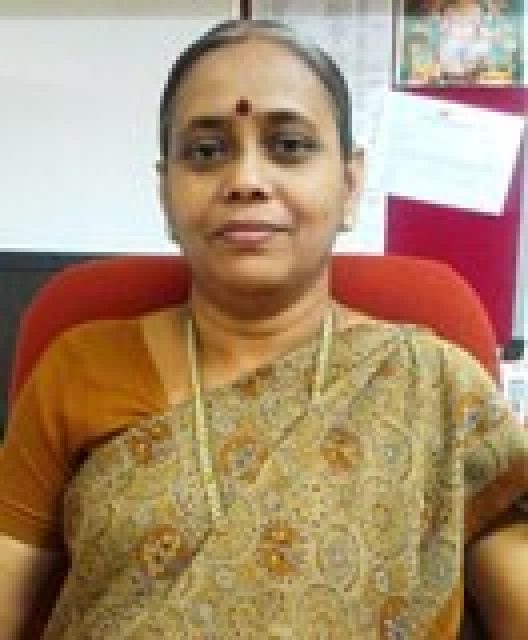 Assistant Professor Senior Scale
Department of Nuclear Medicine
CURRENT ACADEMIC ROLE & RESPONSIBILITIES
Vasumathi is Assistant Professor in the Department of Nuclear Medicine at MCHP, Manipal.

She is:

Teacher Guardian
Department Research Committee member
Guide and Co-guide for MSc NMT students' dissertation
Guide for BSc NMT students' Mini Research projects
Class coordinator of I & II Semester and PGDNMT
Providing theoretical, practical and clinical exposure to Nuclear Medicine students
SUBJECTS CURRENTLY TEACHING
| Subject | Semester / Year |
| --- | --- |
| Basic Mathematics | BSc NMT I Sem (NR) |
| Fundamentals of Electronics | BSc NMT I Sem (NR) |
| Tracer kinetics and Applied Mathematics | BSc NMT II Sem (NR) |
| General principles of Hospital practice and Care of patient | BSc NMT II Sem (NR) |
| Invitro Nuclear Medicine Techniques | BSc NMT III Sem (NR) |
| Nuclear Imaging Instrumentation | BSc NMT IV Sem (NR) |
| Nuclear Medicine Non-Imaging Techniques | BSc NMT V Sem (OR) |
| Physics and dosimetry in Nuclear Medicine | MSc NMT I year |
| Biomedical Electronics | MSc NMT I year |
| Non-Imaging Nuclear Medicine Techniques | MSc NMT II year |
ACADEMIC QUALIFICATIONS
| Degree | Specialisation | Institute | Year of passing |
| --- | --- | --- | --- |
| M.Sc. | Mathematics | Kuvempu University | 2007 |
| ARP ( DAE) | Radiopharmacy | KMC, Manipal Collaborated with BARC, Mumbai | 1999 |
| DNMT | Nuclear Medical Technology | Kasturba Medical College, Manipal | 1994 |
| BSc | Mathematics, Physics, statistics | Mangalore University | 1988 |
Experience
| Institution / Organisation | Designation | Role | Tenure |
| --- | --- | --- | --- |
| Manipal College of Health Professions, Manipal | Assistant Professor Senior Scale | Teaching & Clinical | 2015 - till date |
| Manipal College of Health Professions, Manipal | Assistant Professor | Teaching & Clinical | 2010 - 2015 |
| Kasturba Medical College, Manipal | Assistant Lecturer | Clinical & Teaching | 2005 - 2010 |
| Kasturba Medical College, Manipal | Nuclear Medicine Technologist –I | Clinical | 1995 - 2005 |
| Paramhamsa Higher primary school, Bannadi, Udupi | Teacher | Teaching | 2 years |
| Shreedevi Tutorial College | Lecturer | Teaching | 2 years |
AREAS OF INTEREST, EXPERTISE AND RESEARCH
Area of Interest
Application of mathematics and physics in Nuclear Medicine, image processing
Area of Expertise
Applied Mathematics and Counting statistics in Nuclear medicine, Isotope Handling and administration, radiation protection.
Area of Research
Thyroid Disorders in various communities and Designing & Developing biomedical devices / instruments and medical radioisotopic techniques
Professional Affiliations & Contributions
Professional Affiliations:
Life Member of Society of Nuclear Medicine
Contributions:
UG & PG Course Coordinator since 2010 to 2015.
Member  BOS (Board of Study) of Nuclear Medicine from 2012.
Member BOS (Board of Study) of Nuclear Medicine for Omman Bridge Course from 2010.
Work Experience
| Organisation | Role | Tenure |
| --- | --- | --- |
| Manipal Power Press | Proof Reader. Grammar and spell check of the articles | |
RP-3 & RP-21, Patient-specific syringe fractionate unit dose model: Practicable and economical approach of cold kit fractionation in hospital radio
2011-01-01
Radiopharmacy: Indian J Nucl Med (serial online).