Two Day National Seminar on "India's Foreign Policy Orientations"
Start Date: January 29, 2015
End Date: January 30, 2015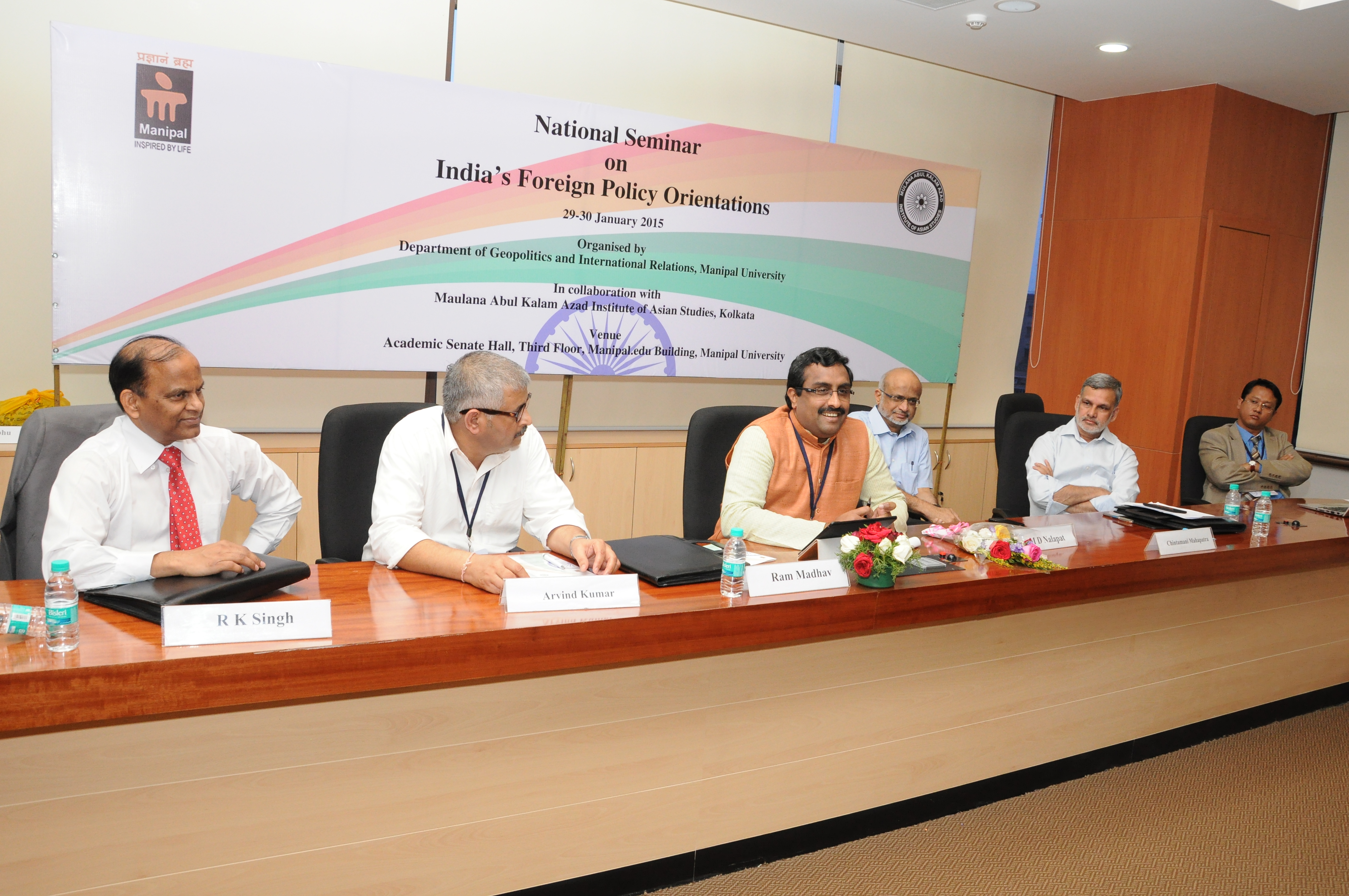 The two-day National Seminar, organised by the Department of Geopolitics and International Relations (GIR), Manipal Academy of Higher Education in collaboration with the Maulana Abul Kalam Azad Institute of Asian Studies, Kolkata was concluded on 30 Jan 2015.
Shri Ram Madhav, Director, India Foundation was the Chief Guest at the Valedictory Function.  Highlighting the changing contours of India's foreign policy orientations, Shri Madhav underlined that the orientation of the foreign policy need to factor in the current scenarios and its future directions. He added that there are no permanent friends and foes in international relations, but there are only permanent interests. He argued for the need of pragmatic and dynamic approach in India's foreign policy orientations. India's foreign relations were marked by hyphenated approach in the past, however, the need of the hour is to take an "out of the box approach." In this direction education, religion, spiritual leaders, technology could be effective tools. This is going to be India's foreign policy orientation in the times to come, Shri Madhav concluded.
Various foreign policy experts discussed the evolving dynamics of India's foreign policy and tried to identify the possible directions of the foreign policy under Prime Minister Shri Narendra Modi during the two days of deliberations. Dr. Anil Kakodkar, formerly Chairman of India's Atomic Energy Commission, set the tone for the discussions. Referring to Nuclear Suppliers Group waiver and the Indo-US Nuclear deal, Dr. Kakodkar pointed out that a one-way deal focused only on imports can collapse due to lack of interdependence. Hence, the onus was on India to secure a place as a major exporter of nuclear reactors and provider of fuel cycle facilities, as well as engage further in collaborative fundamental research.
The Seminar was attended by a galaxy of experts from the diplomatic, academic, technological and services communities, including former Ambassador to Nepal and Afghanistan, Rakesh Sood, the former Ambassador to Austria and representative at IAEA, Sheel Kant Sharma, the Additional Director General of Police, Karnataka, Shri Alok Mohan and Udupi Deputy Commissioner, Dr. Vishal R. Renowned professors from Jawaharlal Nehru University, New Delhi and research professors from Delhi-based Centre for Air Power Studies and Indian Council of World Affairs also shared their views on matters of pertinent importance related to India's foreign policy.
The speakers were of the view that the syncing of domestic and foreign policy, as well as coordination among various ministries would be critical in ensuring progress. Focus of the Seminar, among other things, was also on India's neighbourhood policy. Ambassador Sood expressed his belief that India's assistance to nation building in Afghanistan was the most effective among the international community. Discussing India's evolving strategy towards China, Prof. M.D. Nalapat, Honorary Director, GIR, stressed that PM Modi would pragmatically treat the US as an indispensible partner for security matters and China as an another indispensable partner for economic prosperity.
Focus was also given to India's Extended Neighbourhood Policy, particularly with respect to South East Asia, Africa, Russia and Central Asian Republics. Requirement for India's larger engagement in the maritime domain was specially underlined. A separate session was dedicated to discuss the relationship between Science and Technology (S&T) and foreign policy. The speakers underlined the potential of S&T capability in making India a great power. The linkages between India's Soft Power and Foreign Policy were also highlighted.