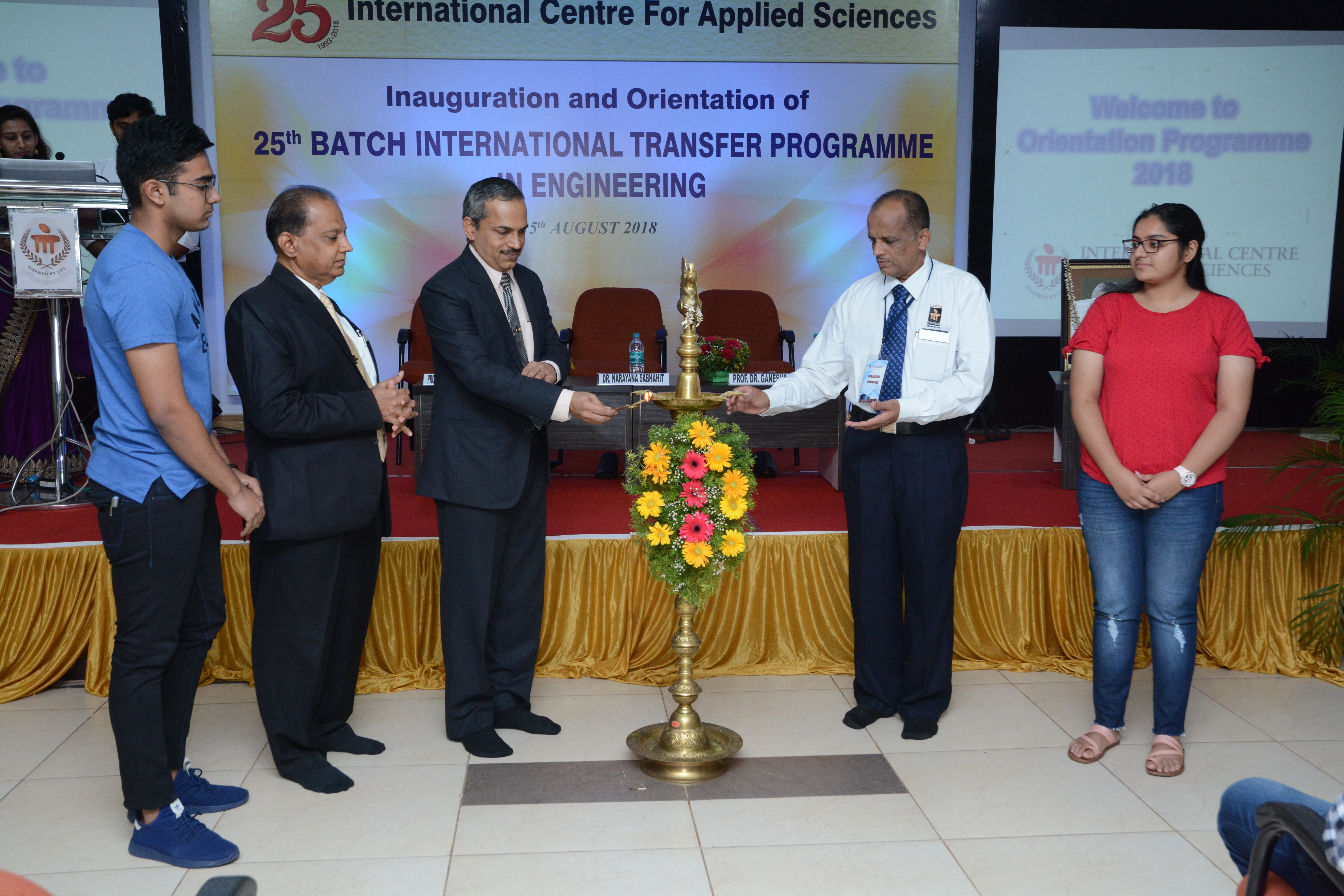 INAUGURATION AND ORIENTATION OF SILVER JUBILEE BATCH OF INTERNATIONAL TRANSFER PROGRAM AT ICAS, MAHE
(05-06 August 2018)
The 25th, Silver Jubilee Batch of International Transfer Program in Engineering at International Centre for Applied Sciences(ICAS), Manipal Academy of Higher Education, was formally inaugurated in the Dr. T M A Pai Hall, Manipal on August 05, 2018. 21 foreign universities participated in this event, as follows: Andrews University, USA; Australian National University, Australia; Deakin University, Australia; ESIGELEC, France; Lancaster University, UK; Colorado State University, USA; University of Queensland, Australia; RMIT University, Australia; Strathclyde University, UK; University of New South Wales, Australia; Drexel University, USA; Wayne State University, USA; University of Wollongong, Australia; University of Birmingham, UK; Heriot-Watt University, UK; University College Cork, Ireland; Manipal International University, Malaysia; MAHE Dubai; Trinity College Dublin, Ireland; University of Wisconsin-Milwaukee, USA and University of Kentucky, USA
"STEM Education, an interdisciplinary and applied approach, integrating science, technology, engineering and mathematics into a cohesive learning paradigm, is the new trend in foreign universities. ICAS facilitates Indian students towards such holistic higher education to be pursued in the universities abroad" said Dr. Radhakrishna S Aithal, Director ICAS in his introductory address. The uniqueness of the program is that students study two years in ICAS and then move on to any of the premier foreign universities of their choice to complete their graduation. The program which started in 1994 has seen over 1700 students graduating. More than 100 leading, globally recognized overseas universities are accepting ICAS credits for continuation of full time Engineering studies.
Chief Guest of the function, Dr. Narayana Sabhahit, the Registrar of MAHE gave a brief overview of the early days of MAHE and took the freshers & their parents through some of the salient achievements and unique opportunities provided by the university. He emphasized on the newly acquired status of "Institute of Eminence" and said 'MAHE is the only multi-disciplinary university in the country which has been accorded this status by the Ministry of Human Resource Development, Govt. of India'. He explained that the program at ICAS was unique and it is now being followed by some other universities as well, in the country. Dr Ganesha A, Associate Director ICAS delivered the vote of thanks.
After the formal inauguration, there were series of presentations by the academic heads / university officials on the topics like academic activities & support, student welfare measures, hostel facilities & regulations, library facilities and sports & games facilities.
In the afternoon session on 05th August, there were short audio-visual film presentations by the delegates from foreign universities, on their collaborative academic programs and prospects of credit transfer.
On 06th August, all the fresh students along with their parents had one to one interaction with the foreign university delegates, knowing better about credit transfer process and facilities/requirements at foreign universities.