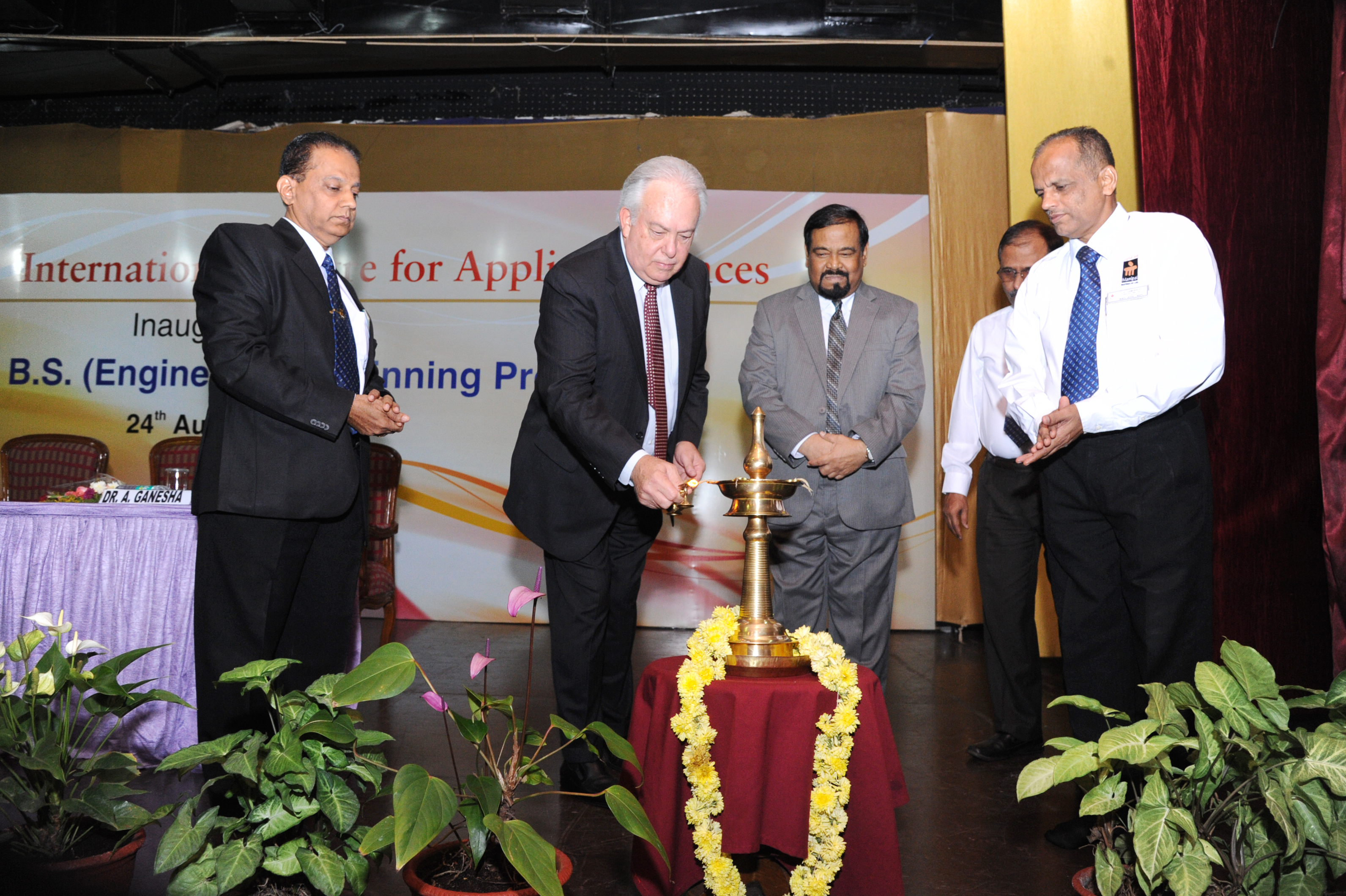 REPORT ON STUDENT ORIENTATION PROGRAM OF 2016-18 BATCH, ICAS
(24 and 25 August 2016)
The 23rd batch of 150 students of B.S.(Engineering) twinning program at International Centre for Applied Sciences(ICAS), Manipal Academy of Higher Education, had a formal orientation program at Chaitya Hall in Hotel Fortune Inn Valley View, Manipal on   August 24-25, 2016.    The following foreign universities participated in this orientation event: Andrews University, US; Australian National University, Australia; Birmingham University, UK; City University, UK; Deakin University, Australia; Esigelec, France; Lancaster University, UK; Leicester University, UK; Queen Mary University of London, UK; University of Queensland, Australia; Queensland University of Technology, Australia; RMIT University, Australia; Strathclyde University, UK; University of Dayton, US; University of Nottingham, UK; university of New South Wales, Australia and Manipal International University, Malaysia.
"ICAS prepares Indian students towards holistic higher education which facilitates their study in universities abroad. The program is designed to be a perfect launch pad for those students who aspire to study and graduate from one of the top global universities we have a tie up with," said Dr Radhakrishna S Aithal, Director ICAS in his welcome address. The uniqueness of the program is that students study two years in ICAS and then move on to one of the partner universities of their choice to complete their graduation and get their engineering degrees from the partner university. The program which started in 1994 has seen over 1500 students graduating. ICAS has signed MoU with 39 overseas universities and has an understanding with about 70 others for the twinning program.
Chief Guest of the function, Dr Lyn Bartlett, Associate Dean (off campus programs), Andrews University, USA while addressing students and parents said that ICAS and the partner universities have been working closely and will continue to do so to ensure a successful career of the students. He said he was extremely proud of Manipal Academy of Higher Education's graduates. "One of the names that come immediately to me is in the United States, he is the CEO of Microsoft, Satya Nadella," Dr Lyn said.
Talking of globalization, he said, "Although European education, particularly research and higher education, has been affected by the financial crisis, we still see amazing developments taking place there and Europe still leads and inspires many students and innovators in higher education in so many fields. I think the impact of international higher education in the United States of America is such that the overseas students alone contribute $30 billion to the US economy. Fifty percent of the students coming to the United States are from just three countries. China has about 30 per cent, India about 12 per cent (and rising…) and South Korea eight per cent".
Dr Ramjee B, Director of International Collaborations at Manipal Academy of Higher Education who presided over the function spoke about students being successful in the college atmosphere and their journey to international universities after they have completed two years in ICAS. To the eager young faces, ready to transition from teenage to adulthood he said, "We are a bunch of dedicated educators who want to change your life so that you become a better citizen of the world and responsible members of the society." He spoke of the opportunities and challenges in their journey and told them success is theirs and they alone can make that happen. Dr Ganesha A, Associate Director ICAS gave the vote of thanks.
After the formal inauguration, along with the Director and Associate Director of ICAS, there were series of short presentations by the various University officials on the topics like academic regulations, student care measures, paperless digital Exams, student welfare activities, student finance, medical care facilities, hostel rules & guide lines, library facilities, sports & games facilities and volunteer service organizations. Also two distinguished alumni of ICAS (Mr. Shreyas Nagarajappa and Mr. Saurav Sangla) shared their experiences with the fresh batch students and motivated them.
In the afternoon session on 24 August, there were presentations by the officials/delegates from partner (foreign) Universities on their collaborative academic programs and prospects of credit transfer. Andrews and University of Dayton from US, Australian National University, Deakin University, Queensland University, Queensland University of Technology and University of New South Wales from Australia, Birmingham University, City University, Lancaster University, Leicester University, Queen Mary University of London, Strathclyde University and University of Nottingham from UK and Esigelec of France made informative presentations.
In the second day on 25 August 2016, the fresh students and parents had one-to-one interaction with representatives of the 17 partner universities at Chaitya Hall in Fortune Inn Valley View, getting more insight into twinning program expectations and procedures for transfer of credits to foreign universities. Meanwhile, the professors from the partner Universities who have attended the orientation program participated in the syllabus revision meeting held at Senate hall of Manipal Academy of Higher Education along with HODs and subject experts of MIT/FOA, Manipal. Dr. Vinod V. Thomas, Registrar Evaluation, Dr. Ramjee, Director International Collaborations and Dr. Chandrashekar S Adiga, Deputy Registrar (Technical) of Manipal Academy of Higher Education were also present.