"The Written Word" workshop from ESIGELEC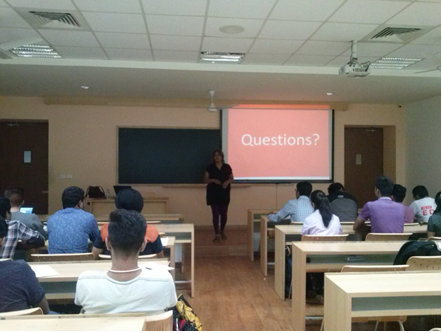 "The Written Word" workshop from ESIGELEC
Ms. Vidya Suresh, Country Manager from ESIGELEC-India Office,
a Premier French Graduate School of Engineering conducted an interactive, hands-on workshop "The Written Word", on how to write a compelling CV & Statement of Purpose(SOP) for the benefit of all students of ICAS. This was held on Saturday, 23 September 2017 from 3pm to 5.30pm in LH-06, LG-01 of AB-5.
Structure of the workshop:
·        The importance of a well-drafted CV and Statement of purpose
·        CV formats
·        CV content
·        Enhancing your profile without compromising the truth
·        Writing a CV for Europe
·        Dos and don'ts 
·        What is a Statement of Purpose?
·        SOP content
·        Language tools to fine-tune the document
·        Dos and don'ts 
·        Interactive exercises to get started
About the trainer:
With over 20 years of teaching experience at the Alliance Française de Bangalore and more than 10 years of experience in student counseling, Ms. Vidya Suresh having met and interacted with a large number of students over the years, came across many who found it difficult to get started with drafting their CV and Statement of Purpose correctly. It was, with the intention of assisting them, she started organizing such workshops and by now, has conducted more than 50 such sessions across the country.
Many students and faculty attended this useful workshop and made use of this rare opportunity to learn.