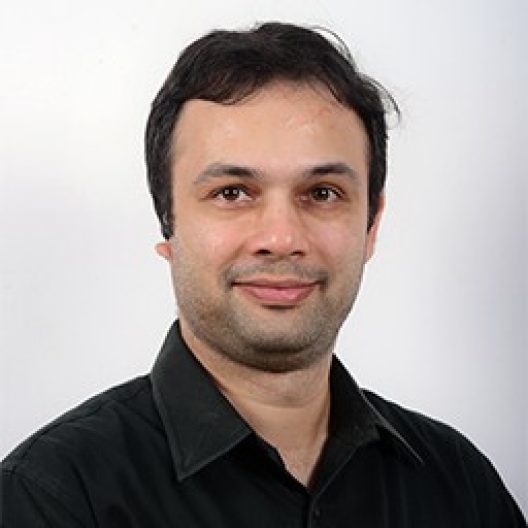 Associate Professor
Department of Otorhinolaryngology
CURRENT ACADEMIC ROLE & RESPONSIBILITIES
Dr. Ajay Bhandarkar is an Associate Professor in the Department of Otorhinolaryngology. He teaches undergraduate and postgraduate students.

He :

is involved in research and administrative activities
is a member of the Board of Studies (BOS)
is the coordinator for ISA audit in the department
is involved in clinical and surgical practice in the hospital
participates in various CMEs, workshops and conferences as faculty and delegate.
SUBJECTS CURRENTLY TEACHING
| Subject | Semester / Year |
| --- | --- |
| Otorhinolaryngology- Head and Neck Surgery | MBBS - PY II and PY III (3rd to 6th semesters) |
| Otorhinolaryngology - Head and Neck Surgery | MS (Otorhinolaryngology) |
| Otorhinolaryngology - Head and Neck Surgery | BASLP - Audiology and Speech Language Pathology - 2nd Semester |
ACADEMIC QUALIFICATIONS
| Degree | Specialisation | Institute | Year of passing |
| --- | --- | --- | --- |
| MS | Otorhinolaryngology - Head and Neck Surgery | Kasturba Medical College, Mangalore | 2011 |
| MBBS | | Kasturba Medical College, Mangalore | 2006 |
Experience
| Institution / Organisation | Designation | Role | Tenure |
| --- | --- | --- | --- |
| KMC, Manipal | Associate Professor | | 01/08/2015 till date |
| KMC, Manipal | Assistant Professor | | 01/02/2012 to 31/07/2015 |
| KMC, Manipal | Senior Resident | | 24/01/2012 to 31/01/2012 |
| Sikkim Manipal Institute Of Medical Sciences, Sikkim | Assistant Professor | | 13/07/2011 to 20/01/2012 |
| KMC, Manipal | Senior Resident | | 02/06/2011 to 09/07/2011 |
| KMC, Mangalore | Junior Resident | | 02/05/2008 to 30/04/2011 |
| KMC, Mangalore | Tutor in Pharmacology | | 30/04/2007 to 21/04/2008 |
AREAS OF INTEREST, EXPERTISE AND RESEARCH
Area of Interest
Endoscopic sinus surgery , Head and neck oncosurgery, Reconstructive surgery
Area of Expertise
Otology, Lateral Skull Base Surgery
Area of Research
Rhinology, Otology, Head and neck surgery, ENT radiology
Professional Affiliations & Contributions
Life Member of Association of Otolaryngologists of India, Karavali branch, 2008.

Life Member of Association of Otolaryngologists of India, Manipal branch, 2012.

Life Member of Association of Otolaryngologists of India, Karnataka branch, 2013.

Life Member of All India Rhinology Society, 2013.
Life Member of Indian Medical Association - Manipal-Udupi branch