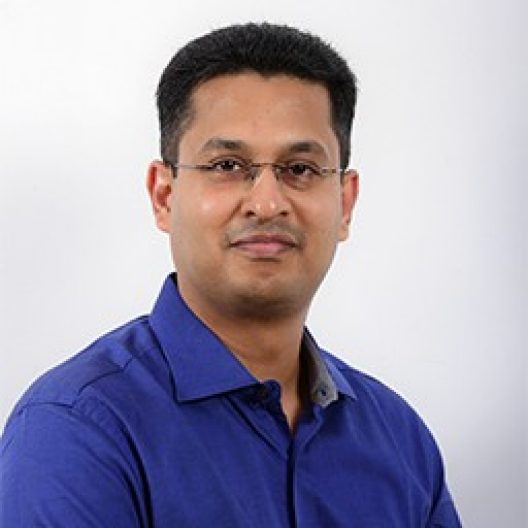 Associate Professor
Department of Orthopaedics
Qualification: MS (ORTHO) 1. Shoulder & Elbow Fellowship, National University Hospital, Singapore, 2017-2018 2. AOTRAUMA Fellowship, Queen Mary Hospital, HongKong, 2019
CURRENT ACADEMIC ROLE & RESPONSIBILITIES
Dr Sandesh Madi S teaches Undergraduate and Orthopaedic Post Graduate students.

He is also actively involved in teaching the students of Nursing, Physiotherapy, Occupational therapy & Rehabilitation, Yoga therapy, Operation theatre technicians, and Bio-medical Engineering.

He is involved in outpatient and inpatient care in the Department of Orthopaedics. He has been managing the emergency care of the trauma victims with special responsibility towards Shoulder and Knee injury patients.
SUBJECTS CURRENTLY TEACHING
| Subject | Semester / Year |
| --- | --- |
| Orthopaedics | 7th, 8th, 9th semesters (Old Regulations) and PY2, PY3-I, PY3-II (CBME) |
| Orthopaedics | PGY1, PGY2 and PGY3 |
ACADEMIC QUALIFICATIONS
| Degree | Specialisation | Institute | Year of passing |
| --- | --- | --- | --- |
| MS | Orthopaedics | Mahatma Gandhi Memorial Medical College, Indore | 2013 |
| MBBS | | Mysore Medical College and Research Institute, Mysore | 2009 |
Experience
| Institution / Organisation | Designation | Role | Tenure |
| --- | --- | --- | --- |
| KMC, Manipal | Associate Professor | | 01/12/2020 - till date |
| KMC, Manipal | Assistant Professor | | 01/12/2016 to 30/11/2020 |
| KMC, Manipal | Senior Resident | | 03/2014 to 30/11/2016 |
https://www.scopus.com/authid/detail.uri?authorId=56721136200
1. Clinical and radiological outcomes following arthroscopic dual tibial tunnel double sutures knot-bump fixation technique for acute displaced posterior cruciate ligament avulsion fractures Sandesh Madi, S., Pandey, V., Reddy, B., Acharya, K. Archives of Bone and Joint Surgery, 2021, 9(1), pp. 50–57
2. Five year follow up of retrospective cohort comparing structural and functional outcome of arthroscopic single-row versus double-row suture bridge repair of large posterosuperior rotator cuff tear in patients less than or equal to 70 years. Pandey, V., Joseph, C.J., Mathai, N.J., ...Karegowda, L.H., Willems, J. Archives of Bone and Joint Surgery, 2021, 9(4), pp. 391–398
2. Clinical Guidelines in the Management of Frozen Shoulder: An Update! Pandey, V., Madi, S. Indian Journal of Orthopaedics, 2021, 55(2), pp. 299–309
3. An uncommon hand injury to the batsman in gully cricket': Report of two cases Murali, S.D., Madi, S., Sait, A. BMJ Case Reports, 2020, 13(12), e238309
4. Does application of abduction brace after arthroscopic rotator cuff repair improve blood flow around posterosuperior rotator cuff and repair site, affecting pain levels and clinical and structural outcomes? A pilot randomized controlled trial. Pandey, V., Madi, S., Maddukuri, S., ...Karegowda, L.H., Willems, W.J. JSES International, 2020, 4(4), pp. 848–859
5. A 10 Year clinical, laboratory and arthroscopic data analysis of bacterial septic arthritis of adult native knee: A hospital-based study. Madi, S., Natarajan, S., Murali, S., Pandey, V., Acharya, K. Journal of Arthroscopy and Joint Surgery, 2020, 7(4), pp. 216–223
AREAS OF INTEREST, EXPERTISE AND RESEARCH
Area of Interest
Trauma, Arthroscopy (Shoulder & Knee), Arthroplasty
Area of Expertise
Trauma, Arthroscopy
Area of Research
Soft tissue injuries of Shoulder and Knee
Professional Affiliations & Contributions
Indian Orthopaedic Association: Life Member [LM11294] (16-12-2016)
Karnataka Orthopaedic Association: Life Member [S-297] (Feb 2015)
Madhya Pradesh Orthopaedic Association: Life Member (2013)
AO Member 2017-19: [Membership No: 691706] (07-12-2016)
International Society For Knowledge For Surgeons On Arthroscopy And Arthroplasty (ISKSAA): Life Member [1541] (Oct 2017)
Shoulder & Elbow Society of India: Life Member LMSESI/M22 (April 2018)