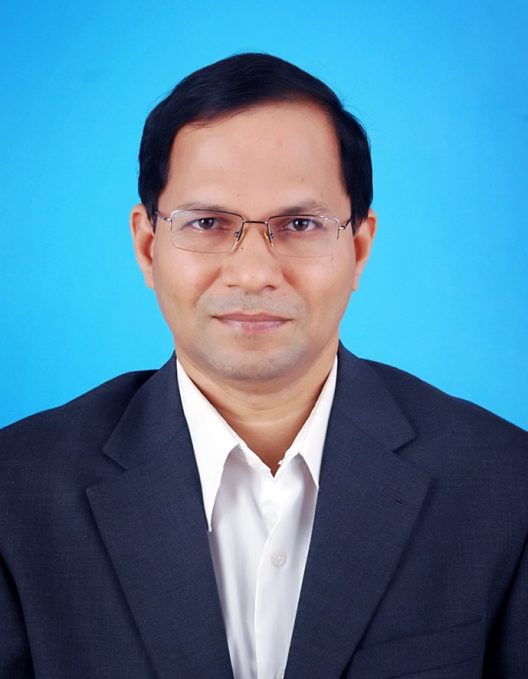 Professor, Department of Pharmaceutical Biotechnology, MCOPS & Director of Corporate Relations in Manipal Academy of Higher Education
Department of Pharmaceutical Biotechnology
CURRENT ACADEMIC ROLE & RESPONSIBILITIES
Raviraja N Seetharam is Director of Corporate Relations in Manipal Academy of Higher Education, Manipal and Professor in the Department of Pharmaceutical Biotechnology, MCOPS.

He develops strong ties with Corporates and Foundations to enhance Affiliate Research Programs, initiate CSR funded projects and accomplish technology commercialization.
As a professor in the department of Pharmaceutical Biotechnology, he is involved in research activities in the area of Stem Cells and Bio-therapeutics.
ACADEMIC QUALIFICATIONS
| Degree | Specialisation | Institute | Year of passing |
| --- | --- | --- | --- |
| M.B.A | Operations Management | Sikkim Manipal University | 2012 |
| PhD | Biosciences (Microbiology) | Mangalore University, Karnataka, India | 1997 |
| Master's degree | Biosciences | Mangalore University, Karnataka, India | 1993 |
Experience
| Institution / Organisation | Designation | Role | Tenure |
| --- | --- | --- | --- |
| Manipal College of Pharmaceutical Sciences, MAHE, Manipal | Professor | Research in the area of Stem Cells and other Biotherapeutics | 2020 - present |
| Manipal Academy of Higher Education, Manipal | Director- Corporate Relations | | 2020 - Present |
| Stempeutics Research Pvt. Ltd. Shirdi Sai Baba Cancer Hospital, Manipal | Senior Director - Innovation and Business Development | Innovation, New Product Development, Process Improvement, Large scale manufacturing of Mesenchymal Stromal Cells (MSCs) for commercial requirements, Global Business Development, Project and Alliance Management | 2010-2020 |
| Department of Oncology, Montefiore Medical Center and Albert Einstein Cancer Center, Bronx, NY, USA | Instructor | | 2008-2010 |
| Department of Anatomy and Structural Biology, Albert Einstein College of Medicine, Bronx, NY, USA | Instructor | | 2006-2008 |
| Department of Anatomy and Structural Biology, Albert Einstein College of Medicine, Bronx, NY, USA | Postdoctoral Research Associate | | 2003-2006 |
| Department of Biology, Mount Allison University, Sackville, N.B., Canada | NSERC Post-Doctoral Fellow | | 2002-2003 |
| Department of Biosciences, Mangalore University, Mangalagangotri, Karnataka, India | Principal Investigator | | 2001-2003 |
| Department of Biosciences, Mangalore University, Mangalagangotri, Karnataka, India | Guest Faculty | | 1995-2001 |
| Department of Biosciences, Mangalore University, Mangalagangotri, Karnataka, India | Research Assistant (Canada project) | | 1993-1995 |
AREAS OF INTEREST, EXPERTISE AND RESEARCH
Area of Interest
Cell and Molecular Biology, Microbiology, Cell Therapy, Nano-biotechnology, Bio-therapeutics
Area of Expertise
Mycology, Regenerative Medicine, Biotechnology, Cancer Biology
Area of Research
Microbiology, Cancer Biology, Stem Cells and Bio-therapeutics
Professional Affiliations & Contributions
Recipient of Local Assoc.  award from American Lung Association; award period: 07/01/07-06/30/08.
Air Force Office of Scientific Research, USA, (2005-2006) Co-Investigator
Recipient of Young Scientist Fellowship and grant (2001-2003) from Department of Science and Technology, Govt. of India
Life member of Mycological Society of India (MSI)
Member of International Society for Stem Cell Research, USA- 2017 onwards
Methods Of Preparing Mesenchymal Stem Cells, Compositions And Kit
US Patent no: 8956862. Methods Of Preparing Mesenchymal Stem Cells, Compositions And Kit thereof, granted
Stromal Cell derived conditioned medium, method of obtaining said CM composition , formulations and application
India Patent no. 3867/CHE/2013Stromal Cell derived conditioned medium, method of obtaining said CM composition , formulations and application thereof; granted