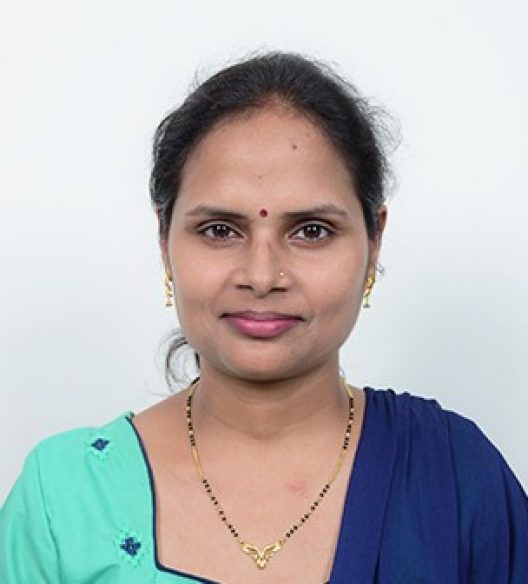 Assistant Professor – Senior Scale
Department of Pharmaceutical Chemistry
CURRENT ACADEMIC ROLE & RESPONSIBILITIES
Ruchi Verma is an Assistant professor in the department of Pharmaceutical Chemistry.

She conducts both theory and practicals of Inorganic and Organic Chemistry for BPharm and PharmD students.

 
SUBJECTS CURRENTLY TEACHING
| Subject | Subject code | Semester |
| --- | --- | --- |
| Pharmaceutical Inorganic Chemistry | PCH 1.5T | First year PharmD |
ACADEMIC QUALIFICATIONS
| Degree | Specialisation | Institute | Year of passing |
| --- | --- | --- | --- |
| M.Pharm | Pharmaceutical Chemistry | North Bengal Uniiversity | 2009 |
| B.Pharm | | HNB Gharwal University, Uttarakhand | 2007 |
Experience
| Institution / Organisation | Designation | Role | Tenure |
| --- | --- | --- | --- |
| Department of Pharmaceutical Chemistry, MCOPS, Manipal Academy of Higher Education | Assistant professor-Senior Scale | | 2015- till date |
| Department of Pharmaceutical Chemistry, MCOPS, Manipal Academy of Higher Education | Assistant Professor | | 2010-14 |
| Sikkim Manipal Institute of Medical Sciences, Sikkim Manipal Academy of Higher Education, Tadong, Gangtok, East Sikkim, India | Lecturer | | 2010 |
AREAS OF INTEREST, EXPERTISE AND RESEARCH
Area of Interest
Organic Chemistry, Drug designing, Synthetic and Natural Chemistry
Area of Expertise
Synthetic Chemistry
Area of Research
Anti-Tubercular Drug design
Professional Affiliations & Contributions
Registered Pharmacist, Himachal Pradesh State Pharmacy Council, 2013.
Life Member of Association of Pharmaceutical Teachers of India, 2008.
Life Member of International Associations of Academicians and Researchers, 2013.
Comparative analysis of roasted, raw tea and coffee powder
2011-2013. Project objective was to study the chemical constituents of tea, to extract and evaluate caffeine and to identify the adultrants in commercial tea and coffee powder samples.
Characterisation of caffeine isolated from camellia sinensis leaves of Sikkim Himalayan region

2010-01-01

Ruchi Verma, Lalit Kumar, J Chem Pharm Res 2010 2(4) 194-198. Caffeine is one of the major chemical constituent of tea. Here we have collected extracted caffeine from tea samples from Sikkim Himalayan region. Caffeine isolated was compared with caffeine standard sample through various analytical studies.

Therapeutic drugs causing thyroid disorders

2012-01-01

Gurpur Koldabadi Sudhakar, Ruchi Verma, Vijaya Bhaskar Kurba, Lalit Kumar, Ad Pure Applied Chem 2012 01(03) 54-57. In this review we have tried to include number of drugs leading to thyroid disorder. Knowledge about this is required as physicians dealing with the patients and patients who are taking these medications should have deep knowledge about the possible causes and management of these disorders."

Heavy metals in environment, living systems and herbal preparation: an overview

2012-01-01

Gurpur Koldabadi Sudhakar, Ruchi Verma, Vijaya Bhaskar Kurba, Lalit Kumar, Int. Res. J. Pharm. 2012; 03(07): 128-130. This review deals with heavy metals which in smaller amount also affects the health of human beings and also environment in many ways.

Ionic liquids-useful reaction green solvents for the future

2012-01-01

GK Sudhakar, K Vijaya Bhaskar, Ruchi Verma, Journal of Biomedical and Pharmaceutical Research 2012; 1(2) 07-12. This relates to ionic liquids used during synthetic procedures which are greener and environment friendly solvents.

Isoniazid - a wonder drug in tuberculosis management

2013-01-01

Verma Ruchi, Kumar Lalit, Kurba Vijaya Bhaskar, Novel Science International Journal of Pharmaceutical Science 2013, 2(3-4):73-77. Isoniazid is a drug used in the treatment of tuberculosis. It is the most effective drug since the time it was developed. The present article includes isoniazid properties, novel method of synthesis, its analogues, isoniazid resistance, isoniazid drug interaction, side effects, use of isoniazid in pregnancy and other disease, isoniazid formulations as novel drug delivery system and determination of isoniazid in biological fluids.

Synthesis, characterization and antimicrobial activity of Schiff bases of isatin and isatin derivatives

2010-01-01

Sourabh Bhardwaj, Lalit Kumar, Ruchi Verma, Umesh Kumar Singh, J Pharm Res 2010 03(12) 2983-2985. Schiff bases are the major intermediates in drug synthesis. Schiff bases have been enlisted with number of activities. This review focuses on antimicrobial study of various Schiff bases synthesised in laboratories.

An overview on tea

2013-01-01

Verma Ruchi, Kumar Lalit, KurbaVijaya Bhaskar, Sudhakar GK International Journal of Pharmacological Research, Volume 3 Issue 3, 2013. This review focuses on types of tea, its processing methods, bioactive compounds which are present in it, health benefits, toxic effects, interaction with drugs and herbs, formulations involving tea polyphenols. Tea has been found to possess various bioactive leads and need of the hour is to characterise these leads for better product development.

Tobacco consumption and awareness of their health hazards amongst remote village area in Uttar Pradesh.

2013-01-01

International Journal of Biomedical Research, 2013 4(1) 567 - 570. It is a study over the consumption of tobacco amongst general public in remote areas of Unnao in Uttar Pradesh.