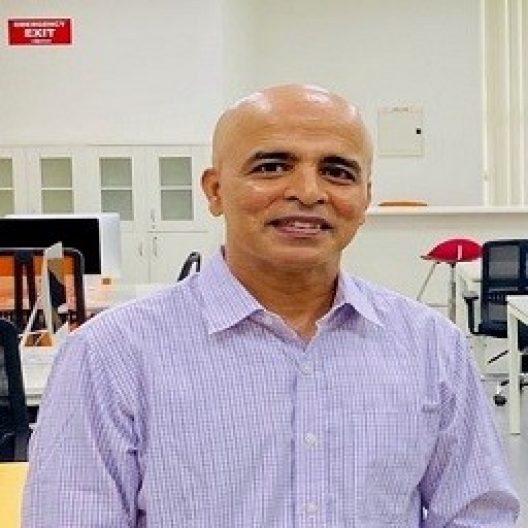 Professor
Department of Biomedical Engineering
Qualification: BEng Electrical Engineering, MIT Manipal, India MS Bioengineering, Clemson University, USA Ph.D. Bioengineering, Biomaterials, Clemson University, USA MBA Executive Management, Boston University, USA
CURRENT ACADEMIC ROLE & RESPONSIBILITIES
Professor, Department of Biomedical Engineering, Manipal Institute of Technology

Chief Innovation Officer, Manipal Academy of Higher Education, Manipal
Dr. Shanbhag has a long history of research in Orthopaedic Biomaterials. He is one of the pioneers in understanding the morphology and composition of particulate wear debris in total hip and total knee replacements.  He has developed many in-vitro and in-vivo models to understand the biological response to wear debris. Dr. Shanbhag's team also evaluated potential therapeutic agents to reverse the deleterious inflammatory response to wear debris.
Currently, Dr. Shanbhag is evaluating digital technologies to develop robust vaccination records amongst the rural poor and migrant communities. These studies are supported by the Bill and Melinda Gates Foundation.
Dr. Shanbhag organizes numerous Ideation Competitions and Hackathons to inspire students to innovate and develop a culture of innovation and entrepreneurship.
AREAS OF INTEREST, EXPERTISE AND RESEARCH
Area of Interest
Biomaterials, Total Joint Replacements, Cell Biomaterials Interactions, Pharmaceutical interventions in biomaterials, Digital technology adoption in healthcare, Driving innovation in various medical and surgical disciplines
Shanbhag AS, Friedman HI, Augustine J, von Recum AF. Evaluation of porous polyethylene for external ear reconstruction, Ann Plast Surg, 24, 32-39 (1990).
Shanbhag AS, Yang J, Lilien J, Black J. Decreased neutrophil respiratory burst on exposure to cobalt-chrome alloy and polystyrene in-vitro, J Biomed Mater Res, 26(2), 185-195 (1992).
Shanbhag AS, Jacobs JJ, Glant TT, Gilbert JL, Galante JO, Black J. Chemistry and morphology of wear debris in failed uncemented total hip replacement arthroplasty, J Bone Joint Surg (Br), 76-B(1), 60-67 (1994).
Shanbhag AS, Rubash HE. Wear: The basis of particle disease in total hip arthroplasty, Techniques in Orthopaedics, 8(4), 269-274 (1994).
Shanbhag AS, Hasselman CT, Rubash HE. Technique for generating submicrometer ultra high molecular weight polyethylene particles, J Orthop Res, 14(6), 1000-1004 (1996).
Shanbhag AS, Jacobs JJ, Black J, Galante JO, Glant TT. Human monocyte response to particulate wear debris: Dose and size-dependent effects of particles on fibroblast proliferation and bone resorption in-vitro, Clin Orthop Rel Res, 342: 205-217 (1997).
Shanbhag AS, Hasselman CT, Rubash HE. The John Charnley Award. Inhibition of wear debris-mediated osteolysis in a canine total hip arthroplasty model, Clin Orthop Rel Res, 344: 33-43 (Nov1997).
Shanbhag AS, Bailey HO, Hwang D-S, Cha CW, Eror NG, Rubash HE. Quantitative analysis of ultra-high molecular weight polyethylene (UHMWPE) wear debris associated with total knee replacements," J Biomed Mater Res - B: Applied Biomaterials, 53(1): 100-110 (2000).
Shanbhag AS. Essentials of marketing for an academic research laboratory: The marketing mix, Orthopaedic Journal of Harvard Medical School, 6:100-101 (July 2004).
Garrigues GE, Cho DR, Rubash HE, Goldring SR, Herndon JH, Shanbhag AS. Gene expression clustering using self-organizing maps: Analysis of the macrophage response to particulate biomaterials, Biomaterials, 26(16): 2933-2945 (June 2005).
Von Knoch F, Jaquiery C, Kowalsky M, Schaeren S, Alabre C, Martin I, Rubash HE, Shanbhag AS. Effects of bisphosphonates on proliferation and osteoblast differentiation of human bone marrow stromal cells, Biomaterials 26: 6941-6949 (Dec 2005).
Shanbhag AS, Use of bisphosphonates to improve the durability of total joint replacements, J Am Acad Orthop Surg 14(4):215-25 (April 2006). Review.
Shanbhag AS, Kaufman AM, Hayata K, Rubash HE. Assessing osteolysis with the use of high-throughput protein chips, J Bone Joint Surg, American Ed 89:1081-1089 (May 2007).
von Knoch F, Eckhardt C, Alabre CI, Schneider E, Rubash HE, Shanbhag AS. Anabolic effects of bisphosphonates on peri-implant bone stock, Biomaterials 28 (Aug): 3549-3559 (2007).
S Lewis, CR Rao, PA Shenoy, N Salins, R Viveganandan, A Shanbhag, C Mukopadhyay, K Prabhu, S Rao, "Is hackathon in Oncology a Plausible way to foster Innovation? An experiential narrative account of conducting Hacking Cancer. BMJ Innovation (in print 2020).