MIT hosts student-led Technical clubs with a faculty advisor on board.
No. of Technical Clubs: 37
Each club organizes a series of events that include technical, social, and community outreach programs. Students are encouraged to join these clubs as the experience gained during their stint in these technical clubs will add the edge to their resumes going forward and help build expertise in the technical domains.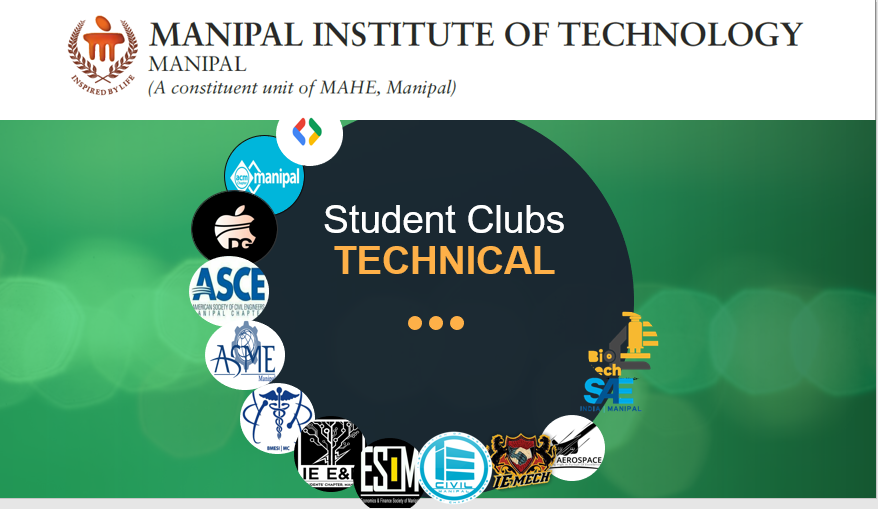 ACM Manipal Student Chapter
ACM Manipal is the official student chapter of the Association for Computing Machinery (ACM) in MAHE. ACM is the world's largest scientific and educational computing society. The Manipal chapter conducts various kinds of events to further the CS culture on campus. This year, the club organised talks by industry professionals, webinars by alumni, several coding contests, and tutorials by senior students.
Official Club Email: acm.manipal@gmail.com
ACM-W Manipal
ACM-W supports, celebrates, and advocates internationally for the full engagement of women in all aspects of computer science. The Manipal chapter of ACM-W wishes to carry forward the vision of ACMW in establishing a society that not only motivates young girls to become zealous programmers but also provides them with adequate resources and the right mentor-ship at every step in their path. We are a research-centric group, striving at inclusion and domain-depth.
Official Club Email: acmw.manipal@gmail.com
AIESEC in M.A.H.E
AIESEC is a non-governmental not-for-profit organisation in consultative status with the United Nations Economic and Social Council (ECOSOC), affiliated with the UN DPI, member of ICMYO, and is recognized by UNESCO. AIESEC is a global platform for young people to develop their leadership potential through international internships and volunteer oppo􀆱unities. Founded in 1948, AIESEC is an organization entirely run by youth for youth.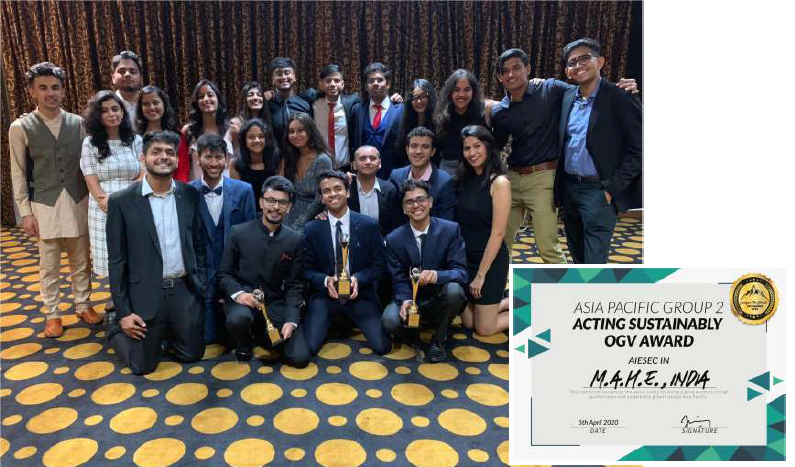 American Society of Civil Engineers, Manipal Chapter
ASCE, Manipal Chapter is a small constituent of this international organisation in Manipal. We officially became a student chapter and got out of our probation period on April 30th, 2019. However, our focus has always been to bring people from different disciplines under one roof to engender a flow and exchange of thoughts and ideas through various events,  workshops, and guest lectures. We at ASCE-Manipal Chapter aim to provide industry and professionally inclined outlook of Civil Engineering to the students of MIT Manipal. We organize various Civil Engineering themed activities and field visits. Our Programme also includes organizing various workshops to get the students more knowledge about the software and computer related factors of Civil Engineering.
Official Club Email: asce.manipal@gmail.com


Apple Developer's Group
Unlike any other club, we at ADG are small in terms of number of people which allows everybody to be closely associated with each other and imbibes a sense of responsibility and a feeling of recognition within each of our developers. Our small size allows us to function like a family where it is one for all and all for one. We express a primary agenda to educate people about the Apple ecosystem and train them with the Swift language. Besides the Swift platform, we also feel pride in recognizing our highly skilled Android, ML, and Web-Dev coders. We strive to offer the best-in-class mentorship for those who have a zeal to succeed and a passion to develop.
Our achievements boast of several in-house and out-stationed projects which include but not limited to solutions for FOA that helped save resources worth more than Rs. 1 Lakh, a carefully devised and highly refined system for the faculty for assignment of LORs to the meritorious. Concluding it all, ADG is a society that is sure to provide aspiring developers a conducive environment.
Official Club Email: adgmanipal@gmail.com
American Society of Mechanical Engineers, Manipal Chapter
The club aims to train engineers from all branches and not just mechanical branches to work on different aspects of their existing skills and various competitions so they develop a wider skill set. The aim is to develop a better understanding of any concept that the members might be interested in and complete their tenure with utmost knowledge and skills.  Participating in maximum number of competitions so we can provide maximum practical competitiveness and application of taught skills.
Being a technical club, we explore management functions through our internal and external workshops. Offering a friendly aura to support and nurture our members also holds among the objectives of ASME Manipal Chapter. Taking pride in offering an international platform for practically free of cost, we lead in a global outreach and have been securing among the top ranks for consecutively 2 years.
Official Club Email: asme.mit.manipal@gmail.com

Biomedical Engineering Society of India | Manipal Chapter
BESI seeks to serve as a platform for discussion and problem-solving in the field of Healthcare and Engineering in Medicine in India and to foster and bolster a healthy attitude among engineering students across all branches towards biology and healthcare in order to bridge the gap between medicine and engineering. Our aim is to spread awareness towards the broad applications of all engineering fields towards the betterment of medical technology.
Official Club Email: bmesi0902.mc@gmail.com
Developer Student Clubs
Developer Student Clubs are university-based community groups for students interested in Google developer technologies. They are places for students to connect: Meet other students on campus interested in developer technologies. All are welcome, including those with diverse backgrounds and different majors; learn: Learn about a wide range of technical topics where new skills are gained through hands-on workshops, in-person training, and project building activities; and grow: Apply your new learnings and connections to build great solutions for local problems. Advance your skills, career, and network. Give back to your community by helping others learn as well.
Official Club Email:hello@dscmit.com
Economics and Finance Society of Manipal
Economics and Finance Society of Manipal aims to flourish as a group that helps students to develop an understanding of economics and finance – a science which is more of a necessity than an attribute in today's world. ESOM aspires to provide a platform for keen minds to showcase their knowledge and adroitness in these fields.
We strive to promote the economics and finance culture at the campus through various events, collaborations, case studies, and focus groups so as to groom our skills and knowledge.
Official Club Email: esommanipal@gmail.com

IAESTE (International Association for the Exchange of Students for Technical Experience)
The objective of IAESTE LC Manipal is to provide international, high-quality, paid, technical internships to our members, that are highly relevant to their fields of study. Facilitating a global exchange of cultures is a part of IAESTE's mission statement, with trainees meeting people from all over the globe, heightening cooperation, and understanding between cultures. Receiving interns from around the world, they are given a glimpse into Indian culture, all while developing themselves professionally, in their respective career paths. Through IAESTE, one can work in fields that are highly innovative, relevant, and expanding, discover the history and culture of a country, and get lost in the experience- growing holistically and developing a truly global mindset.
Official Club Email: chairperson@iaeste.in
IE Aerospace Students' Chapter Manipal
IE Aerospace is a students' chapter affiliated to the institution of engineers, India. Our mission is to spread awareness about the booming field of aerospace engineering. As part of our internal workings we conduct multiple workshops for software such as catia, ansys, and matlab. These so􀆯wares provide us a platform to study and virtually visualize our designs without having to go through the painstaking process of building real life models. Our external events comprise various fun and interactive competitions which include bo􀆳le rockets, glider design, wing building, etc. IE Aerospace is open to all branches and we hope to share our love of air crafts with all those who join us.
Official Club Email: ieaerospace.manipal@gmail.com
IEBT (Institute of Engineers - Biotechnology, Manipal Chapter)
The Institute of Engineers-Biotechnology (IEBT), Manipal chapter is a premier society of innovative engineers. It provides a platform to the students to get a be􀆳er understanding of the working world in the diverse areas of biotechnology. The events conducted help everyone gain more professional knowledge and also help them develop leadership and management skills. Events such as the national symposium and seminars provide better insight about recent research and upcoming technologies and help them improve their presentation skills. They also play an important role in helping students build a better and stronger network with their peers and other pioneers in the field.
Official Club Email: iebt.official20@gmail.com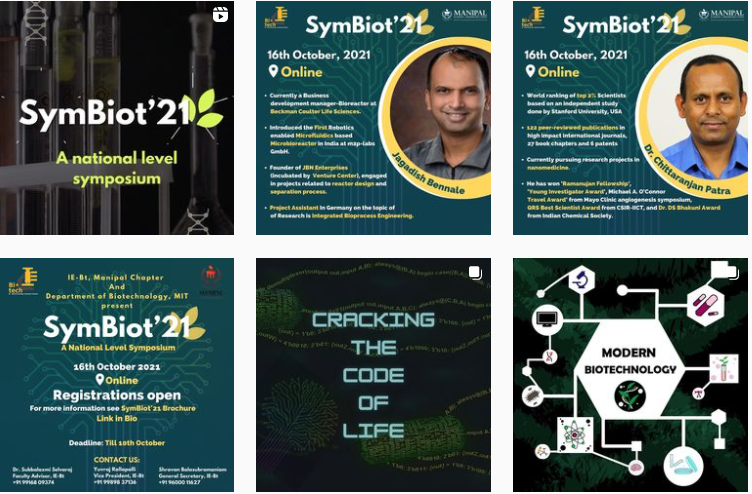 I.E. CIVIL
It aims to advance science and practice in the field of civil engineering through participation in seminars, workshops, and other events organized by us. The objective is to provide a platform for the students to showcase their talent and come up with events and oppo􀆱unities to gain knowledge and expertise in the field.
Official Club Email: iecivilmahe@gmail.com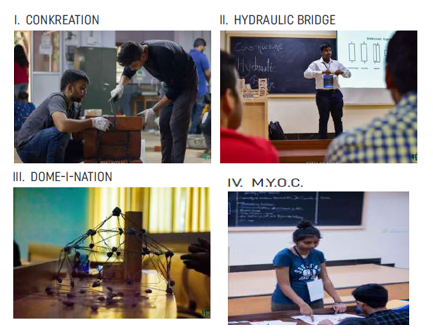 IECSE
IECSE Manipal aims at spreading technical knowledge and uplifting the overall computer science culture among students. It strives to keep its members updated with the latest happenings in the world of computers, providing students with everything from information about gadgets to knowledge of various programming languages, software, and other latest technological developments. We deliver high-quality events like workshops and competitions in various departments such as web development, graphic design, machine learning, and competitive programming.
Official Club Email: hello@iecsemanipal.com
IE E&E Students' Chapter Manipal
IE-E&E is a student chapter of the Electrical and Electronics department of the college, aimed to develop more and more technical skills. The club organizes numerous events such as technical paper presentations, quizzes, guest lectures, industrial tours, publishes its own semi-annual newsletter, and has an event of its own named 'Electrific' in Techtatva. Our main objective is to promote technical awareness among engineering students and give them a platform where they can freely express their technical knowledge while learning at the same time.
To achieve our goal of excellence in the field of technology, we are trying our best to provide a base for those zealous and hardworking students so that they can grow, nurture, and explore the opportunities.
Official Club Email: ieenemanipalexecutive@gmail.com
IE-E&C The Manipal Chapter
IE-E&C is the official Students' Chapter of Electronics and Communication which goes beyond the theories into practical applications. We aspire to enhance the technical understanding of every individual who's interested in areas concerning Electronics & Communication by conducting various workshop, events, and talks throughout the year. The activities involved are:
Organizing various technical workshops and events.
Conducting academic workshops for members.
Providing a platform for students to make their own projects.
Official Club Email: ieenc1718@gmail.com
IEEE Student Branch Manipal
IEEE SBM is the Manipal chapter of the world's largest technical professional organization dedicated to advancing technology for the benefit of humanity. At the Manipal Chapter, we uphold the mission and vision of IEEE through technical activities dedicated towards the student community throughout the academic year.
Official Club Email: contactus@ieeemanipal.com
IE Mechanical Students' Chapter Manipal
IE Mechanical is the official and the oldest Mechanical Club of Manipal which conducts various types of events throughout the academic year, namely the AutoCAD Workshop, Imperium, Swacch Bharat Events, Placement Talks etc. The club aims to impart practical knowledge to its members and participants through these enticing events. It also handles the Category – Mechanize in TechTatva every year. Imperium is the club's very own Annual Technical Week which consists of 4 competitions related to Mechanical Engineering fought across the duration of the week for the winners to take home cash prizes and bragging rights. The AutoCAD workshop is organized solely for the Freshers just before their End Semester Lab Exams (EG) for them to learn and practice the AutoCAD software which seems a bit daunting at the sta􀆱. Placement Talks have been organized time and time again to get the students ready for the placement sessions.
Official Club Email: iemech_board@outlook.com
IE Mechatronics Students' Chapter, Manipal
The idea behind the club is to provide practical experience in Robotics and Mechatronics. and to organize application-based events and workshops that challenge the skill set of students in a wide variety of domains. We want to ensure that students learn to apply concepts and skills from different branches, not just one. and make engineering fun by integrating technical events with interesting challenges and various competitions.
Official Club Email: convener.iemechatronics@gmail.com
Indian Institute of Chemical Engineers
IIChE Manipal is a student chapter under the Indian Institute of Chemical Engineers. It is a platform that can be used by the students to become active members of IIChE and be closely related to it; even before completing their academics. Handled and managed by the student body, student chapter creates a space where burgeoning chemical engineers can share and gain an ample amount of knowledge. It is meant for creating a sense of respect, belongingness, team spirit and to inculcate professionalism within students. Our student chapter runs with a mission of providing best possible opportunities for all its members to learn and grow and, with a vision of creating crackerjack chemical engineers.
Official Club Email: iicheboard@gmail.com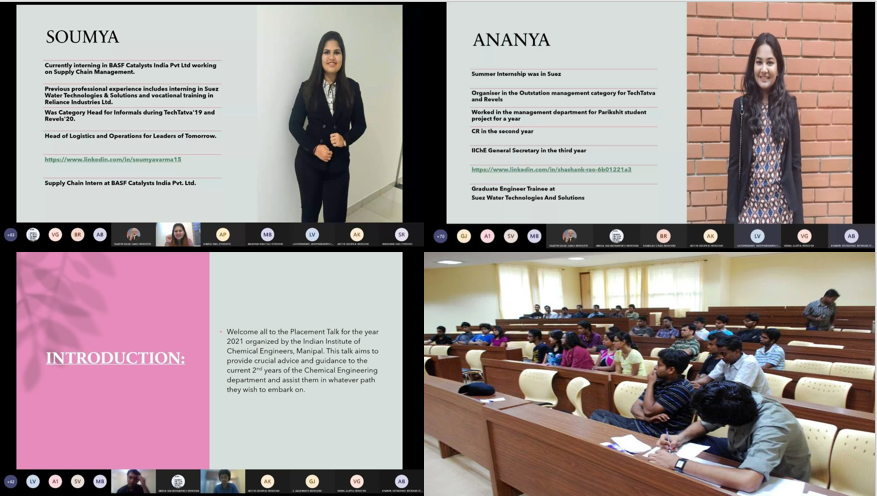 International Organization of Software Developers - Manipal
Unlike any other club, we at IOSD mainly focusses around few things and is working towards fulfilling objectives that is:
Organises hackathons 
Internship Fair
IOSD Summer ofCode
IOSD Resource Po􀆱al (Online lectures, E-books, IDE for practice, challenge and interview,etc.)
Build products solving real-life challenges.
Concluding it all, IOSD is a society that is sure to provide aspiring developers with a conducive environment.
Official Club Email: iosdmanipal@gmail.com

International Society of Automation (ISA), Manipal
ISA advances technical competence by connecting the automation community to achieve industrial excellence. The organisation develops widely used global standards; certifies industry professionals; provides education and training; publishes books and technical articles; hosts conferences and exhibits; and provides networking and career development programs for its members and customers around the world.
As a Student Section, ISA Manipal brings this international vision to the students, and aims to bridge the gap between classroom learning and field application, by allowing student members to utilise the plethora of ISA resources to widen their understanding and develop themselves to become competent, future-ready engineers that will lead the industry of tomorrow.
Official Club Email: isamitmt@gmail.com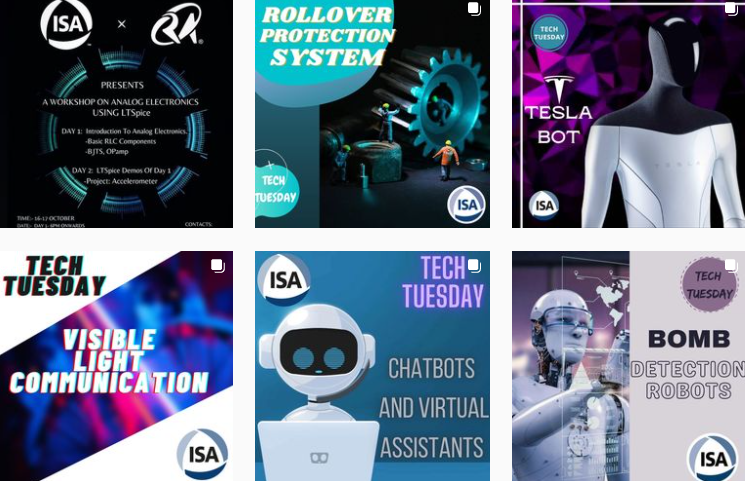 Indian Society for Technical Education Student's Chapter
ISTE Student's Chapter Manipal is a focused, multi-domain club that seeks to introduce the diverse fields of science and technology to its members. With the help of a variety of activities such as workshops, seminars, competitions, and vacation schools, ISTE dedicates itself to developing its members into skilled, multi-faceted individuals. ISTE strives to keep its members engaged by giving them several projects and mini-projects. The club also gives importance to the all-round development of its members and works towards creating a productive, positive, and learning environment to create fun energy that makes its members comfortable. Along with that, ISTE aims to make use of its legacy and network of club alumni to share several experiences with its members and other students at the college.
Official Club Email: istemanipalboard@gmail.com
LAKSHYA – The Agri Club of Manipal
We aim to improve the efficiency, productivity, and profitability in the agricultural field for the farmers with the help of various latest agricultural technologies and innovations. Our main objective is to focus on motivating the youth to find solutions to the day-to-day problems that are faced by our farmers. We even organize agricultural debates, hackathons, and entrepreneurship summits for building up awareness and also to nurture interest among students in this field. Hence for the future, we plan to put more efforts in research and development to attain all the objectives.
Official Club Email: lakshya.tac@gmail.com
Linux Users' Group, Manipal
Linux Users' Group (a.k.a. LUG), Manipal is a conglomeration of individuals who got together because of one common love: the Linux operating system. However, we soon discovered that we had much more in common than Linux: the GNU and Free So􀆯ware ideals, strong views about the privacy of the individual, and a desire to Change the World. We share our knowledge about GNU/LINUX and other FOSS software with everyone through events and workshops. A large number of projects used in MIT are made by LUG Manipal group members.
Official Club Email: hello@lugm.xyz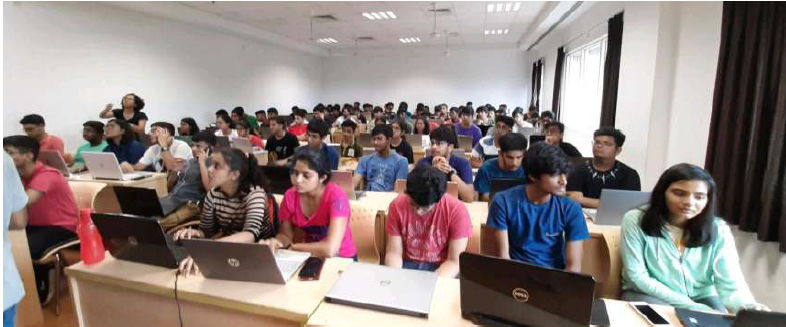 Manipal Information Security Team
We are a team of Information and Network Security enthusiasts who aim to spread the knowledge to other students with an interest in this ever-growing field of Computer Science. Our goal is to ensure that students approach this field the right way by providing them with a platform to enhance and practice their skills. We also provide technical expertise for digitization of organizations to keep up with the growing technological advancements.
Official Club Email: sudo@wearemist.in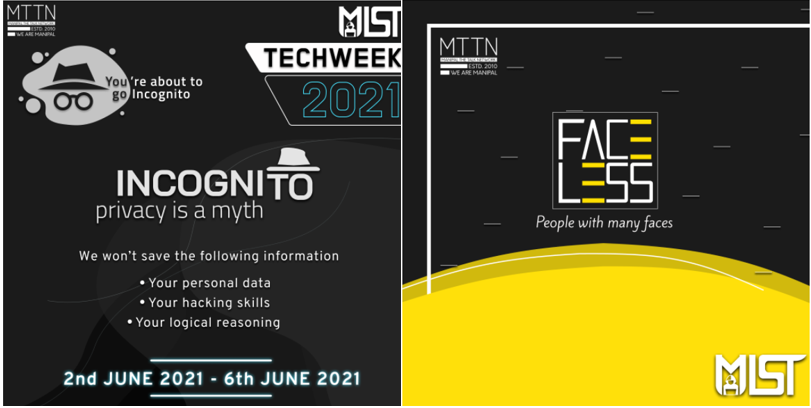 MIT Gaming Club
The MIT Gaming Club looks at helping students explore and learn about the development of video games and aid in the growth of the gaming community in Manipal by having students contribute to the culture of gaming in and around Manipal. We wish to work on and commit to  developing video games by pursuing work in various game engines such as Unity3D, Godot and Unreal Engine. and to conduct and encourage friendly competitions between gamers in Manipal.
Official Club Email: gamingmanipal@gmail.com
Regex
Regex is a software development club that develops so􀆯ware focused on localized issues, which the community faces on a daily basis. In order to develop secure and performant products fast, we use techniques used by teams at an industrial scale. The idea is to propagate the concept of planned and strategized building of a project instead of an ad-hoc alternative and promote a DevOps-based culture that was lacking in our college. We achieve this by implementing several mechanics that are rarely explored otherwise. Through these practices, we try to create an environment that will produce long-term sustainable projects.
The secondary focus of the project is to familiarize members with the processes involved in a software development life cycle whilst maintaining a professional workflow in the development of a project.
Official Club Email: admin@mitregex.com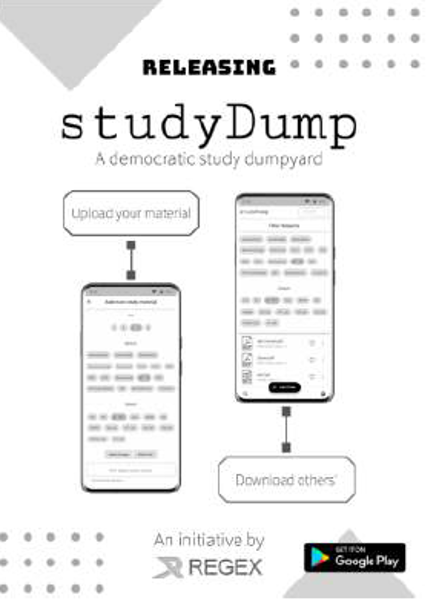 Student Entrepreneurship Cell
The Student Entrepreneurship Cell was made along with it to enhance entrepreneurial skills in every individual of the region by organizing various events like hackathons, talks, webinars, conferences, fests, etc. Create an ecosystem that will foster and support innovation and knowledge-based entrepreneurship amongst the local community leading to the creation of wealth and social value through successful ventures.
Official Club Email: sec.mutbi@gmail.com
Society of Automotive Engineers - India | Manipal
SAE Manipal Collegiate Chapter is the official Automotive club of MIT. Society of Automotive Engineers – India|Manipal ( SAE-IM) is affiliated to SAE International. We aim to provide a platform for Automotive enthusiasts to shower their talents towards the Automobile Industry. SAE-International has a group of whopping 128,000 engineers ranging from the Automobile to the Aerospace Industry. Followed by this, we intend to achieve our mission by hosting and organizing various activities, workshops, interactive sessions, industrial visits, and practical demonstrations. All this yields us into the optimum platform to contribute to Society and the Automotive Industry as well.
Official Club Email: saemanipal@gmail.com
Teach Code for Good
The club focuses on introducing coding to children studying in Government Schools within Manipal. The course is taught to them is simple, like basic HTML or Python, introducing them to the world of coding. Students in these schools often do not have proper access to resources essential to learning, including a lack of good teachers, so the idea is to try our best to share our knowledge, and to bridge the gap between them wanting to learn and being unable to, due to external factors. Regular visits to such schools, familiarize the students with the members of the club, help them feel comfortable in learning new concepts, and create a better learning environment, backed up by a course plan which is simple and fun to explore.
Official Club Email: tcfgmanipal@gmail.com
The ASTRONOMY Club
The Astronomy Club focuses upon bringing together the students of MIT for their love towards anything related to sky, whether it be sky gazing, theoretical stuff which was kindled by watching Star Wars, Cosmos by Carl Sagan, etc. Whether it be black holes, flat ea􀆱h theory, conspiracy theories about Space Agencies, we are up for it all. But our mission doesn't stop there. We also build our own Star tracker and telescope which requires expertise from different parts of engineering. We hold sky watches where we can sit back and appreciate the aesthetic scenery just waiting to be seen like the eclipses, blood moons, or when the planets like Saturn and Jupiter can be viewed and also, who doesn't like to watch the beautiful constellations and nubulae.
Official Club Email: astronomy.manipal@gmail.com
Open Source Technology Forum
OSTF is a registered technical club of MIT in 2016. It is Initiated to increase awareness of the Open source paradigm of software development and distribution in the present era. Students present and discuss ideas on open source development strategies through seminars, workshops, hands-on and discussion
Official Club Email: opensourcetechnologyforummit@gmail.com
Manipal Open-Source Society (MOSS)
Open-source technologies and programs have immense scope in store for students. We all should take advantage of such resources and hence we aim to create awareness about the scope of open source and the opportunities it has in store for students by conduction of extensive webinars and workshops and MOSS is the step forward.
Bioverse Manipal
The idea behind this club is to spread awareness about biotechnology amongst people from other fields and to foster a multi-disciplinary approach towards biotechnology by providing students from biotechnology and other fields an expansive understanding of the subject ranging from the research aspect to its industrial applications.
LeanIn Manipal
This club will be the Manipal Chapter of the international organization LeanIn. It is a nonprofit organization that was started by the Facebook COO Sheryl Sandberg to offer women the ongoing inspiration and support to help achieve their goals. The organization desires to support women in three main ways: community, resources, and circles, or small, coordinated peer groups that meet to share their experiences and learn from one another. and to build a community of empowered female students from all fields.
IEEE Engineering in Medicine and Biology Society | Manipal Chapter