APPFEST 2013 provides students opportunity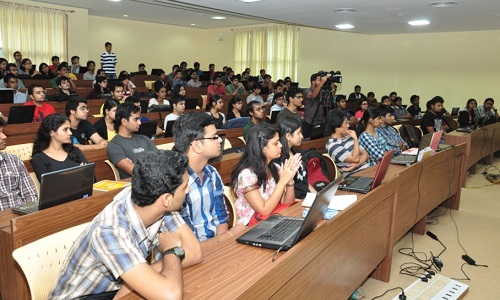 Microsoft Windows 8 APPFEST 2013 was organized by the Innovation Centre at MIT from August 27 to 30, 2013. It provided an opportunity for MIT students to put forth their development skills by creating Windows Store Apps.
It was an opportunity for the students to work closely with Microsoft app experts, developers and trainers who assisted the participants in coding and guiding students every step of the way. That helped the students to build their skills and resumes through app development and also drive downloads of their apps even before graduating.
If a student wants to offer an app for free or make money from paid apps or advertising, the Windows Store provides the opportunity. The students have gained real-world experience through Microsoft Windows 8 APPFEST 2013 to develop apps which enriches their learning to build their understanding of app development and Windows 8.
The top 25 highly-talented app ideas were recognized and rewarded at the time of the closing ceremony of Microsoft Windows 8 APPFEST 2013 held at Library Auditorium, MIT, Manipal on August 30, 2013. Microsoft acknowledged that this was the best APPFEST organized so far in terms of student talent and the way it was planned.
At the valedictory, Dr. Vinod V. Thomas, Director of MIT spoke on how this program got a shape and encouraged the students to be a part of similar programs. Dr. Manohara Pai M.M., Associate Director (Innovation Centre) and CEO of MUTBI addressed the gathering of over 400 students. He encouraged them to pursue unconventional career options and to explore the world of science and technology to its fullest. He also urged the students to use the Cloud Azure account offered by Microsoft in our campus.
Mr.Pratik Mehta, Education Lead at Mcrosoft impressed upon the students to make best use of the opportunity. He advised them to come up with app ideas that could not only help the company and institute, but also make a difference to the society.
Mr Arun Rajamani Sivaramakrishnan, Group Director-Public Sector, Microsoft explained to the students the various program details, and about the various performances linked rewards which students could hope to achieve during their participation in these programs. Mr. Sanoop Mallissery, Assistant Professor, Dept. of I&CT, MIT, Manipal coordinated the event.