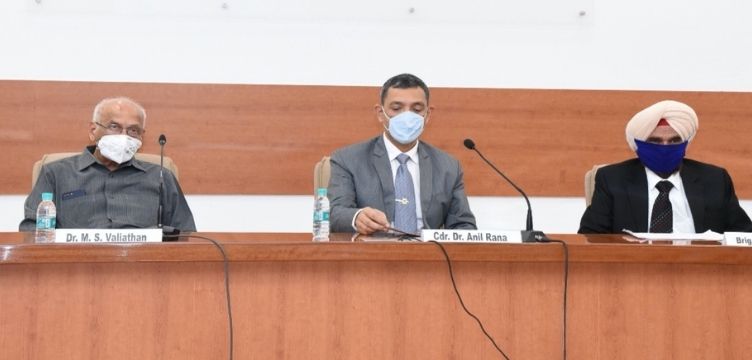 The Chief Guest of the event was Dr M. S. Valiathan, Padma Shri and Padma Vibhushan Awardee, National Professor of Research Government of India and Honorary Advisor, MAHE, Manipal. The Guest of honor was Brig (Dr.) S S  Pabla, Pro Chancellor Bharatiya Skill Development University Jaipur. The event was presided over by Cdr. Dr. Anil Rana, Director, MIT Manipal.

The event began with the floral tributes by the dignitaries to Sir M Visvesvaraya,  Late Prof. P V Bhandary and formal inauguration by lighting the lamp.
As a mark of tradition, the invocation was rendered, by Dr. Vidya S Rao, in order to seek the blessing of the almighty. The welcome address was delivered by the Joint Director of MIT Manipal, Dr. Somashekara Bhat. A brief introduction highlighting the achievements was delivered by Dr. N V Subba Reddy, the chairman of P V Bhandary Oration committee.
The Chief Guest of the function Dr. M. S. Valiathan,  delivered the P V Bhandary Memorial Oration. He recalled his association with Prof. P V Bhandary during his tenure as the Vice-Chancellor of MAHE, Manipal. Dr. Valiathan referred to the issues involved in Cardiac Surgery and emphasised on the technological support involved such as materials, devices and the use of engineering solutions to take health care to common people. He highlighted the Strengths, Weaknesses and Opportunities pertaining to Health care in India. While he spoke about the need for easing out regulatory norms he also stressed that the quality of work carried out should be given the utmost importance.
The Engineers Day Special talk was delivered by  Former Director of MIT and former Pro vice Chancellor of MAHE Brig (Dr.) S. S.  Pabla. He spoke on National Education Policy (NEP) 2020 and on the enhancement of autonomy of the Universities. He also talked about the future of technical education in India and the new AICTE norms for admission to undergraduate programs in India.
The presidential remarks was delivered by Cdr. Dr. Anil Rana, Director, MITManipal. He gave examples of eminent personalities who bounced back after failure and hence motivated everyone.  He also stressed ongoing for an optimal solution if not the best solution. Dr. Shankaranarayana Bhat, Associate Director (FD&W), proposed the Vote of Thanks. This event was streamed live and watched by a large number of faculty members online.
To watch the Video REcording of the Event on YouTube click on the below link -