Inauguration of MIT Diamond Jubilee Celebrations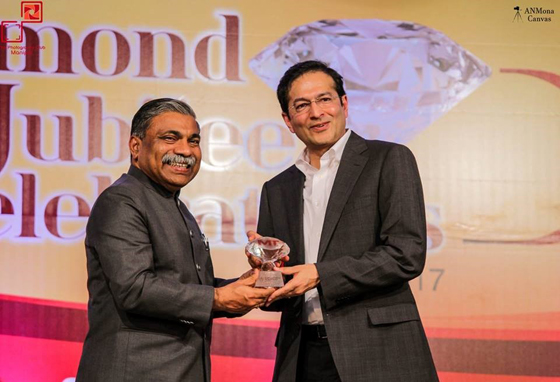 A Tête-à-tête with Anant Talaulicar
Reminiscing on the best days of our lives happens better with a walk down memory lane in our alma mater. In this fitting spirit, the college invited Mr. Anant Talaulicar, Mr. Sachin Menon, and Mr. Thomas Cherakara, three extremely successful alumni, to inaugurate the Diamond Jubliee ceremony.
Mr. Talaulicar, Chairman & Managing Director (Cummins India Ltd.) and Chief Guest of the opening ceremony, set the evening in motion by singing Pinball Wizard by The Who. In fact, he had played that very song with his friends nearly thirty years ago at Quadrangle - where he stood now, as an industry leader and proud alumnus. Sinking into reminiscence, he spoke about how - apart from his technical competency - MIT had also contributed in shaping his opinion in matters of spirituality and religion. His previous life in a comparatively monocultural Mumbai locality was shaken upon arrival to Manipal; he encountered diverse and diversely talented people, had to step out of his comfort zone, and even survive on the mess food – all of which, he said, are reasons he can adapt himself to any place and culture easily. He talked of the changes he saw in the layout of his alma mater – how the hostels have become more comfortable and obviously, have multiplied, as have the academic blocks and messes.
Midway into his speech he expressed his desire to become the brand ambassador for the college that helped him take his first steps towards what he is today. He inspired the students to continuously strive for excellence beyond their own field. Mr. Talaulicar reiterated the need for integrity as well as self-grooming; urging the students to be themselves - for they are all unique and special in their own ways. He insisted on every student having hobbies, staying healthy, and maintaining friendly relations with all their peers. He concluded his speech with a song called 'Ek Aise Gagan Ke Tale' , by Kishore Kumar.
Following this was a Presidential address delivered by Dr. H Vinod Bhat, Vice Chancellor MU. He informed students of the several international conferences that had been scheduled for the Jubilee year, and the two tech incubators that have been planned. He pointed that the college's main focus this year would be research. He highlighted the success story of Manipal Academy of Higher Education, not just as an educational institute, but as one that gives back to its society as much as it takes. MU has played a major role in reducing the infant mortality rate to nearly zero in Udupi district, and has taken Uttara Karnataka district under its wing. He acknowledged the relentless efforts of the MU staff and faculty that have placed our university in the top 800 in the world, while of course, the aim remains to rank under 200 globally by 2020.
Ending on a lighter note, Dr. Bhat displayed commendable knowledge about music by appreciatively commenting on the songs Mr. Talaulicar sang earlier in the evening.  Following this, was a video message by Mr. Rajiv Suri, who did not want to be left out of the Sixty Years Celebration.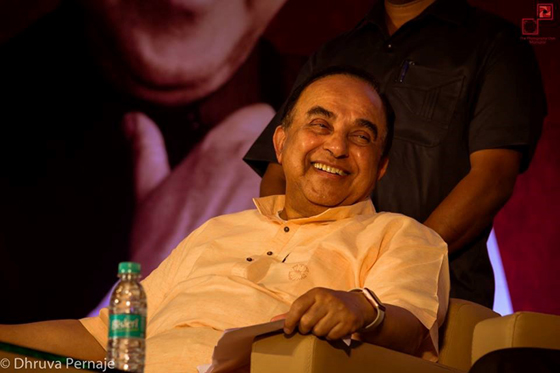 Rendezvous with Dr. Subramanian Swamy
On the 28th of January, an Indian politician, economist, and member of Rajya Sabha, Dr. Subramanian Swamy, came to meet the students of MIT as a part of the Diamond Jubilee cele brations. Unapologetically outspoken, the accomplished orator answered prevalent questions in the audience's minds.
Demonetization is just the first step in an arduous journey to a corruption-free country, and a lot is yet to be done to wipe off the ledger. He went on to explain how black money is merely the money one doesn't pay taxes on, and elaborated on how easy it was to convert it to white. For instance, paying the taxi driver his fare is the most convenient conversion. Or, say, the venders who favor some party workers easily get licenses to set up factories, implying that their black money stands tall in the form of industrial plants. Since black money is not stock, he suggested it be judged on the number of transactions made.  He laid down statistics about luxury products and people living below poverty line - proving that nearly forty percent of our GDP is in black money.
 "We must ensure that the beneficiaries of a reform gain as quickly as the losers of the reform".
Going about that would involve revoking licenses and relaxing income taxes so immediate profits may be realized.
Dr. Swamy, defiant in his speech, sent a coup-de-grace in the direction of the ex-finance minister by suggesting the latter's indirect involvement in facilitating terrorist agendas by enabling them to mint money. He further strengthened the idea of demonetization by highlighting how these very terrorists were put out of action, as well as how stone-pelting had reduced in J&K as the youth could not be paid - as a consequence of the same. Of course, on the flipside, there has been massive collateral damage. Migrant workers in Bihar and UP who were conventionally paid in cash, couldn't be waged. The number of trucks had to be cut down by nearly fifty percent since there was cash neither to pay for petrol consumption, nor for the drivers to eat at the roadside dhabas. Even companies employing daily wage workers were hard hit by the same cause. All of this happened primarily because the Board hadn't been informed well in advance, and hence, not enough new notes could be minted in time.
To remedy the situation, Dr. Swamy talked about other reforms crucial in achieving the common objective. For example, the participatory note. This is a system practised solely in India where one submits a certain amount of money, and the RBI issues a note with no details, except the amount encashed. This can be used to buy stocks. Dr. Swamy proposed to obliterate this entire system. Though stock markets would crash, the working and the middle class would remain unharmed. He also suggested starting up Indian based companies for one dollar, taking the example of the Investment Banks in Mauritius. The basic aim, according to him, is to create a situation where not being corrupt is worth the while. He aims to catch the bigger fish in the sea that are the primary targets of the demonetization drive, so that the smaller fish withdraw themselves automatically.

On a concluding note, he stated how in the next five years, India's economy would be growing at a rate much more rapidly than China's, solely due to the large youth force we possess. He inspired the students by telling them to render on to themselves the best possible education, and with that, to take as many calculated risks as possible, and to work towards their goal without thinking of the fruit it would yield. With his speech, he hoped to make better Indians out of the students.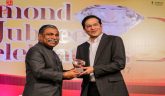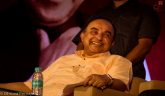 Jan 27, 2017 : The college invited Mr. Anant Talaulicar, Mr. Sachin Menon, and Mr. Thomas Cherakara, three extremely successful alumni, to inaugurate the Diamond Jubliee ceremony.
Jan 28, 2017 : Indian politician, economist, and member of Rajya Sabha, Dr. Subramanian Swamy, came to meet the students of MIT as a part of the Diamond Jubilee celebrations.
Read on for details.